Discussion on advance care planning 'not an easy conversation to have' but important, say experts
One way to make the conversation easier is to have a facilitator, said one doctor involved in advance care planning at Tan Tock Seng Hospital.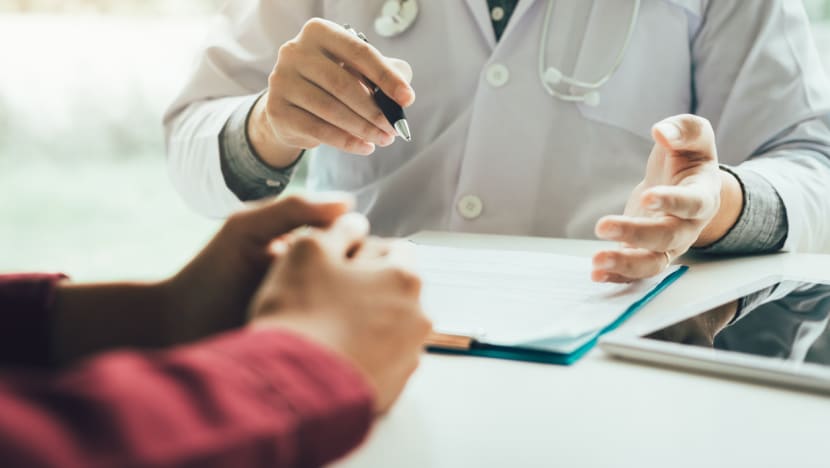 SINGAPORE: Advance care planning (ACP), which is part of the process of end-of-life planning, may make for difficult conversation, but it is still important, experts said.
ACP is the process of planning for future healthcare with family and doctors.
In an ACP discussion, patients are guided to understand, reflect upon, and discuss their goals, values and beliefs. They are also led to indicate their preferences regarding future healthcare treatments.
ACP also involves nominating a "substitute decision-maker" who can make decisions on the patient's behalf. The documented discussion, while not legally binding, provides guidance for the medical team in making decisions when the patient no longer can communicate.
"The conversation around advance care planning and being able to express our values, beliefs, and preferences in terms of the care that we would like to have at the end of our life, particularly when we lose the mental capacity to do so, is really important," Agency for Integrated Care (AIC) CEO Tan Kwang Cheak said.
"But we acknowledge that it is not an easy conversation to have, which is why we have been working really hard on advance care planning services to actually enable and also encourage our Singaporeans to come forward."
HAVING A FACILITATOR FOR ACP DISCUSSION
One way to make the conversation easier is to have a facilitator, said Dr Adeline Lam, co-lead for Advance Care Planning initiative at Tan Tock Seng Hospital.
"Most of the time, when the facilitator is in that conversation, the facilitator becomes a mediator and navigates through the sometimes difficult conversation and it's very useful," said Dr Lam, who is also senior consultant in the general medicine department.
She gave the example of a patient who brought 10 family members, including her children and her in-laws for an ACP discussion. Her family were focused on what she was saying, she said.
"It was a way to hear what (their) mum has to say, but not directly because it's sometimes a little bit difficult for families to talk about this, but with a facilitator, it gets a little bit easier," she said.
Dr Lam said ACP is useful throughout life, and preferences can be reviewed through different life stages.
"It's basically a series of conversations you have throughout your whole life, and it's a process of future healthcare planning. You can decide (something) at this point in time and later on when things change in your life, you review it and you change it again," she said.
Mr Tan and Dr Lam were speaking to CNA's Singapore Tonight on Thursday (May 25), on the back of the International Conference on Advance Care Planning being held here till Saturday. The 8th edition being held here is the first one to be held in Asia.
CHALLENGES THAT NEED TO BE ADDRESSED
Speaking at the conference on Thursday, Second Minister for Health Masagos Zulkifli echoed what Dr Lam said. Starting to think about completing an ACP should not only be for those more senior in age, but for all, he said.
"It should be something that all of us should do, so that we can have greater autonomy over our own end-of-life decisions. The ministry is taking a serious look at end-of-life and ACP plays an important role in this. We are looking at how we can ramp up ACP awareness and adoption over the coming years," Mr Masagos said.
While more than 35,000 Singaporeans have completed their ACP, there are challenges that need to be overcome so that more can do so, he said.
He cited three challenges that need to be addressed to enable widespread adoption of ACP.
These are: The discomfort Singaporeans experience talking about death and dying, increasing the current pool of about 6,000 facilitators of ACP conversations and making the ACP facilitation process less resource-intensive.
To address the challenges, he said that the ACP community needs to bring about a mindset change, a shift that his ministry will help with.
BRINGING ACP TO THE COMMUNITY
Later this year, the government will launch a nationwide pre-planning Campaign, which will involve bringing ACP to the community through roadshows and on-the-ground workshops at active ageing centres. A digital campaign will also be launched on My Legacy, a one-stop portal for the public on all end-of-life issues, he said.
Healthcare professionals have to be rallied to have conversations on ACP as part of routine care, and the ACP process has to be digitised for those who do not need a facilitator, he added.
Mr Tan said that over the years, the AIC has observed that Singaporeans have greater awareness and are more open to talk about ACP.
"Our hope is for all Singaporeans to be able to have this advance care plan and have the conversation with their loved ones and their family, particularly when they're healthy, so that their preferences, what they would value as the quality of life … will be respected and recorded," he said.
"This also helps to ease the burden and the stress on the family and the loved ones when they have to make certain care decisions at the end of the life for that person, particularly when they can't do so."