IN FOCUS: Dying at home may seem ideal to many, but it's not always straightforward
Singapore wants to move towards more people dying at home and in palliative settings instead of in hospital.  CNA looks at why this is important and the barriers to making this happen.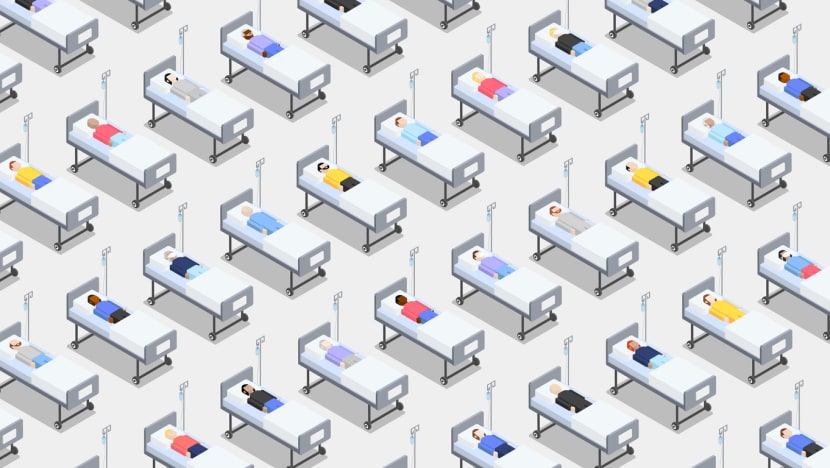 SINGAPORE: Days before his father died of cancer, Mr Sebastian Lim made him a promise.
"If your condition really turns so bad, I will bring you home and let you pass away peacefully at home," Mr Lim told his father.
At the time, the late Mr Lim Ah Tee was spending the end of his life at Dover Park Hospice, in a bid to spare his family from caregiving duties. 
But when the elder Mr Lim wound up in hospital from a complication involving his lungs, his son's resolve to keep his word was tested. 
"The doctor refused to discharge him," he told CNA. 
Mr Lim sought help from the team at Dover Park Hospice, who managed to make the discharge happen.
His father died on the morning of Jul 2 last year, less than 12 hours after returning home. 
By his side were his wife and six children, including a daughter who returned from Japan amid COVID-19 restrictions. His father held on to see his daughter, who'd been overseas for a few years, Mr Lim said. 
While Mr Lim said there was not enough time to fulfil his father's bigger wishes to visit his ancestors' home in China for lack of time, he is relieved that he managed to, with the help of the hospice, make his dying wish come true. 
"It was a big load off my chest. I burst out crying," he said.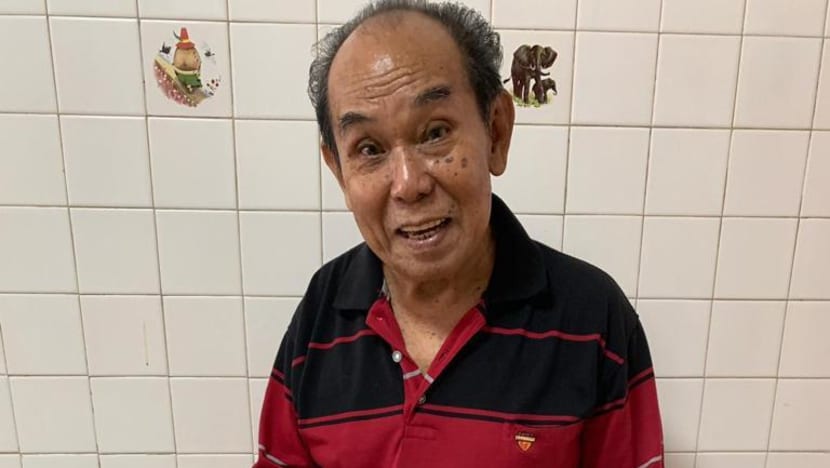 DYING AT HOME OR IN HOSPICE
The issue of people being able to spend their final days or hours at home or other appropriate settings away from hospital was raised by Health Minister Ong Ye Kung last month at his ministry's work plan seminar. 
He said Singapore will move to reduce the proportion of people dying in hospitals instead of at home or in palliative settings. The country aims to reduce this proportion from 61 per cent to 51 per cent by 2027.
The top reasons preventing people from dying at home with loved ones are low awareness and receptivity among family members, challenging discharge process and protocols and inadequate caregiver preparedness, he said.
A 2014 Lien Foundation survey found that 77 per cent of Singaporeans hope to die at home. However, only around 26 per cent actually do so, noted Mr Ong. 
Fulfilling their loved ones' last wish of dying at home gives caregivers a better bereavement process, palliative care experts told CNA. 
Being able to attend to the family member unlimited by hospital rules on the number of visitors and timing allows families to feel they have done their best for the patient, said executive director of Singapore Hospice Council Sim Bee Hia.
"More importantly, (honouring the wish) tends to lessen the intensity of grief upon the patient's demise," Ms Sim said.
Medical director at HCA Hospice Dr Chong Poh Heng said that how a loved one dies, and where and when it happens has an impact on the bereavement experience of families.
"Studies have shown that when caregivers do hands-on care, it helps them in resolving that sense of loss in bereavement. They feel like 'I've done something for their loved one … They've cared for him or her and that helps them in grief afterwards," he said.
It is better for the patients as well. If the patient's last wish is to die at home, doing so allows the patient to die more peacefully and comfortably surrounded by loved ones, said Ms Sim. 
BARRIERS TO DYING AT HOME 
Professionals in the field who spoke to CNA detailed several difficulties families have in ensuring that their loved ones' wish of dying at home can be fulfilled.
Medical social worker Jacinta Phoon, who works at the National Cancer Centre Singapore, said that generally, families with fewer resources tend not to be able to cope as well with the care of patients at home.
"As the family members are usually busy with work or other commitments, they are less likely to have the time to find out the wishes and needs of the patient to make the necessary arrangements," said Ms Phoon, who works at the Department of Psychosocial Oncology. 
Some families may have bread and butter issues which do not allow them to have a dedicated person to care for the patient, she added.
Other struggles that families face when making arrangements include managing the medical and nursing needs of patients, which may increase during the last days of life with poorer functionality and worsening of symptoms, such as pain, fatigue and breathlessness, she said.
Patients themselves may also have reservations and considerations despite indicating their wish to die at home, the experts said. 
They may say they want to die at home, but then panic and ask their families to call for an ambulance at the last minute and eventually die in hospital, said HCA's Dr Chong. 
Their biggest fear is about being a burden to the family, added Singapore Hospice Council's Ms Sim. 
The experts also said that people may not be having conversations on preferences surrounding death early enough. 
While the goal is to eventually normalise these conversations regardless of age and health, the diagnosis of a life-limiting illness and the passing of a relative are opportunistic times to broach such conversations, they said. 
LACK OF AWARENESS OF HOSPICE SERVICES
Those who cannot be cared for at home can be looked after by palliative care professionals in inpatient settings at community hospitals and hospices, which will go towards Singapore's aim of reducing the proportion of people who spend their end-of-life journey in hospitals. However, the professionals CNA spoke to said that there is a lack of awareness of hospice services.
"They don't realise this is yet another professional outfit that has the capacity and the capabilities to guide you," said HCA's Dr Chong. 
At the same time, caregivers may have unrealistic expectations of home hospice care, including that they will perform tasks like changing bedsheets and giving injections.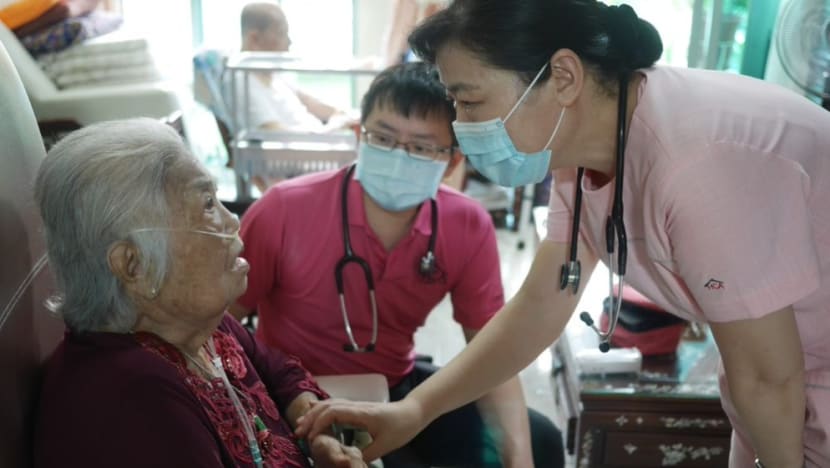 "Sometimes we have to tell them they are doing most of the job. We are here as a specialist service that offers guidance, offers support on how to deal with the symptoms and the medication, how to deal with your own grief to how to support your loved one and have those conversations, how to make decisions," he said.
NCCS' Ms Phoon similarly said some patients or their families may have a poor understanding of inpatient hospices and the care provided in these settings.
"Some may perceive that their medical and nursing needs will not be adequately met by home hospice services and hence prefer to be in a hospital setting," she said.
Dover Park Hospice's CEO Timothy Liu said that people may have the misperception that hospices are dark, sad and gloomy.
"It isn't. It's a place where we focus on giving life to our patients and their families. We want to create a conducive environment. It's not those kinds of jolly party type (of setting), but it doesn't have to be crying and wailing as well," he said.
He added that there is a lot to be done in terms of education. Citing a survey done by Singapore Hospice Council last year, he said that half of the clinicians surveyed reported that they knew little to nothing about palliative care or hospice care.
 
"That level of awareness I think is quite low among the general public and also with some healthcare professionals. That is also the reason why some of the referrals could be quite late. And by the time they do refer … it can be at a point of crisis," he said.
In fact, most patients die in Singapore without ever seeing a palliative care doctor, said Professor of Health Services and Systems Research at the Duke-NUS Medical School Eric Finkelstein.
Medical director at Dover Park Hospice Dr Mervyn Koh said that the needle may be starting to shift.
"We are realising that there are some demographics, perhaps those in their 50s and 60s or those in the early 70s who are choosing to die in hospice for reasons like they do not want to burden their family members with their care," he said.
They want more professional care and the quality of care that a hospice is able to provide, he added.
ROLE OF PALLIATIVE CARE
In palliative care, the focus is not just looking after the patient but also the family and caregivers, said head of the Division of Supportive and Palliative Care at NCCS Dr Patricia Neo.
For some families, finances can be an issue after years of medical treatment costs. Some may also leave their jobs to care for their loved ones in this last stretch, worsening the financial situation and adding to caregiver stress, said Dr Neo, who is also head of SingHealth Duke-NUS Supportive and Palliative Care Centre.
"This is where our social workers and counsellors play a vital role in supporting families with their psychosocial and financial needs," she said.
The 24/7 availability of professional help can go a long way in supporting patients and families, she added. 
In a palliative care setting, reaction time to patients' needs is likely to be "a lot faster than" in the hospital, said therapy assistant Karen Chong, who works with caregiving services provider Homage.
"The setting would also be relatively similar yet simpler than a hospital. It will also be less painful and traumatic for both the patients and their families to see fewer medical equipment hooked up to the patients during their last remaining days," she said.
HOSPITAL CARE AS THE "BEST CARE"
However, there is a perception that hospitals provide the best care, the experts said. 
"The common assumption that caregivers tend to have is that medical care is the only dimension of care," said Dr Helen Ko, Associate Professor in the Master and PhD in Gerontology programmes at the Singapore University of Social Sciences.
"What is very important is for caregivers and even policymakers to be aware that there are many other dimensions because the dying person experiences not just physical pain, but psychological pain, social pain, and even spiritual pain," she said.
Extended family members may also pressure the family to bring the patient back to hospital to receive what they think is "better care", said NCCS' Dr Neo.
"The difficulty happens when you have other well-meaning relatives that come by and give their own opinions and I think sometimes that can be added stress and pressure and that then pushes families to bring the patient back (to hospital)," she said. 
When a family member is very sick, people may cope by problem-solving, which means that they may look for more medical solutions, said Adjunct Assistant Professor Neo Han Yee.
"But the most important thing here is not trying to find a problem and solve it but to spend quality time with the patient at the bedside," said the head of Palliative Medicine Department at Tan Tock Seng Hospital (TTSH).