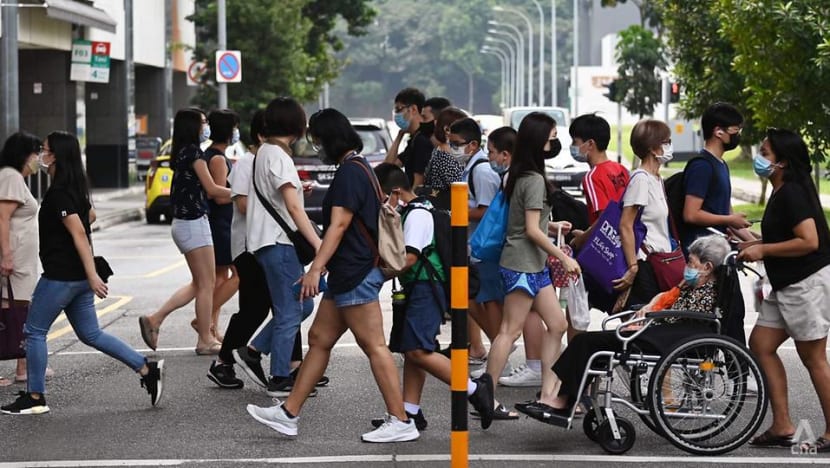 SINGAPORE: Singapore reported 53 new locally transmitted COVID-19 infections as of noon on Tuesday (Aug 10), including 15 with no links to previous cases. 
Thirty-one infections linked to previous cases had already been placed in quarantine, while another seven linked cases were detected through surveillance testing, said the Ministry of Health (MOH).
There was also one imported case, who was detected and isolated upon arrival, taking Singapore's daily tally of new infections to 54.
Thirteen COVID-19 clusters were closed, with MOH reporting no new cluster for the first time since Jul 22. The Health Ministry did not provide more details on the clusters that were closed.
As of Monday, there were 118 active COVID-19 clusters in Singapore. One new case was added to the NKF dialysis centre cluster, bringing the total number of cases to four. 
Another case was added to the Jurong Fishery Port/Hong Lim Market and Food Centre cluster, bringing it to 1,149 infections in total. It remains Singapore's largest active cluster.
11 IN CRITICAL CONDITION
A total of 508 cases were in hospital, with most well and under observation, said MOH. 
There were 32 cases of serious illness requiring oxygen supplementation and 11 in critical condition in the intensive care unit (ICU). Six of these 43 cases were fully vaccinated. 
Of those who have fallen very ill, 35 people are above 60 years old, of whom 29 were completely unvaccinated or partially vaccinated, said MOH.
72% OF SINGAPORE'S POPULATION FULLY VACCINATED
Nearly 4 million people in Singapore have completed the full vaccination regimen under the national vaccination programme. A total of 131,186 doses of other vaccines recognised in the World Health Organization's Emergency Use Listing (WHO EUL) have been administered as of Monday, covering 80,459 individuals.
As of Monday, 72 per cent of Singapore's population has completed the full vaccination regimen or received two doses of a COVID-19 vaccine. A total of 81 per cent of the population has received at least one dose.
"There is continuing evidence that almost all fully-vaccinated individuals do not suffer serious disease when infected, unless if they had underlying medical conditions that made them more susceptible," said MOH. 
Over the last 28 days, the percentage of unvaccinated people who became severely ill or died is 8.4 per cent, while that for fully vaccinated people is 0.8 per cent.
TRENDS FOR LOCAL CASES
Overall, the number of new cases in the community has decreased from 799 cases in the week before to 481 cases in the past week. 
The number of unlinked cases in the community has also decreased from 238 cases in the week before to 138 cases in the past week.
DINING-IN RESUMES
Dining-in at F&B outlets resumed on Tuesday for fully vaccinated people in groups of five as part of Singapore's two-step easing of COVID-19 measures.
Unvaccinated people can dine in at food and beverage establishments if they have a negative pre-event COVID-19 result from an approved test provider, said MOH early on Tuesday.
Those who are unvaccinated can also dine in at hawker centres and coffee shops, without the need for pre-event testing, but in groups of two.
From Tuesday, all Singaporeans, permanent residents and long-term pass holders who have not come forward for their first dose of a COVID-19 vaccine need not make a prior appointment to get the Pfizer-BioNTech jab at vaccination centres.
There are 26 community vaccination centres offering the Pfizer-BioNTech/Comirnaty vaccine. 
Walk-ins have also been allowed since Aug 2 for Singapore residents who want to get a Moderna jab at any of the 11 community vaccination centres offering the vaccine.
As of Tuesday, Singapore has reported a total of 65,890 COVID-19 cases and 42 fatalities from the disease.