COVID-19 patient died after transport from Batam to Singapore; doctor accused of multiple lapses
Dr Kong Sim Guan admitted to failing to document his patient's vital signs, and did not check his condition while on the ferry and on arrival in Singapore in June 2021.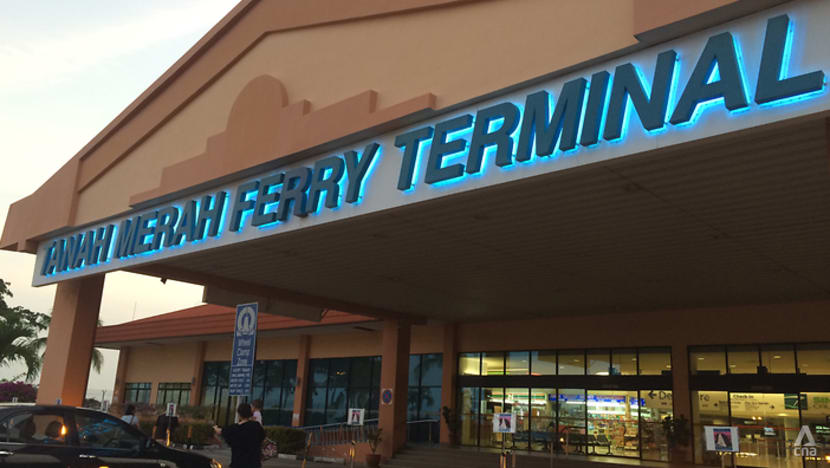 SINGAPORE: A doctor has been ordered not to provide medical services for evacuations or medical transport for 18 months, after allegedly failing on several fronts in his care for a COVID-19 patient who was transported from Batam to Singapore for treatment.
Among his actions, Dr Kong Sim Guan did not document the 67-year-old patient's vital signs at Batam Ferry Terminal on June 7, 2021.
He also failed to do so when they reached Tanah Merah Ferry Terminal and did not check the patient's condition before the ambulance left for Tan Tock Seng Hospital. Singapore's health ministry assessed that the patient was in critical condition at that point and should have been handed over to the Singapore Civil Defence Force.
The patient died shortly after arriving at Tan Tock Seng Hospital (TTSH) and the National Centre for Infectious Diseases (NCID) that same day.
These purported lapses by Dr Kong – also known as Sim Heng Guan – were detailed in written grounds of decision released on Monday (Sep 11) by an interim orders committee appointed by the Singapore Medical Council (SMC).
At the time of the incident, Dr Kong was the clinical director of a private ambulance operator. He was previously a psychiatrist and practising doctor at Clinique Suisse, an aesthetic clinic located in Paragon Medical Centre.
He had "come out of retirement" to help his ambulance service "out of friendship", according to the written decision.
CONDITIONS, RESTRICTIONS IMPOSED
SMC first received information from the Ministry of Health on June 29, 2021 regarding Dr Kong's purported lapses in providing care to the patient.
The ministry had assessed that Dr Kong breached several guidelines under the SMC's Ethical Code and Ethical Guidelines.
The case was then referred to a Complaints Committee, which in turn referred the matter to an interim orders committee due to several concerns with Dr Kong's conduct as the sole registered doctor in charge of evacuating the patient.
The interim orders committee does not determine whether Dr Kong behaved in the manner alleged. The Complaints Committee has yet to determine if the complaint against Dr Kong should be referred for formal inquiry by a disciplinary tribunal.
In its grounds of decision, the interim orders committee subjected Dr Kong's registration to conditions or restrictions for 18 months from July 28 this year, or until the conclusion of disciplinary proceedings against Dr Kong.
He must not offer or agree to act as a medical practitioner and/or provide medical services for any medical evacuation or medical transport assignments. These include ambulance services such as emergency ambulance or medical transport vehicles.
This does not prevent Dr Kong from administering immediate life-saving procedures, such as cardiopulmonary resuscitation if a patient is in cardiac arrest, when he is among the nearest available medical practitioners.
He must also inform SMC of all the places where he practises or intends to practise, and is also required to inform any organisation or person employing him for medical work that his registration is subject to the conditions.
THE CASE
According to Dr Kong, he only brought medical equipment like a stethoscope, a face mask and two oxygen cylinders during the transfer of the patient from Batam to Singapore via ferry on June 7, 2021.
He also put on full personal protective equipment.
It "slipped his mind" to bring along basic monitoring equipment such as a pulse oximeter or blood pressure monitor, despite knowing the patient had to be transported in a portable mobile isolation unit and that he had to monitor the patient's oxygen level. 
A person from the same private ambulance operator and only identified in the grounds of decision as "Mr F1" informed Dr Kong of this arrangement.
"Dr Kong was of the view that Mr F1 had to equip him with the necessary equipment and ensure that the equipment issued was in good order, and he was not a trained medical technician who would know such things," noted the interim orders committee.
While on the way to Batam Ferry Terminal, Mr F1 told Dr Kong that the patient had cancer and heart diseases.
The patient also arrived at the ferry terminal late because he experienced breathlessness and had to first be stabilised at the Batam hospital.
When Dr Kong took over the patient, he said he did not objectively monitor or document the patient's status, including level of consciousness, pulse rate and oxygen saturation level.
This continued during the sea transportation from Batam to Singapore. According to Dr Kong, while it was his role to check or monitor the patient's vital signs, he did not monitor the patient's pulse, blood pressure or oxygen level due to a lack of necessary equipment.
Dr Kong observed that the patient had a "look of despair" on the ferry, pointed to his own chest, "shook his head as if he was giving up" and attempted to talk" to him.
Despite these signs of distress, Dr Kong did not check the patient's status. He also did not record the patient's vital signs after they got to Tanah Merah Ferry Terminal.
When he met the ambulance crew who took the patient from the terminal to TTSH and NCID, Dr Kong did not identify himself as the attending doctor, as a doctor, or as the clinical director of a private ambulance operator.
Doing so could have allowed the emergency medical technician (EMT) who was seated with the patient behind the ambulance to escalate the emergency situation to Dr Kong during the patient's deterioration before arrival at TTSH and NCID, noted the interim orders committee.
According to Dr Kong, the EMT invited him to sit at the front of the ambulance. The EMT was the only one with the patient in the ambulance cabin.
However, Dr Kong knew he was the only qualified person to be the crew leader during the ambulance conveyance. He did not monitor the patient's status and did not provide care.
The patient's condition deteriorated in the ambulance but Dr Kong could not help from his position at the front of the ambulance.
When they arrived at the hospital at 5.07pm, the patient was pulseless, not breathing and unresponsive.
Cardiopulmonary resuscitation was stopped after 30 minutes due to medical futility. The patient died at 5.48pm.
ARGUMENTS BY SMC, DR KONG
The SMC asked for conditions and restrictions to be imposed on Dr Kong's medical registration for the maximum period of 18 months due to "a substantial risk of harm" to his patients and members of the public.
Meanwhile, Dr Kong made several claims. He said there was "no indication" of the EMT detecting an emergency with the patient during the ambulance journey. He added that he frequently looked behind at the ambulance cabin but did not see the EMT doing any continuous monitoring of the patient's breathing.
He also said he had jotted down a few observations in relation to the patient's movements, breathing and pulse, but the sea was "choppy" and he abandoned his attempts at documentation after some attempts.
He added that when he got home, his wife helped him to clean up. Everything from Batam and the ferry was then discarded out of "fear of contamination" - including these observations.
In terms of his personal takeaway, Dr Kong said there were "mistakes made and shortcomings". He had no prior experience of such responsibility and would do better if given the opportunity again, he added.
"Dr Kong had come out of retirement to help Mr F1 and his ambulance service out of friendship. However, this episode had put a strain on Dr Kong physically. As a heart patient, Dr Kong does not wish to put his health and his life on the line just for doing such a service," said the interim orders committee in its grounds of decision.
"Dr Kong had already made preparations to downgrade his medical licence further and had already made inquiries as to how he could restrict his medical licence.
"Specifically, his medical licence currently only allows him to prescribe for himself and his family. He wants to go back to full retirement permanently."
In coming to its decision, the committee said that the key undisputed facts were of a serious nature.
It considered the importance of the public being protected against doctors who undertake urgent medical assignments but fail to discharge their duty to provide proper care to their patients, therefore putting their patients' health – or even lives – at stake.
Even though the complaint against Dr Kong appeared to be an isolated incident, the committee noted that the SMC did not ask for Dr Kong to be suspended from practice.
The conditions sought by the SMC appeared to be reasonable because Dr Kong's apparent lapses was a risk that could potentially apply to all future patients undergoing medical evacuations, said the committee.
"Public confidence in the integrity of medical evacuations is critical, especially in view of the patient's death in the present case," the committee added.
The committee comprised Professor Alan Ng, Adjunct Associate Professor Tan Tze Lee and Professor John Lim Chien Wei, with lawyer Kenny Chooi acting as a legal assessor.