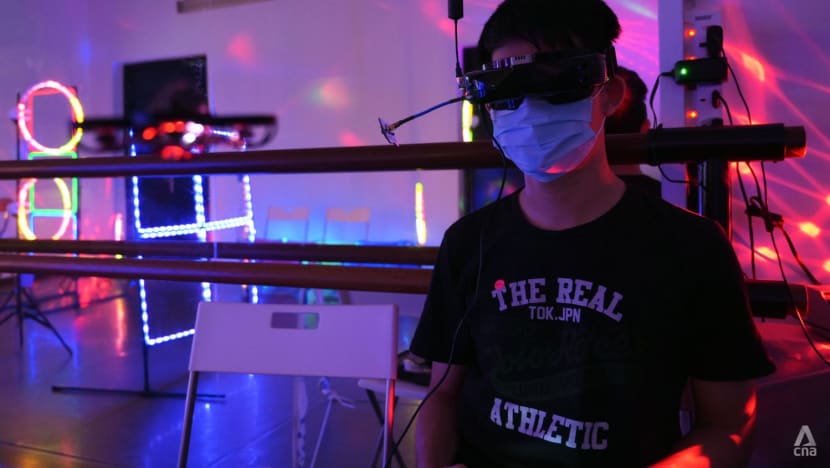 SINGAPORE: Mr Andrew Yap wanted to join the Singapore Youth Flying Club when he was younger, but was turned down due to his "pretty high" myopia.
Still, he wanted to "attain flight through other means", he told CNA.
Today, Mr Yap is a pilot – albeit of small, unmanned aircraft, commonly known as drones. 
The 20-year-old, who recently completed his National Service, is one of the country's top drone racers, having placed first in various competitions such as the D1 x IDRL Professionals League and Whoop Arena Singapore Championships. 
Considered an e-sport, drone racing often features pilots strapping on a pair of goggles connected to a camera on their unmanned aircraft. 
Known as first-person-view flying, or FPV, this makes it feel as though the racers themselves are flying as the devices whizz through the air and zoom past obstacles. 
"It's almost as if you're a fighter pilot, as you zoom through the gates," said Mr Yap, who uses the nickname Werdna FPV during competitions. 
DRONE RACING TAKES OFF
Interest in drone racing is soaring worldwide, with data from market research and consulting firm Polaris Market Research suggesting that the global drone racing market size will grow to US$2.1 billion (S$2.9 billion) by 2026, up from US$412 million in 2019. 
The sport has also been picking up locally, with a number of high-profile events in recent years. 
In November 2019, Singapore hosted a race organised by Changi Airport Group which featured four top-ranking professional drone pilots flying their devices around the Flower Dome at the country's iconic Gardens by the Bay. 
The event – which had more than 600 spectators in attendance – was co-organised by the New York-based Drone Racing League (DRL), one of the largest players in the burgeoning drone racing scene. 
Valued at US$200 million according to financial data company Pitchbook, DRL has held races at various locations around the world with custom-built drones flying at speeds of up to 145kmh since it was formed in 2015. 
Still, the ongoing COVID-19 pandemic has put a damper on the expansion of such drone sports here. 
The Multirotor Association Singapore (MRAS), a local hobbyist group, was slated to hold its signature event, the Asian Drone Championship, last year. Previous iterations of the race, held in 2017 and 2018, had attracted drone racers from around the region. 
In 2020, however, the pandemic forced the event – co-organised with the Singapore Science Centre – to go online, with races conducted using a simulator instead. 
"It was a successful event, we got lots of views, the guys had fun," said MRAS secretary Alvin Yeoh.
However, the experience could not compare to that of a real-life event, he said. 
"We still want to do an actual physical race," said the 41-year-old chemical engineer. 
However, there would not be enough racers to conduct such an event with just local participants, he believes, adding that a major event would require the involvement of international racers. 
"The plan would be – hopefully, fingers crossed – that (in 2022) we will be able to do something once the pandemic dies down a bit and people get to travel a bit more."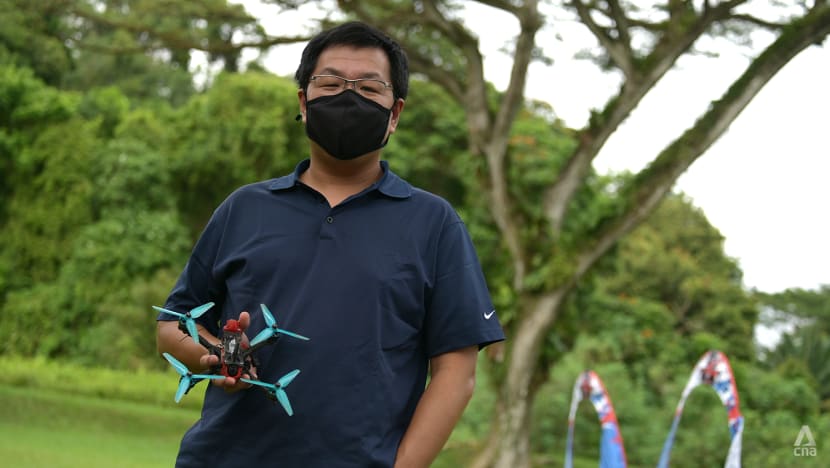 Local drone racing firm D1 Racing, which was formed in late 2019, said it is in the midst of "finalising global plans that adapt to the opening borders". 
"These include races with foreign host countries and drone sales around the world," said D1's head of partnerships K Kawshigan.
Over the past year, D1 has organised several races under "pandemic-safe" conditions, he noted. 
"In Singapore, we see drone racing becoming a premier form of e-sports that generates strong commercial value while empowering youths," said Mr Kawshigan.
"One of our goals is to be the F1 of the skies and the promise of combining e-sports with live action is strong for the stakeholders we are working with," he added. 
Mr Kawshigan believes more can be done to grow the sport, such as providing more opportunities for up-and-coming racers to make a living out of drone racing, while venue owners could also facilitate the use of their properties to hold races.  
"LIKE MEDITATION"
In January last year, the Ministry of Transport announced that it had accepted a proposal by the Unmanned Aircraft Systems Advisory Panel to develop designated flying areas for unmanned aircraft.
Mr Yeoh, who regularly takes part in recreational drone races with others at an open field along Margaret Drive, believes this could act as a boost for the activity. 
"You would have an area to fly without people coming in and saying, hey, you can't fly here," he said.
Others meanwhile have found opportunities in introducing beginners to the burgeoning sport. 
Between March and May last year, software developer Izack New ran indoor drone racing space Whoop Arena. 
Located at Midview City in Sin Ming, Whoop Arena allowed visitors to fly "tiny whoops" –  drones weighing less than 250g, which fit in the palm of your hand – around a darkened room measuring about 750 sq ft, or slightly larger than a three-room Housing Board flat, weaving through an obstacle course lit up by LED lights. 
Mr New, who has been flying drones since 2019, said the appeal of such "micro drones" is that they allow for high-performance racing within a small indoor space. 
Their small size also means they do not require registration. 
Under Civil Aviation Authority of Singapore regulations introduced two years ago, all unmanned aircraft weighing more than 250g must be registered.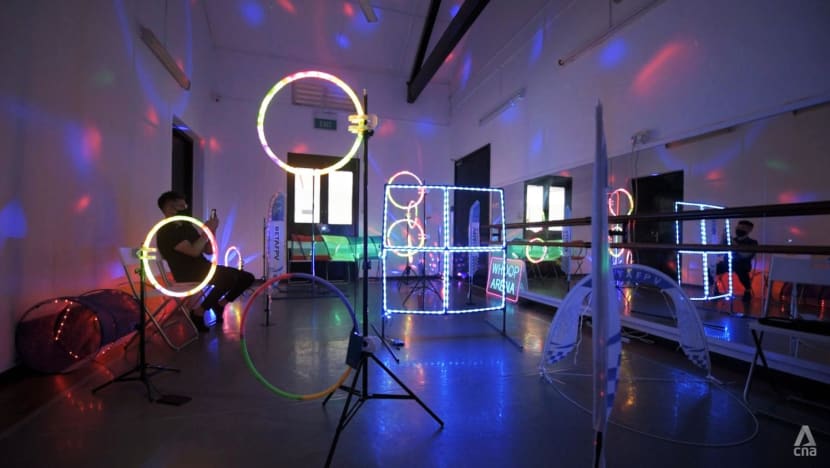 Mr New noted it was also relatively easy to learn to fly such drones compared to their larger counterparts, with children able to pick up the skill within 15 minutes. 
Though he ran Whoop Arena for a limited time as a pop-up venue – describing it as a "proof of concept" for future applications – there is still interest in it, said the 37-year-old, noting that he receives queries from potential customers. 
Meanwhile, those interested in learning to fly drones can do so at ThrottleUp Creation, which conducts workshops on drone flying as well as provides micro drone racing facilities, in addition to drone video production and team building. 
Tong Cheuk Fung, who started ThrottleUp, said his experience differs from many others running drone-related businesses in that he did not start out as a hobbyist, knowing little about drones before the end of 2020.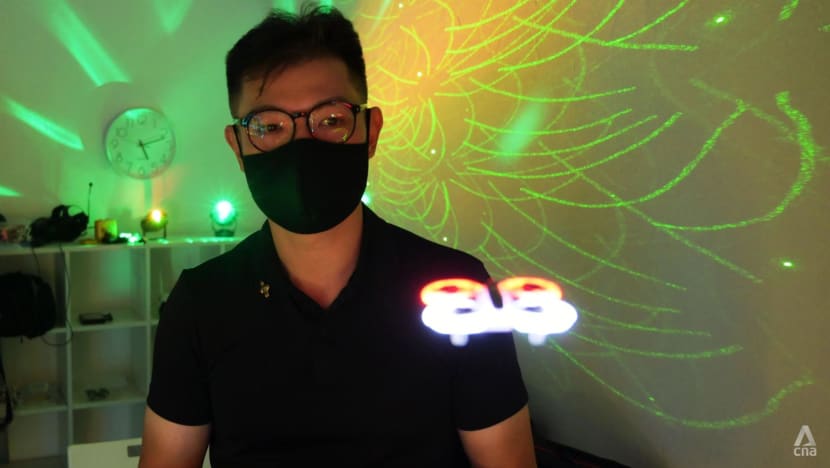 Seeing potential business opportunities in the area, the 38-year-old obtained his unmanned aircraft pilot licence and got an operator permit for his company soon after. 
He believes there is space for a business like his, noting many are still unaware of the regulations and skills needed to fly drones. 
Mr Tong adds that he himself took half a year to learn how to fly an FPV drone, which he did within the confines of his home.
"So now (at) my home, my walls are full of scratches," he noted with a laugh. 
Despite the fast paced, high octane nature of drone racing, Mr New said he believes there is a form of calmness that lies behind the precision and coordination needed to direct the unmanned devices where they need to go. 
"It's like a kind of mindfulness, like meditation," he said.