'I want my viewers to get that adrenaline rush': Drone enthusiast in Indonesia turns passion into career
JAKARTA: Flying at a breakneck speed, the small racing drone approached an open doorway at the top floor of a newly finished interchange station in a bustling Jakarta district. 
The pilot, Rifky Widianto, made no attempt to slow down as the drone entered the station at an angle, narrowly missing the door's metal trim.
Inside, the drone continued its dizzyingly fast pace, zipping down staircases and manoeuvring through small corridors. Occasionally, Mr Widianto – with his eyes glued to the head-mounted display he was wearing – flew his drone close to the ground or just centimetres away from obstacles.
"I want my viewers to get that adrenaline rush when watching my videos," he told CNA.
Thanks to his intrepidness in navigating through tight spaces, Mr Widianto quickly rose to become one of the top players in Indonesia's aerial photography and videography industry.
The 35-year-old is now one of the most sought-after drone pilots in the country, attracting clients ranging from property developers looking to promote their latest apartment units to oil and gas companies in need of a campaign video.
Throughout his four-year journey as a drone pilot, he has manoeuvred around girders and cranes inside a half-completed stadium as well as zipping through the interiors of shopping malls and museums.
He has also received invitations to fly at spaces normally off limits to regular drone enthusiasts, like the parliament complex or inside the hull of a marine battleship.
AVID LEARNER
Widianto bought his first drone in 2017 ahead of his honeymoon to a luxury island resort off the coast of Gorontalo province.
"I thought it would be a shame if I just took pictures with my smartphone. So, I bought a drone," he recounted. Widianto then spent the next two weeks watching tutorials online and practising during his spare time.
He was so pleased with the photos he took during his honeymoon that he became hooked on aerial photography. 
At the time, he was working as an accountant for an oil and gas company and his profession allowed him to travel around the country. "I was flying my drone every chance I could. I woke up early just so that I can fly my drone on my way to work. Whenever I was out of town for work, I brought my drone with me," he said.
Widianto soon attracted quite a huge following on his Instagram page, including from fellow drone enthusiasts who had been in the scene longer than he had. These fellow enthusiasts later invited him to join one of the country's drone pilot communities.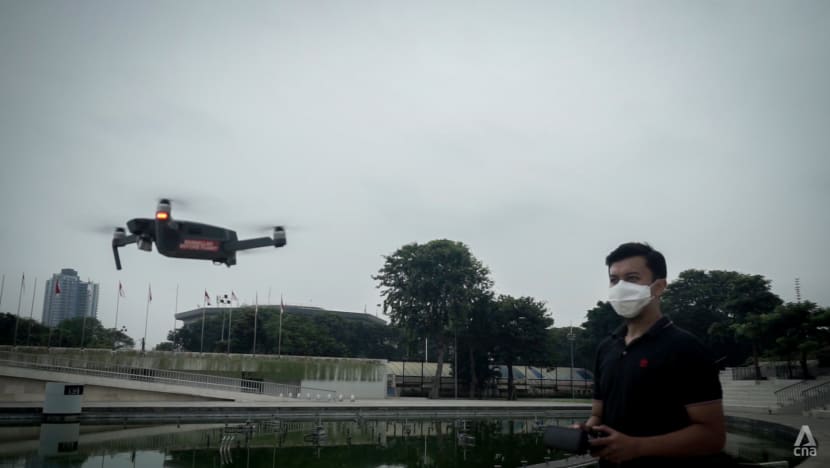 Being part of the community allowed him to trade knowledge and tricks as well as keep himself up to speed with the latest trends and developments in the droning world. The friendly competition within the community also pushed him to up his game.
In 2019, he bought his first first-person view (FPV) racing drone which allowed him to fly in tight spaces at speed.
"I was always fascinated when I watched videos shot using FPV drones on social media. In the beginning, people were using FPVs solely for racing. But then slowly, people started using them to create unique cinematic products," he said. 
"I decided to try my hands at FPV drones. The goal was not to become an athlete but to enrich my (social media) content."
Widianto said he soon began obsessively toying with FPV drones. "I came to work early so I could have the whole office to myself. I always brought a bag full of FPV drone equipment with me: goggles, remote control, antennas. I practised in the tight spaces of my office and my apartment to improve my reaction and control," he said.
He crashed his drone numerous times, which he said was part of the learning curve.
OPPORTUNITIES COME KNOCKING

 
Widianto said he initially never thought of becoming a professional drone pilot.
That started to change in late 2018 when a drone manufacturer reached out to him, asking if they could use one of his photos as their promotional material. "They wanted to license my photo for a year," he said, adding that he was paid US$500 for that single photo.
"It would be great to see my photo used as an ad campaign somewhere. Unfortunately, I never knew how my photo was used. I asked but they never replied."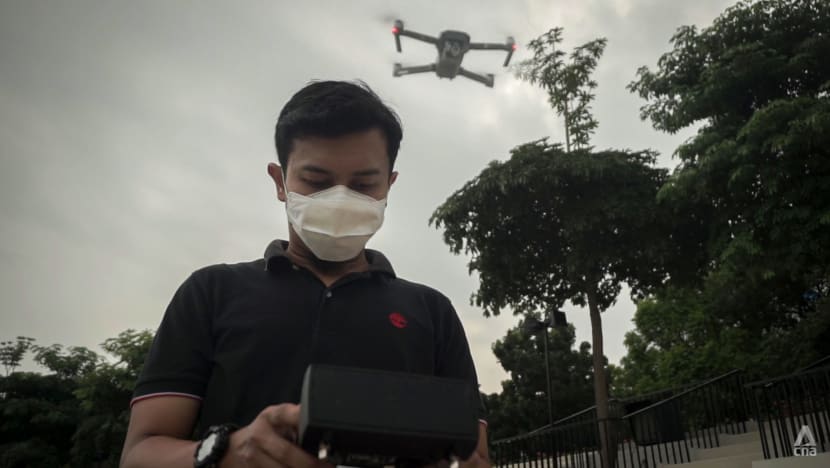 What really convinced him he could make a living from his pastime came in 2019 when his company hired a video production crew to shoot a video for one of its corporate social responsibility projects in the jungles of Sumatra.
"I tagged along and shot some videos of my own. At the end of the day, my company used the videos that I produced, not the ones shot by the production house they hired," he said.
That boosted his confidence that he could compete with the professionals. "As an accountant, I know what my company paid for that type of service," Widianto said.
Words soon spread that an employee was responsible for the company's campaign video and before long, job offers from within the company and others in the industry began trickling in.
Companies from outside of the oil and gas world also began to notice him, thanks to his growing social media presence. He now has more than 36,000 followers on Instagram.  
As more and more opportunities came knocking, Widianto eventually found it hard to juggle his new profession with his day job as an accountant. In February this year, he decided to quit his job and focused on his passion by starting his own aerial photography and video production company.
"I can now handle bigger projects which in the past would be difficult to do because I had a day job. But I still maintain a good relationship with my old company and they are now one of my clients. They know me, they know what I can do and I know exactly what their needs are," he said.  
PUSHING THE LIMIT
Widianto's relentless pursuit to improve himself might be the key to his success.
For a drone competition he participated in, he had to test the limits of his skills and creativity to take a panning shot of a moving train. In the shot, the train had to remain in focus while the background was blurry from the speed. 
It took him multiple attempts to get the shot and his drone had to work so hard to keep up with the train's speed that its battery was swollen at the end of the day .
That competition became one of many contests he won. He eventually went from being a participant to becoming a judge and a speaker.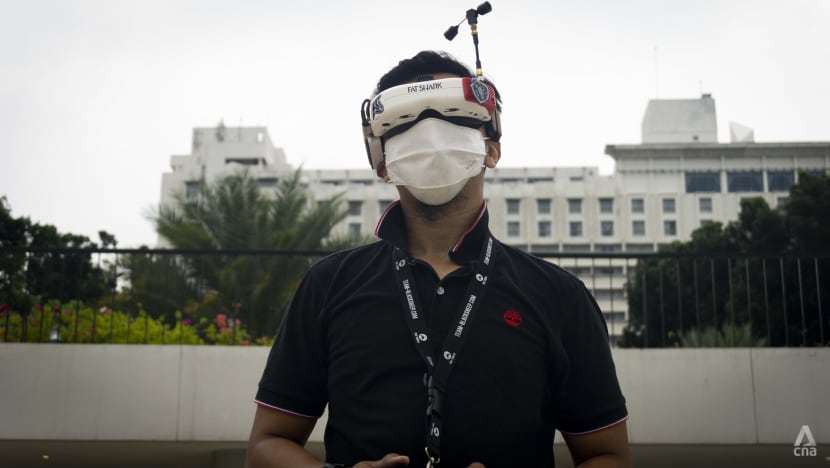 Widianto also jumps at every invitation he gets to fly at places he has never flown before, even when there is no money to be made.
His role as the chairman of the Jakarta Content Creator Community meant that he gets to work closely with the Jakarta governor's office whenever the city needs to promote new infrastructure projects like the newly opened integrated station and the Jakarta International Stadium.
In return, the city granted him exclusive access to fly in just about everywhere in the city, including inside the Jakarta Historical Museum in the centuries-old part of the Indonesian capital.
After seeing a video of Widianto flying in and out of the museum on Instagram, several companies and institutions reached out to him, offering him paid jobs to make similar videos at their respective locations.
"You have to be passionate about what you do if you want to make it in any industry. Don't do it because you want to gain lots of followers or lots of jobs. Do it because you love what you're doing," he said.
Read this story in Bahasa Indonesia here.