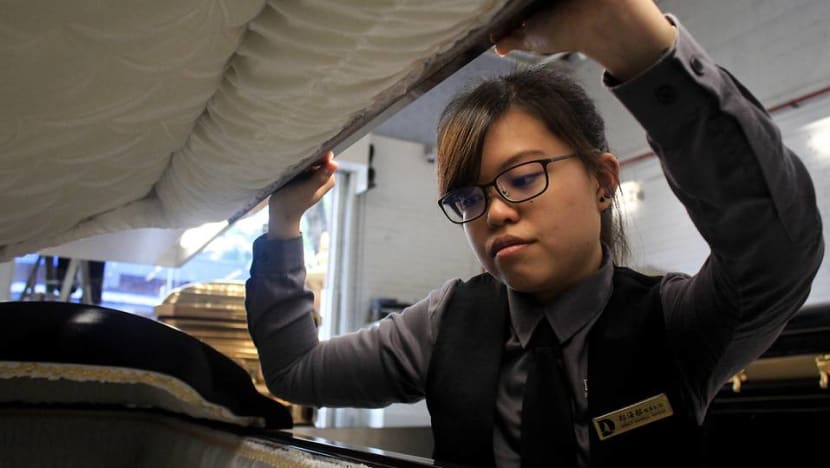 SINGAPORE: It is midnight, but the Jurong Fishery Port is just coming to life.
Fishermen haul their day's catch from the port, while sweaty workers lug crates of Chinese pomfrets, red snappers and mussels across the sodden floor.
Mr Chee Jone Lum, decked out in a pair of rubber boots and blue polo tee, is right in the thick of it.
The 24-year-old Food Science student at the National University of Singapore (NUS) is part of a small group of undergraduates who are not afraid to explore internships in traditional or unconventional trades.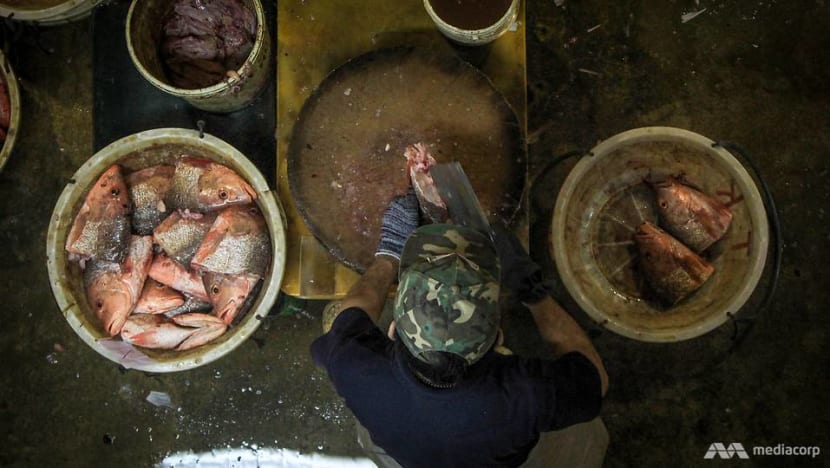 While most of his peers are drawn towards donning the corporate suit and tie in multinational companies, Mr Chee marches to a different beat.
"They're shocked when I tell them I'm working at Jurong Fishery Port," he said. "My working hours vary from midnight to early morning, and you're out bringing food to people when they are asleep.
"Not everyone gets to experience this."
As a quality assurance intern with wholesaler Hai Sia Seafood, Mr Chee's work includes procuring fresh fish, drawing up cold chain management guidelines and improving the company's seafood processing plant.
But the core of the business still lies in navigating the haphazard system in the Central Fish Market, where his fascination with the industry first took root.
"I actually had a sort of calling to come to work in this industry. This is a dying trade and there's so much to learn," he said.
Like Mr Chee, 24-year-old Glorianne Heng's chosen internship has raised more than a few eyebrows.
The final-year Linguistics student at Nanyang Technological University spent her last holiday working at Direct Funeral Services.
"There's potential for growth in this industry, especially since Singapore has an ageing population. That's one of the reasons I wanted to join," she explained.
When the young woman first broached the idea to her family, they were surprisingly unfazed - her brother had dreams of being a coroner, so her request did not seem overly bizarre.
During her two-month stint, she helped to dress bodies, prepare coffins and set up wakes. Her job takes her across the island at odd hours, with clients of various racial and religious backgrounds.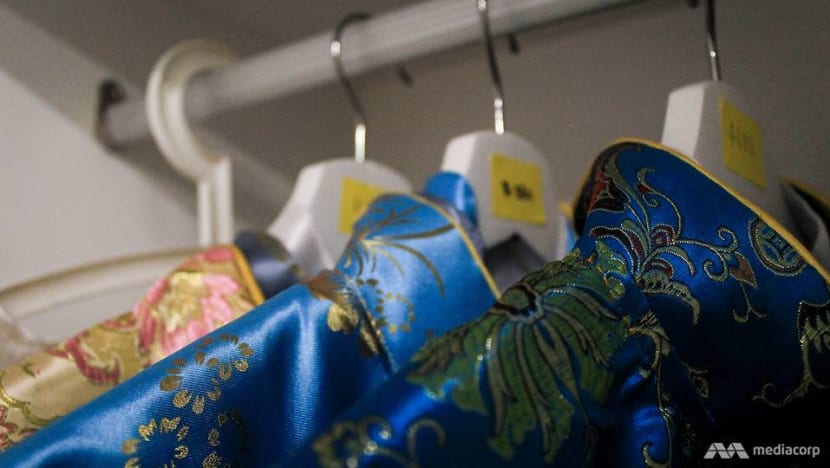 "I've grown mentally in the last two months. If you're afraid, you will not be able to do it, because everything to you is taboo. Death itself is a very taboo topic," she said.
Already, she has secured a full-time position with the company after graduation.
Ms Heng's choice may not be aligned to her course of study, but it is common for students to explore sectors beyond their academic framework.
PRESERVING HERITAGE

Ms Linda Ong, director of Undergraduate Career Services at the Nanyang Business School, told Channel NewsAsia that these internships are key to preserving a heritage.
"It is a rare opportunity for any student or any Singaporean to immerse themselves in such industries. It's not just about supporting a trade, but a business culture. It's supporting a specialised skill and a craft. And it is important for educators to bring that to the student," she said.
Hai Sia Seafood and Direct Funeral Services have around 70 years of history between them.
Today, these small- and medium-sized enterprises (SMEs) are managed by second-generation business owners who are keen to revitalise their respective industries.
Doing that requires fresh blood, which according to Ms Ong is mutually beneficial to undergraduates and the companies.
"Traditional brick-and-mortar businesses will be phased out soon. But there are still basic demands in these sectors which can do with a boost from millenials' innovative input," she said.
Ms Ong also revealed that as students are now more inclined to set up their own businesses, joining these second-generation SMEs allows them to learn the ropes without "reinventing the wheel".
Banking on an influx of fresh ideas, Hai Sia Seafood opened internship positions two years ago while Direct Funeral Services started taking in interns last January.
"When we first came in years ago, young people were unheard of, internships were unheard of. Today we have about eight interns scheduled to come in at the end of the year," said Mr Darren Cheng, executive director of Direct Funeral Services.
He is also keen to professionalise the career in the funeral service line to entice a younger crowd. To improve career growth, all new workers are required to attend a six-month structured training programme.
Meanwhile, Hai Sia Seafood deputy director Ang Junting confessed that while the long hours and remote location make the job unattractive, the high barriers to entry ensure that only the truly passionate ones will thrive. Internships then form a good test-bed for identifying these talents.
"It's important for our business continuity that people get acquainted with the industry and the kind of work we do," he said.
Mr Ang added that schools have also been supportive of students' endeavours into peculiar industries and SMEs – an important step towards giving dying trades a new lease of life.