The elderly shuttlecock recycler on a mission to produce a badminton world beater
Ronald Cheong, 83, is a former pre-independence national shuttler who's had his fair share of ups and downs.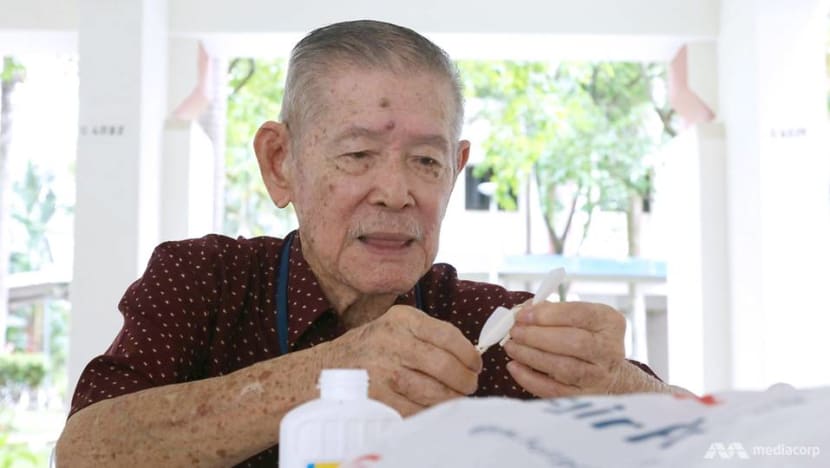 SINGAPORE: With three snips of his cutter, 83-year-old Ronald Cheong removes a good feather from an otherwise tattered shuttlecock.
During his heyday in the 1950s, the former national shuttler would have only needed three swings of his racquet to send his opponent scrambling on the court.
"Although they played slowly, the judgment and accuracy was there," Mr Cheong told Channel NewsAsia at a noisy void deck in Sengkang, insisting that badminton was played more tactically those days.
"You can be very good friends off the court, but on the court you are his enemy. The weapon given to you is the racquet, and the bullets are the shuttles. So you have to make sure that he gets into problems with the shuttle."
For Mr Cheong, even the most torn-up bullets have a use. With his frail fingers he stores the feather in a clear, plastic box. It will be used to refurbish other shuttlecocks.
The man has been recycling shuttlecocks for more than 60 years, since he left the national team to become a coach. He started doing it because he wanted to reuse them for his students to practise with.
At his age, Mr Cheong hardly plays. But that hasn't stopped him from pursuing his side hobby. It is a way for him to get more young people to play the game he loves so much.
Mr Cheong sometimes gives the refurbished shuttles to tuition centres, often under the guise of getting students to go outside. "Your students only sit down and study," he would say. "Why not you take this, get racquets and play?"
But his real aim is far more ambitious. "I hope that there will be a time when we have our own Singaporean to be a world beater," he said.
CUTTER, PLIER AND GLUE
For decades Mr Cheong has been waiting for this to happen, although according to him, no one has come close to Wong Peng Soon, the three-time Thomas Cup and four-time All England Open winner.
It is a big dream, but one that starts small – with a short LRT ride from his Sengkang block to the interchange, then a much longer bus ride from there to Bedok.
About twice a week, Mr Cheong commutes to a sports hall in Bedok to gather old shuttlecocks. He's lived and played there for many years, so the regulars know him very well. He gets their used shuttlecocks without asking. He picks up what's left behind too.
In a good week, Mr Cheong can get about two dozen shuttlecocks. "I take everything," he said. "What you can use, you use. The ones you can't, you throw."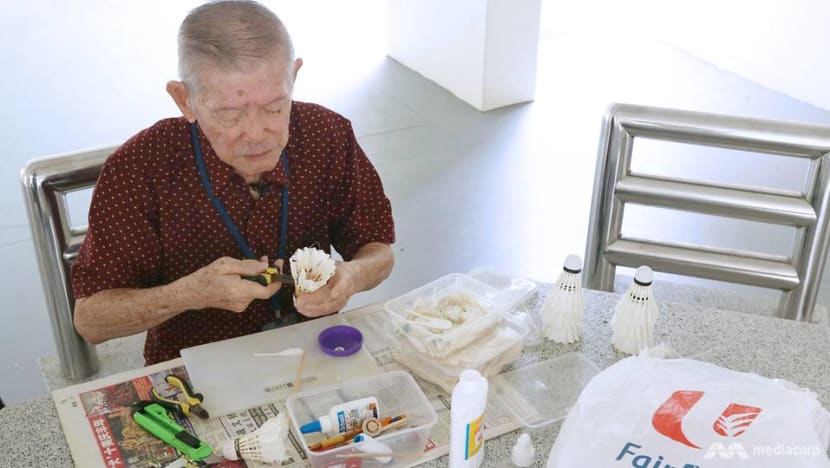 Back at the void deck under his block, Mr Cheong spends his mornings getting to work.
He lays out the used shuttlecocks on a piece of newspaper, picks out the decent-looking ones and cuts out the damaged feathers. Then, he uses pliers and glue to insert new feathers from his stash, before leaving the shuttles in the sun to dry.
It sounds straightforward, but Mr Cheong must ensure the new quills have the same thickness as the rest. If not, he uses a penknife to carve off the excess. The entire process can take around 20 minutes per shuttlecock.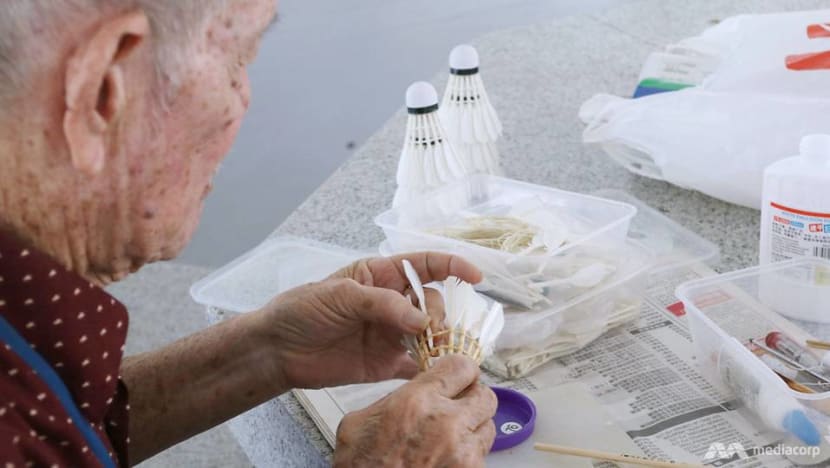 But not all the shuttles can be saved. With heavy hitting so common in the sport today, they typically come with more than half of their 17 feathers broken, he lamented. Out of 24 shuttles, he might only salvage five.
While it is short change for what seems like a painstaking process, Mr Cheong keeps going. Besides the children, he gives the shuttles to fellow seniors who play for leisure too.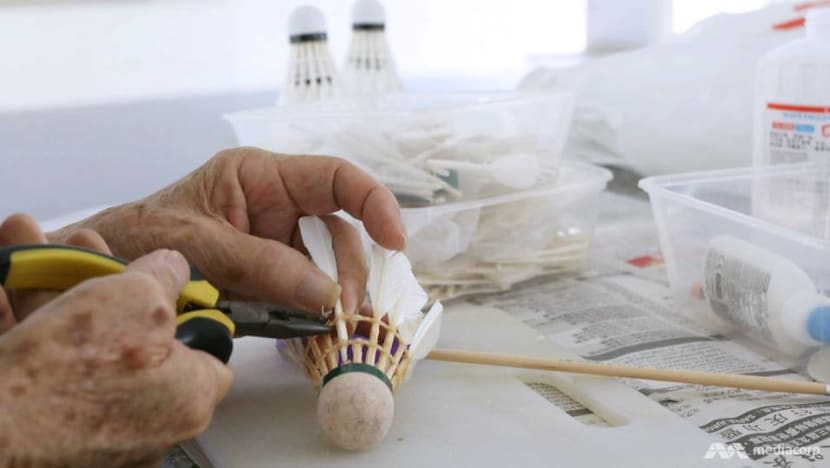 These refurbished shuttles also work just as well as the new ones, he suggested, something his playing partners have confirmed.
"Some of them want to pay for it," he said. "I said, forget it." But they insisted, and so he lets them go for S$12 a dozen. "I don't want to say that I am making something out of it," he continued. "The passion is to build better badminton players in the young."
REACHING THE TOP, ALMOST
As a young boy, Mr Cheong was crazy about badminton.
The Peranakan Chinese grew up in Joo Chiat, in a house flanked on each side by an outdoor badminton court. At age 7, he picked up the sport and was soon playing almost every day, "from early morning till evening".
He sparred feverishly with his cousin, a competitive player who was sponsored by a racquet company. After it rained, Mr Cheong would quickly wipe the courts with gunny sacks. Night time? No problem. His father had fixed lights on the court.
It had become an obsession, and naturally, his dad wasn't too happy, demanding his son hit the books instead.
"If he makes a noise, you just stand there and listen," Mr Cheong said, chuckling and pointing to his right ear, then left. "It goes in here, comes out there. He walks away nicely, I just forget about it, and continue what I am doing."
Continued he did, until he developed a flair for the sport, even without formal coaching. "Nobody taught me," he said. "Nobody told me this stroke is wrong – I learnt it myself."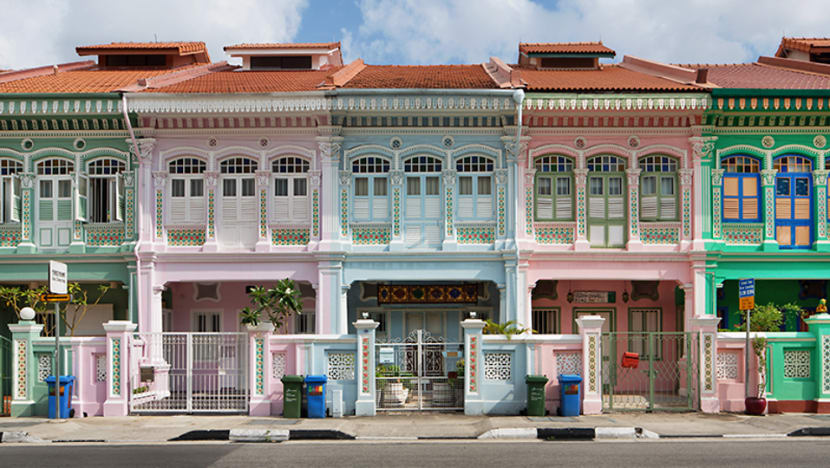 Mr Cheong even played through the war, especially as he didn't need to venture far to do so. Since his father was a village leader at the time, the Japanese didn't bother them either.
After the war ended, Mr Cheong started playing in junior then senior tournaments for the Anglo-Chinese School team, beating opponents older than him. By 17, he had been scouted for the national team.
It was then that he thought he could eke out a living from badminton. "I felt that this sport was a very free and easy game," he said.
But his meteoric rise stalled as quickly as it started.
During tournaments, Mr Cheong kept finding himself on the reserves. For some reason, his coach always seemed to favour two to three other singles players. Still, he remained hopeful that his team would win titles and produce the next Wong Peng Soon.
It never happened. "The players chosen did not shine," he said. "I could have made it, but at that time there was no spirit in me to go further, because when you are put on reserve so many occasions, you just get frustrated."
Mr Cheong left the squad in his 20s, but he has no regrets. "I think I have done my best playing and now it's time to give back in any form," he said.
DRIFTING APART
If there's one thing that Mr Cheong has left to offer, it's the sheer amount of knowledge he has about badminton.
Similar to how he picked up the sport on his own, nobody taught him how to refurbish the shuttlecocks. "I only looked at it and saw that it could be done," he said. "It's my own knowledge that came with the experience of playing."

As Mr Cheong explained how a broken shuttlecock would flutter in the wind, he couldn't resist diving deeper. He elaborated on serve techniques, dished out numbers on weight and tension, and rattled off names of pre-independence national players.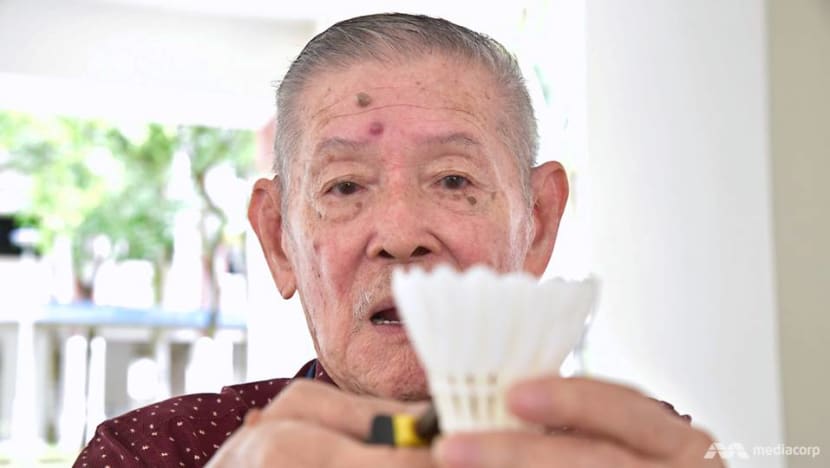 It wasn't a surprise then that he went down the coaching route.
For a number of years Mr Cheong trained kids under a couple of national badminton programmes, and he enjoyed it. The money wasn't as good as it is now, but he said this was secondary. "I hoped to pass it on to future generations who are interested in the game," he reiterated.
But Mr Cheong would soon discover it would be difficult to sustain that passion.
His dad, discovering that he had too much free time, asked him to get a proper job. He found work in a shipping firm, then a telecommunications company, but still managed to coach on Sundays.
Then, Mr Cheong got a letter inviting him to interview for a better-paying job working for the Government. He passed the interviews, and it was too good to turn down.
"I still played during my free time, but I was consumed by work," he said, adding that he had three round-the-clock shifts to cover. "I should have played more and got more people to play the game, but during work it was very hard to find time."
ILLNESS AND BROKEN TIES
While he retired from the civil service aged 62, the setbacks didn't stop.
During a medical check-up, doctors diagnosed Mr Cheong's wife with advanced stage ovarian cancer. To pay for her medical bills, he used up all his savings and sold his Bedok flat. "It was a huge sum of money," he said, his trademark chirpy and playful tone gone. "I didn't want to owe people money."
For the next four-and-a-half years, Mr Cheong looked after his wife every day. "I tried within my means," he said, even seeking alternative medicine on top of the chemo and radiotherapy. She eventually died in 2006.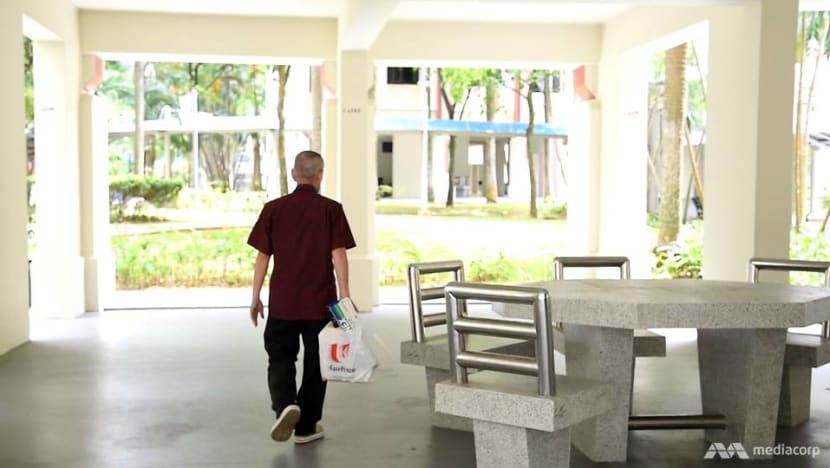 Mr Cheong was all alone. He said he hasn't heard from his son and daughter, both living overseas, in a very long time either.
"To talk about my children is also very hard," he said quietly. When asked if he'd like for them to reach out, he replied: "I hope that they will do it. But they have not done so for 40 over years."
Nevertheless, Mr Cheong said he's grateful that a family who used to live in the same Joo Chiat area took him in after his wife died. He's been living with them ever since.
"I have a family who provides everything for me, I don't have to ask more," he said. "They are my godchildren."
HOPES AND DREAMS
Mr Cheong might have gone through quite a bit, but his love for badminton never faltered.
Since he retired, he has started playing more regularly again. For the past three months, he's been playing once a week with some friends in Choa Chu Kang, but only if they're able to book a court.
Mr Cheong said he's unhappy with the current booking system. There should be a few hours in the evening reserved for seniors, he suggested.
However, he's not playing as much now because he wants to refurbish more shuttlecocks. After a Facebook post on him went viral, he's had a huge jump in orders. But he needs a lot more used shuttles to meet the demand.
"I did not really expect people to want to try or play with it," he said. "For all those who asked for it, I will do my best."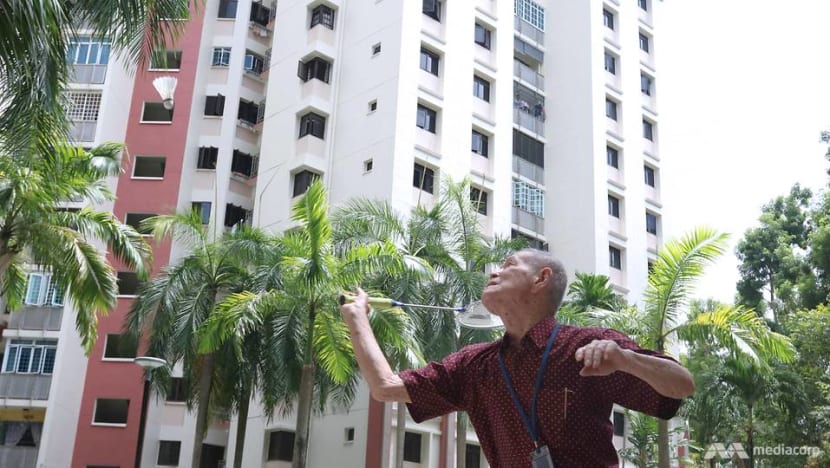 Back in the heartlands, Mr Cheong does his best to execute a smash in a friendly rally with a neighbour.
Then he stretches his wiry frame and hits a few wayward shots, laughing and joking with his opponent. But his determination to return the shuttlecock, evidence of his competitive streak from days long gone, is still present.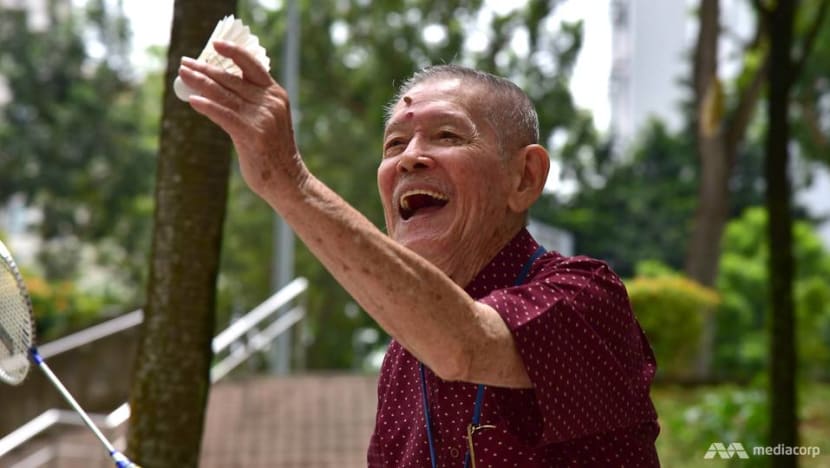 It might be easier to believe he's 83 when he sits alone at the table each morning, fiddling with his tools and shuttles. He said people walking by sometimes stop to say things like: "Wow, you are clever ah."
"They will say it in some language which I don't understand, but know," he added, referring to Hokkien or Mandarin, languages he doesn't speak because he is a Baba.
"I appreciate that, but I hope they will tell people around the area that somebody is doing this and get their children and grandchildren to play the sport.
"And that's how a small population can get a few top-level players."