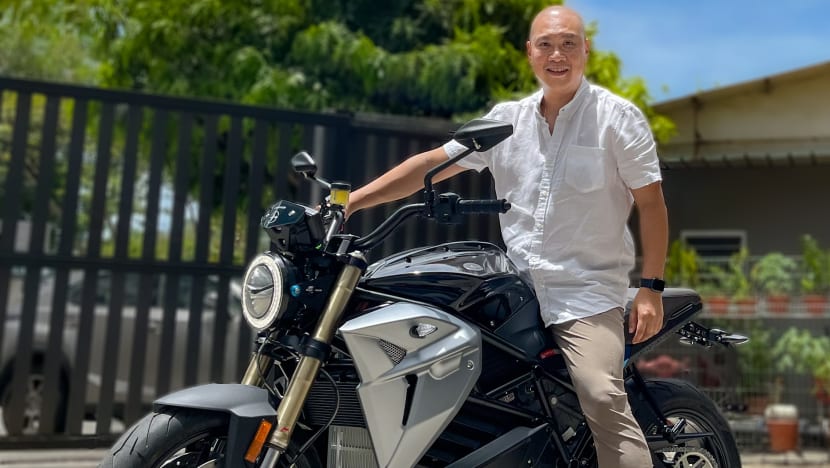 SINGAPORE: Electric motorcycle numbers in Singapore look set to increase, though there are still hurdles in making their adoption here more widespread, observers say. 
A decade ago, there were eight electric motorcycles on the roads here, according to data from the Land Transport Authority (LTA). By 2015, however, this number had dipped to two and remained stagnant for several years. 
As the country looks set to phase out internal combustion engine vehicles by 2040, electric motorcycle numbers are slowly rising once again. 
Latest LTA figures show that there are now five electric motorcycles registered here as of the end of August. 
This comes a little over a year after regulations were amended to allow electric motorcycles with power ratings of more than 10kW on the roads. Motorbikes with a top speed of 50kmh and above will also be allowed on expressways.  
One of the newly registered electric motorcycles is an Energica Eva EsseEsse 9+, which is being sold here by authorised distributor Ifnyi. The firm currently offers three models of Energica bikes, with prices between S$69,000 and S$84,000. 
Ifyni's co-founders are Mr Randall Lee, who heads a software firm, and Mr Eugene Mah, managing director of Mah, which distributes motorbike brands such as Triumph and Aprilia.  
The novelty of the Energica is drawing a lot of interest from motorcycle enthusiasts, said Mr Lee, noting several have already come forward for test rides of the Eva EsseEsse 9+. 
"Energica is one of the really cool brands on the market," said Mr Lee, noting the company's role as supplier for electric motorcycle racing competition MotoE. 
"It's like a Ferrari on the road, a brand new Ferrari. Everybody wants to ride it."
Mr Lee told CNA the firm has already sold three Energica motorbikes, and plans to bring in 10 of the Italian-made electric two-wheelers by the end of the year.
The company also distributes IONA RAP, the three-wheeled electric motorcycles that Singapore Post is testing as part of its shift towards electric vehicles. 
Separately, Singapore-based brand Scorpio Electric has announced plans to produce 8,000 electric motorbikes annually at its Teban Gardens facility. 
And in April this year, Eurosports Technologies – the parent company of Scorpio Electric – announced a tie-up with SMRT subsidiary Strides Transportation to develop and supply smart electric motorcycles to commercial and corporate clients across Singapore and the Asia-Pacific region.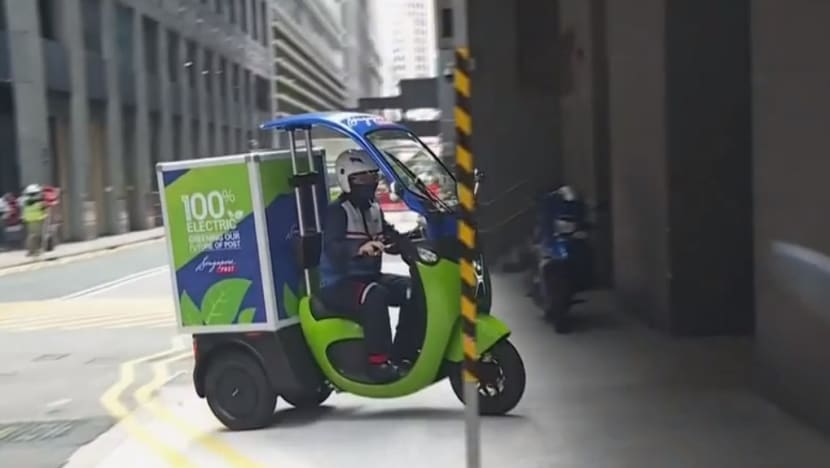 BENEFITS OF ELECTRIC MOTORCYCLES
"Electric motorcycles offer the benefits of zero tailpipe emissions and are noiseless," said Mr Satya Ramamurthy, global co-head of public transport at KPMG.
Electric motorcycles generate about 10.7g of CO2 per kilometre, said Mr Ramamurthy, assuming the electricity used to charge the vehicles is generated from natural gas. In comparison, an internal combustion engine (ICE) counterpart would release four times the CO2, at 43.59g per kilometre. 
A study by McKinsey in October last year valued the global market for electric motorcycles at US$97 billion, or about 4 per cent of global auto sales.
The consultancy firm suggested this could reach US$150 billion by next year, with the largest growth expected in emerging markets.
Electric motorcycles provide a very promising alternative in the larger two-wheeler markets in ASEAN such as Thailand, Vietnam and Indonesia, said Mr Ramamurthy. In Singapore, however, there is less demand due to perceived safety concerns over the two-wheelers. 
The number of electric motorcycles registered locally pales in comparison to that of electric cars. 
As of end-August, there were 1,855 electric cars on the roads here. In comparison, there are just five electric motorcycles – making up just 0.004 per cent of the local motorcycle population. 
One reason is cost, with an electric motorbike priced at more than double that of an ICE equivalent. 
This is coupled with the relatively scarce number of charging points across the island, which could lead to a sense of "range anxiety" for potential buyers, said Mr Ramamurthy.
"Furthermore, major producers in the motorcycle sector have not pushed hard enough on the electrification agenda to give rise to an ecosystem matching that of electric cars," he said.
"While key manufacturers have started producing electric motorbikes, the entire electric-bike ecosystem still lags behind the electric car market."
Though traditional motorcycle manufacturers such as Honda and Harley Davidson have ventured into producing electric alternatives, there has been no word as to whether these will be made available in Singapore. 
REVIEW OF CHARGING STANDARDS
Acknowledging that the Energica bikes are higher-end vehicles aimed at those who ride for leisure, Mr Lee said more mass market electric motorcycles could be introduced here with a review of Singapore's electric vehicle charging standards.
He is hopeful that a review of the existing standards – known as Technical Reference 25 (TR25) – to allow options such as swappable batteries would boost the supply of electric motorcycles here with those produced in China and Europe, which do not currently comply with local regulations.
In July, Minister for Transport S Iswaran said the LTA is leading a "comprehensive review" of TR25 together with industry players and technical experts, including the potential introduction of high-powered chargers and swappable batteries for electric motorcycles.
The review is expected to be completed by the end of this year. 
"Impetus from the Government in the form of regulation or incentives will be critical for the wide adoption of electric vehicles across the board," said Mr Ramamurthy.
He acknowledged developments such as allowing more powerful electric motorbikes on the road, as well as aligning the road tax structure for electric motorbikes with that of their ICE equivalents, were positive steps forward. 
"While a S$30 million budget was set for EV-related initiatives in 2021, specific initiatives to encourage conversion to electric motorcycles should be considered," he said.