From ghosts and mass graves, to Einstein: 10 stories we bet you didn't know about Siglap
On the returning That's My Backyard series, On The Red Dot explores more of Singapore's neighbourhoods, their people, and stories.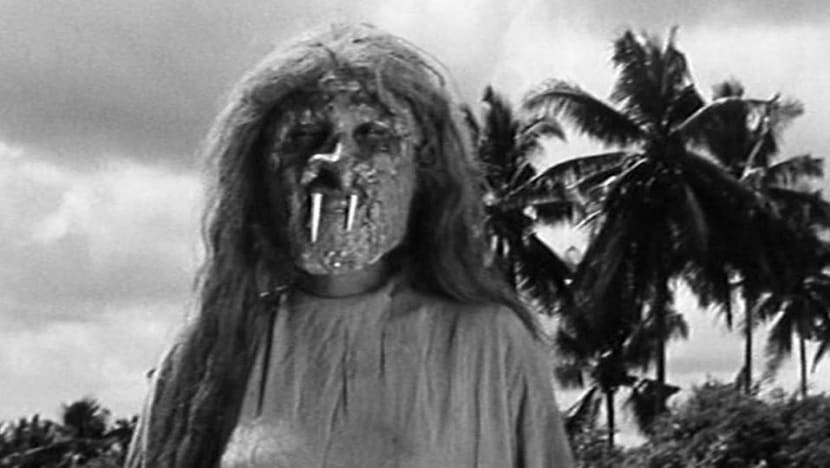 SINGAPORE: Siglap, with its hip cafes, indie ice-cream joints and restaurants, hides a past with many spooky secrets - from purported pontianak sightings which inspired made-in-Singapore horror movies, to its massacre sites where civilians were machine-gunned down during the Japanese Occupation.
On the returning That's My Backyard series, On The Red Dot explores more of Singapore's neighbourhoods, their people, and stories. The first episode relived some little-known nuggets of Siglap's rich history. (Link: Watch the full episode here.)
Here are 10 things to know about this yuppie haunt, which is home to some 40,000 people today.

1. A solar eclipse and a Sumatran prince inspired the Siglap name
You may have walked past this nondescript grave marked in yellow (which denotes royalty) at Jalan Sempadan, but do you know that in it lies a Sumatran prince who is believed to have founded Siglap?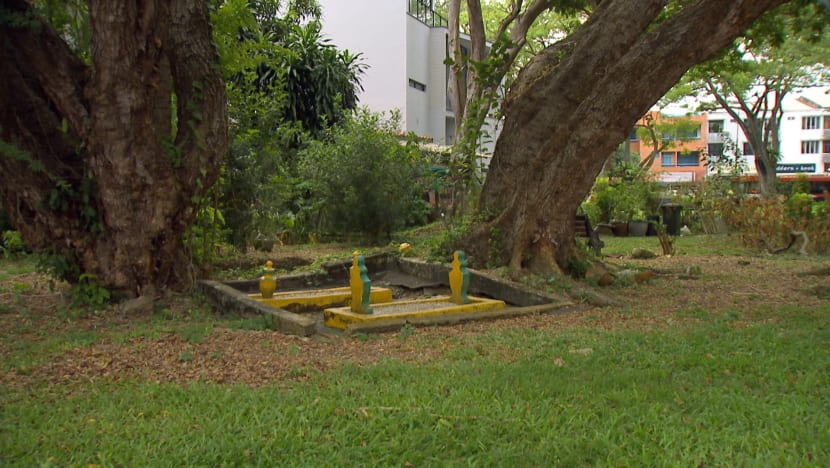 Tok Lassam came to Singapore in the early 1800s and built this village by the sea. He later nicknamed the area 'Si Gelap', the Malay word for 'the dark one', after the sky turned dark one day in 1821 and spooked many villagers in the area.
Curious about the stories, amateur history researcher Sarafian Salleh wrote to the National Aeronautics and Space Administration (NASA) to confirm the occurrence of a solar eclipse. (A mechanical engineer by training, he had discovered his great-grandfather's grave in Kubur Kassim cemetery nearby, and decided to delve into the history of the estate.)
"I looked at (NASA's) website and did some interpolation in dates and discovered there was actually a total eclipse on March 4, 1821. NASA gave me a copy of the report. And just like that, Siglap got its name!" he said.
Mr Sarafian also managed to track down Tok Lassam's descendants through his Facebook page Bugis Temasek and his various blogs about Singapore history. He met nearly 20 of his descendants at the old Kampong Siglap Mosque recently.

WATCH: Hear about old kampong life from Tok Lassam's descendents (1:35)
2. Spot the grave plots dedicated to supernatural beings in this cemetery
It's hard to miss this cemetery along Siglap Road, with its distinctive bright yellow gates, overhanging trees and spacious grounds - a sharp contrast to the spanking new Flamingo Valley condominium next door and trendy cafes down the hill.
The Kubur Kassim cemetery is over 90 years old, and is believed to have served as a burial ground for Muslims in Siglap. Many of its graves belonged to prominent members of the Muslim community, including Dr Hafeezudin Sirajuddin Moonshi who opened the first Muslim clinic in Singapore in 1916. He was also a former Singapore Municipal Commissioner.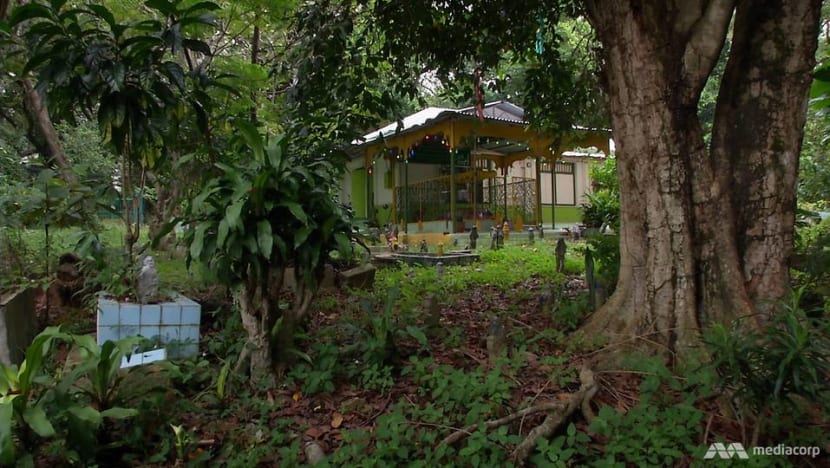 And if you wander in and look close enough, you may be able to spot some grave plots here dedicated to the Orang Bunian, supernatural human-like beings from Malay folklore.
Today, the cemetery also houses a surau (prayer house in Malay) where religious classes are conducted, and a meeting place for a tariqa (an Arabic term for a Sufi Muslim order).

3. Civilians were machine-gunned around Siglap Hill
One of Siglap's darkest secrets was the wartime atrocities committed in that area, where Japanese soldiers killed and buried civilians during the Japanese Occupation.
Retiree Edwin Thompson recalls witnessing dozens of male Chinese being brought by Japanese soldiers to a hill in Siglap in several lorries during the early 1940s.
"I saw that all their hands were tied behind their back and they were ushered to walk to the top of the hill. They (the Japanese soldiers) pushed them down and machine-gunned them," he said.
Five mass war graves were later found in an area dubbed the "Valley of Tears" or "Valley of Death" in Siglap. Later, 40 more mass war graves were found in the Siglap area off Evergreen Avenue, according to the National Library Board's infopedia website.
WATCH: Residents share their stories (2:45)
4. Pontianak hauntings here inspired a film
If you were living in a kampong here some 50 years ago, you might think twice about venturing out at night.
Villagers then believed that they were being terrorised by the pontianak - a female vampire which, according to Malay myth, is the ghost of a woman who died during childbirth. It was thought that a whiff of frangipani heralded its presence.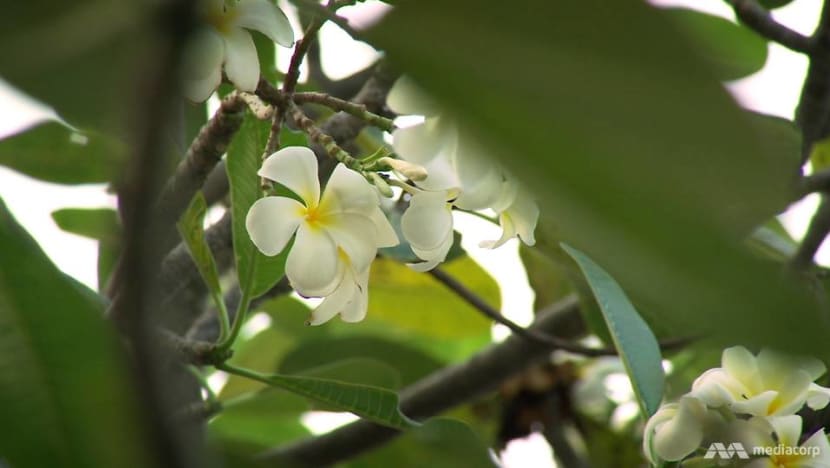 Their fears inspired the Singapore-made cult classic Pontianak (1957) film, which was so successful it led to two sequels. Some of the scenes were shot in Kampong Siglap.
The Malay film, produced by Cathay-Keris, became so popular that it was dubbed into Cantonese for Hong Kong audiences, and into English for American television as an entry for the Asian Film Festival.

5. It was the Hollywood of Singapore
Siglap once possessed the glitz and glamour of Hollywood, when Cathay-Keris Studio - one of two major film studios during Singapore's golden era of filmmaking - set up home at Jalan Keris in 1953, next to where Ocean Park condominium is today.
The studio produced dozens of Malay-language comedies, dramas and horror films from its East Coast Road base and the area was a wonderland for celebrity-spotting and autograph-hunting, where you could witness the likes of comedian Mat Sentol performing stunts on the streets.
The nearby terrace houses, streets and the sea were often used for location shooting, and the studio churned out some 125 films till 1973 when it bowed out due to competition from television.
Karen Chan, executive director of the Asian Film Archive, was glad that the different legends and folklores during that period were translated into film.
"In that 20-year period, (the films) really captured the spirit of that community and what it was like to be living in the different kampongs then.
"We look at these films almost like storybooks that remind us about our past," she said.

6. It is home to one of Singapore's oldest barber shops
This traditional Indian barber shop is one of the longest-surviving businesses in Siglap, having been around since 1955.
New Star hairdressing salon owner Pakari Kothandapani said their clientele includes Siglap's young and old residents, and well-known personalities over the years such as the late former President S R Nathan.
The shop moved from its former location to across the street in Upper East Coast Road after a long-standing eviction battle in 2008. However, it still preserves its vintage 50s look and style.
But there are spaces which did not survive.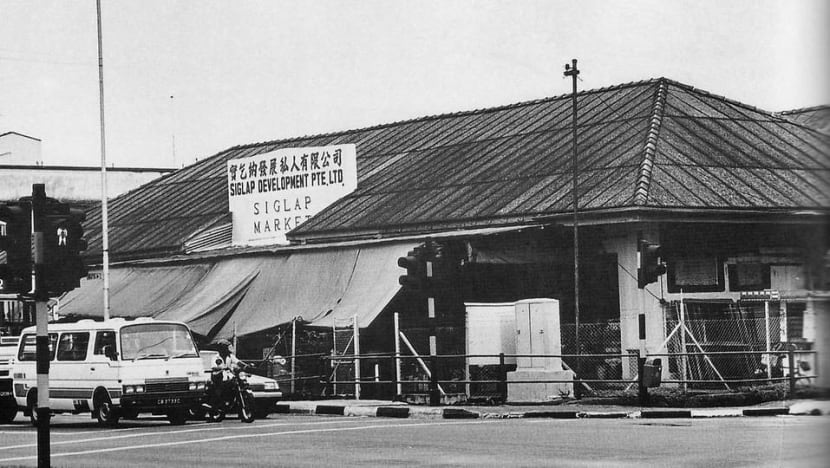 A thriving private wet market built in the 1940s to cater to villagers once occupied the space where Siglap Centre is today. The market was popular for its nasi lemak, fried carrot cake and Teochew mee pok.
Unfortunately, it was shuttered to make room for redevelopment in 1989.
7. These are the only HDB flats in Siglap – and they will be gone soon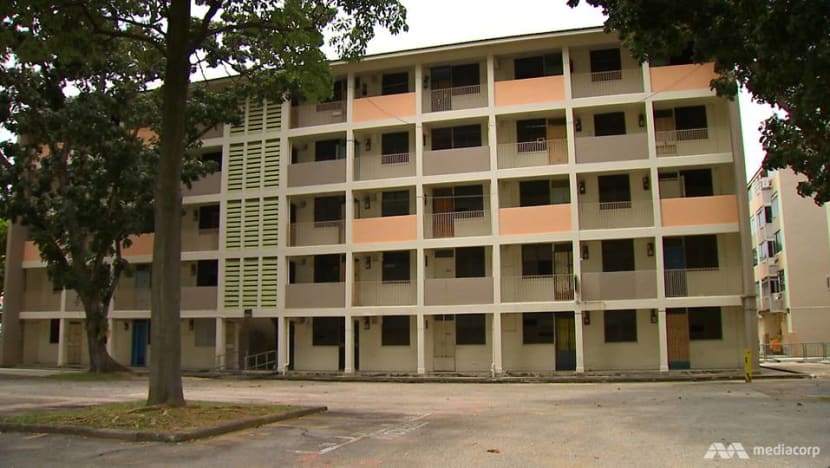 These four distinctive HDB blocks, the only public housing in that area, are a juxtaposition to the posh, well-heeled neighbours in Siglap.
They were once the tallest buildings in the area, hugging the coastline with picturesque views of the sea until the East Coast Reclamation Scheme created Marine Parade estate several years later.
The flats were built in 1964 to house the affected residents of a nearby kampong that had been razed by a fire sparked off by firecrackers during the Chinese New Year celebrations in 1962. The fire had engulfed more than 50 attap houses.
This cluster of five-storey two-room flats is set to be demolished in the near future.

8. The shoreline used to be 1km inland from where it is today
The beachfront restaurants and bungalows that once lined the edge of the sea along Upper East Coast Road lost their million-dollar frontage when one of Singapore's biggest land reclamation projects came along in 1966.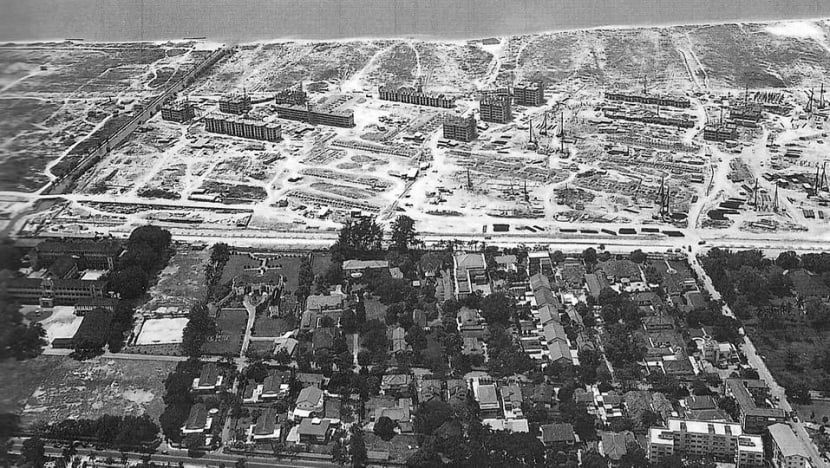 To cater to a growing population, the massive East Coast Reclamation Scheme sought to increase land area to accommodate more houses, schools, parks and other community facilities.
By 1985, more than 3,600 acres of land had been reclaimed. Its first phase spanned Bedok to Tanjong Rhu, which included Siglap in between.
The shoreline was extended by about a kilometre, paving the way for East Coast Park and the Marine Parade housing estate development. The last of Siglap's fishing villages disappeared in 1986.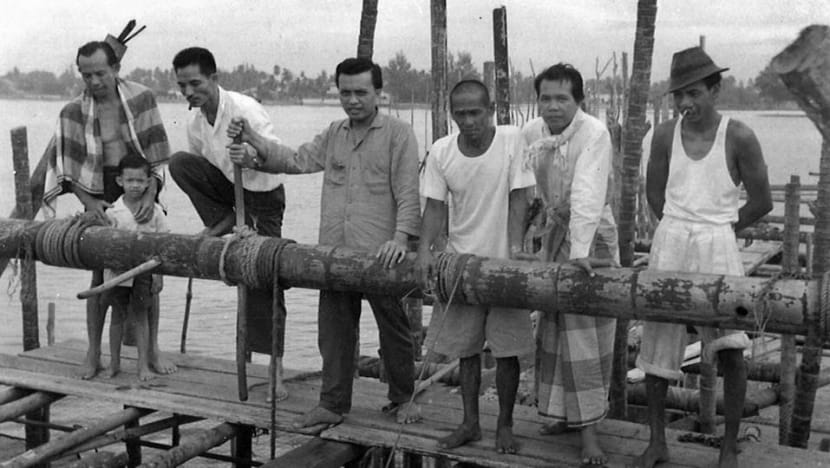 9. Frankel estate was named after a Jewish businessman who hosted Albert Einstein here
Frankel estate was once known for its expansive coconut and nutmeg plantations in the 1800s, before it was sold to wealthy Jewish entrepreneur Abraham Frankel in 1912.
Mr Frankel had become successful after riding on the success of the rubber boom, his bakery and the Frankel Brothers Furniture Store on Victoria Street. At one time, he owned more than 400 acres of land in Siglap and was also known for his philanthropy.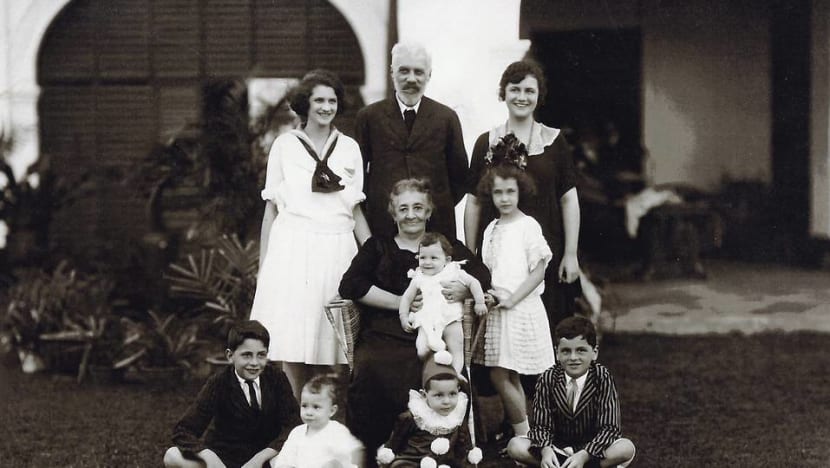 Mary Annetta Clumeck, the great grand-daughter of Mr Frankel, recalled: "I remember the beautiful estate Siglap which was right by the sea. It had over 200 acres of coconut and rubber plantations.
"Of course, the rubber became extremely valuable during the wars and the Frankels became even wealthier. Every Sunday, we would go to Siglap for tiffin (a British colonial term for a lunch or light meal)."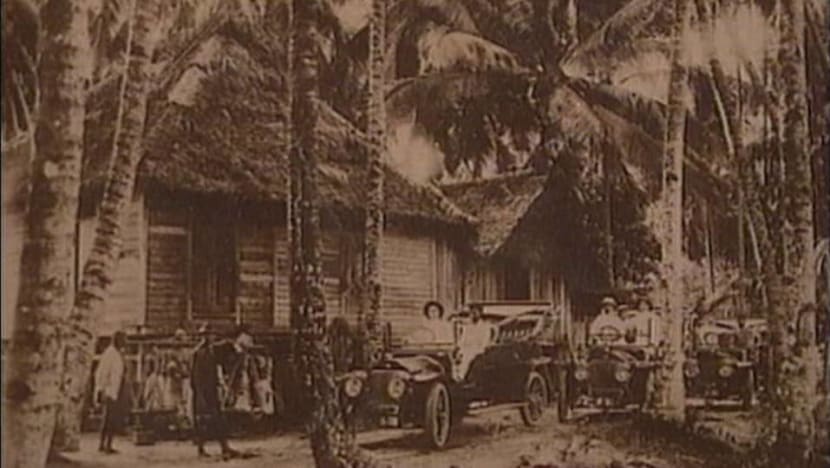 One of the world's greatest minds, scientist Albert Einstein, visited Siglap on November 2, 1922, to raise funds for the creation of the Hebrew University in Jerusalem.
The Nobel Prize winner was given a grand tour of Siglap by the Frankel family, and was said to be fascinated by the beautiful coconut palms in Frankel Estate.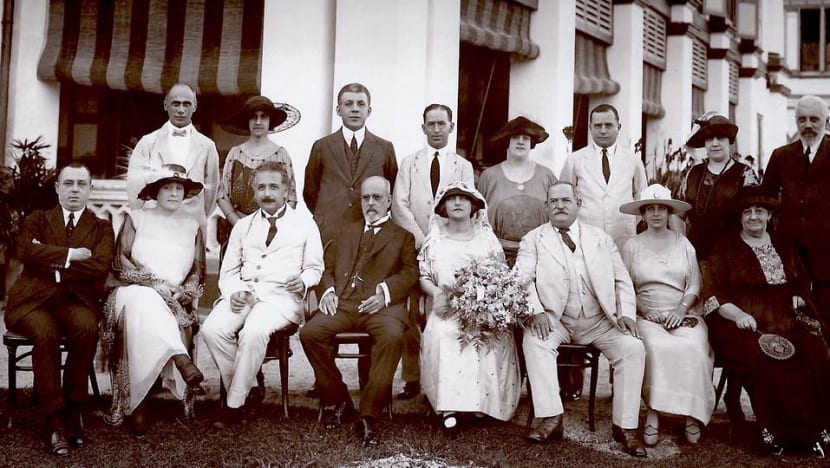 10. The estate with opera roots
If you know your Verdi from your Bizet, then wandering the maze of Opera Estate could bring a special thrill because of its road names like Aida, Carmen and Tosca.
Several of the street names here drew its inspiration from Western operas while those located closer to New Upper Changi Road were named after Malay operas such as Jalan Terang Bulan and Terang Bulan Avenue.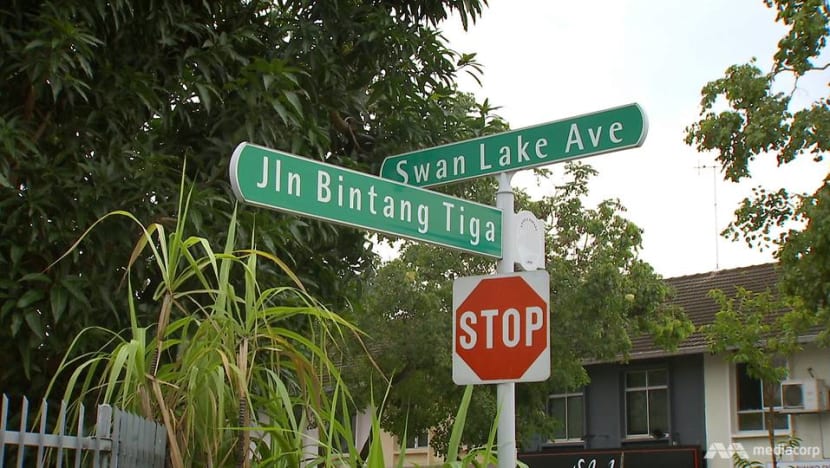 You can also have fun identifying the streets that aren't named after operas. For instance, Metropole Drive is believed to be named after the New York-based Metropolitan opera house, while Swan Lake is a ballet,
And if you stroll down Fidelio Street, you might pass by a house that gladly welcomes strangers.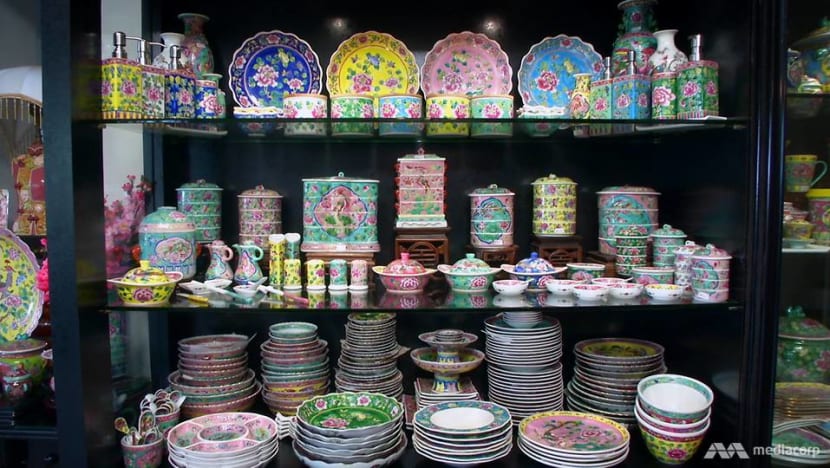 This house is not only home to Ms Terry Chia and her extended family, it's also a showroom for a colourful range of Peranakan wares for sale. Ms Chia, who left her corporate IT job in 2005 to start the shop, said every piece is handmade by a special craftsman in China.
Her clientele are mainly from overseas, as well as those from the Peranakan community in the estate.
Catch That's My Backyard - On The Red Dot on Fridays at 9.30pm on Mediacorp Channel 5. Watch the full episode on Siglap here.