Tech scholarships handed out to more than 100 recipients, new digital leadership programme unveiled
The SG Digital Leadership Accelerator seeks to harness talent from potential leaders to drive the digital future, said Communications and Information Minister Josephine Teo.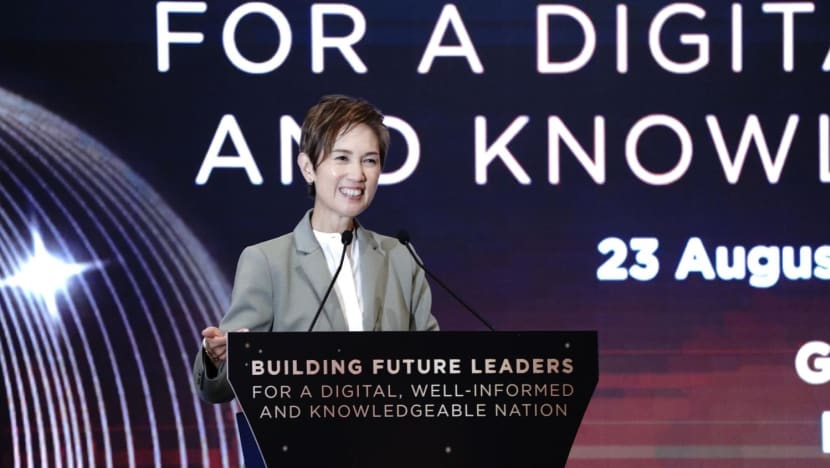 SINGAPORE: A total of 107 recipients were awarded a range of technology- and media-related scholarships on Tuesday (Aug 23) as the Government unveiled a new digital leadership programme.
Known as the SG Digital Leadership Accelerator, which will be helmed by the Infocomm Media Development Authority (IMDA), the programme "aims to bring together Singaporean digital leaders at different stages of their career", said Communications and Information Minister Josephine Teo.
"They will have the opportunity to network and support one another on their leadership journeys, while being mentored by established industry leaders. Ten SG Digital Leaders have been selected in the inaugural cohort, from eight companies," added Mrs Teo, who is also Minister-in-charge of the Cyber Security Agency (CSA) and Smart Nation Initiative. 
A total of six scholarships were awarded by the agencies under the Ministry of Communications and Information (MCI) and the Smart Nation Digital Government Group (SNDGG).
Before this year, the six agencies - MCI, IMDA, CSA, SNDGG, Government Technology Agency and the National Library Board - had held separate events for each scholarship. The scholarships aim to groom technology, media, library and archives services, communications and translation talents. 
Mrs Teo noted that digital acceleration had "transformed our lives", with the Government playing a critical role in partnering industries and other agencies to "lay the infrastructure, and to ensure that the digital space remains safe and secure for all". 
"Unlike the physical space, there is no clear roadmap for the digital realm. We need to collaborate for several reasons: to create new opportunities and possibilities for our businesses and people to thrive in this digital age; to look at and deal with emerging issues together, so that we are all better protected when we go online; and to make sure that we have an inclusive agenda. It is also important that we come up with new and better ways to engage the public," the minister added.  
The SG Digital Leadership Accelerator is part of the Government's effort to harness and nurture talent to drive Singapore's digital future. The inaugural batch of 10 leaders come from eight companies. 
IMDA will support the professional growth of these 10 leaders through a structured development programme that will let them build connections with leaders in the tech industry and develop leadership skills, according to a press release for the event. 
IMDA also expanded one of the scholarships, the SG Digital Scholarship, to include a new focus on "future communications" that will support master's degree level local talent in pursuing research and translation projects in future communications technologies such as 5G and beyond. Thirteen scholarships for this area were given out this year.