SINGAPORE: Singapore's greatest concern in online safety is the threat to racial harmony and religious tolerance, which are what it wants to safeguard through codes of practice proposed by the Government, Communications and Information Minister Josephine Teo said on Wednesday (Jun 29).
Ms Teo was speaking in a wrap-up interview on her working visit to the United States, during which she met with a number of tech companies.
She noted that for a number of companies she had met with - such as Google, Meta and Twitter - there was an "added dimension" to their discussions, as they would be impacted by the proposed codes of practice.
The Ministry of Communications and Information (MCI) said earlier in June that the Government would consult on two proposed codes of practice to enhance online safety and combat harmful online content on services accessible to users in Singapore.
 
When asked why Singapore is looking at the new codes, Ms Teo said that the Government is considering the "voluminous amount" of user generated content that are made available to social media platforms, as well as the safeguards that need to be put in place for individuals to feel a greater sense of safety while engaging in online content.
"At the same time, where there are user-generated content that could threaten society and in the case of Singapore, what would be our greatest concern will be our racial harmony and religious tolerance," said Ms Teo. "Then, there must be a way for us to safeguard society as well."
Ms Teo said that her meetings with tech companies were also to share with them Singapore's approach in developing such codes, as well as to understand how their technology works and how these codes can be implemented effectively, in a collaborative manner.
One of the points discussed with the companies was how they are also innovating in how they introduce safety tools that could enhance the sense of safety in users.
"We secured commitment of these companies to promote awareness and utilisation of these tools in the Singapore context," said Ms Teo. 
"We will be working very closely with them to try and see how these kinds of efforts can also complement the introduction of the codes."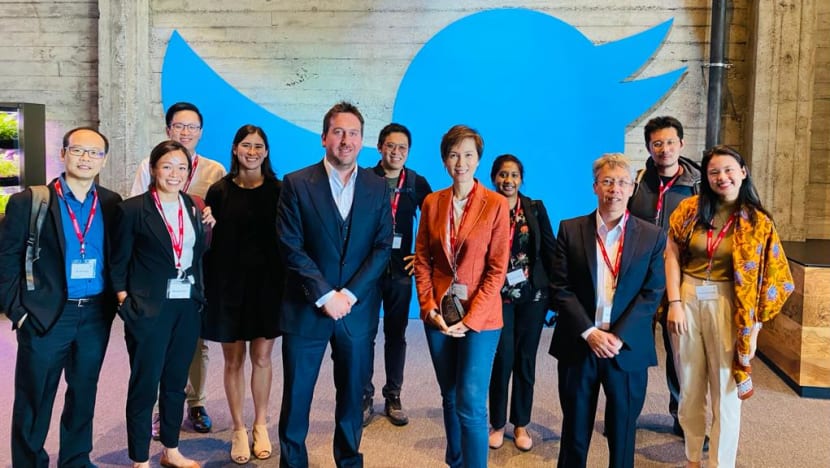 Ms Teo said that a common theme in the Government's consultations is that Singapore would be "better off not taking a very prescriptive approach but instead, to be outcomes based".
This means that Singapore would want to articulate in the codes what people hope to see as a result of interventions by social media services such as Facebook or Instagram, to achieve the same outcomes.
The difference between the proposed codes and the existing Protection from Online Falsehoods and Manipulation Act (POFMA) and Protection from Harassment Act (POHA) would be the broader spectrum the codes cover.
"There is content that is very sexual in nature. There is content that is violent in nature. Should people be constantly exposed to this kind of content?" asked Ms Teo. 
"I think even the social media platforms themselves believe that there is a limit."
Ms Teo highlighted content that has "consequences for society", within which there are differences across different societies.
"In our context, what we will be most concerned about will be content that relates to racial harmony and religious tolerance. Now, if these things matter more to us, then we have to find a way to make it known to the social media services and to find a way to ensure that we can safeguard these kinds of values for our society," she said.
EMPOWERING FEMALE TECH LEADERS
During her trip, Ms Teo also launched the US-Singapore Women in Tech Partnership Programme with US Commerce Secretary Gina Raimondo at the SelectUSA Investment Summit.
The programme aims to empower female tech leaders and help them "to make big and bold business moves from both sides of the world".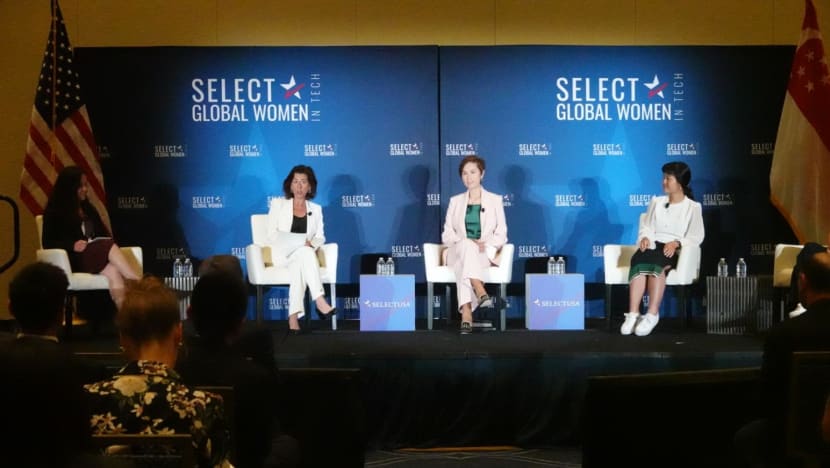 Ms Teo said that both countries had outstanding entrepreneurship amongst women in tech and programmes to support them, and noted that there was a value in trying to bring the two networks together.
"What is sometimes lacking is the understanding of the market opportunities and so when we talk about creating the space for them to be bolder in terms of their imagination, and also in terms of their ambitions for scaling up their businesses, this is what the power of network can do for them," she said.
With women's representation in Singapore's tech workforce at 41 per cent, compared to the global average of 28 per cent, the Government sees it necessary to create the kind of infrastructure that supports women in carrying out their family commitments and pursuing their career goals at the same time.
"... the purpose of us putting in place these kinds of programmes very often is to sensitise employers, and co-workers to the need to provide extra support to their women colleagues," said Ms Teo. 
"And these kinds of programmes also help to strengthen the commitment of the corporate sector to supporting women."