Keppel corruption case: Lack of sufficient evidence to prosecute 6 ex-employees, says Indranee Rajah
The Corrupt Practices Investigation Bureau could not secure the cooperation of several potential key witnesses to come to Singapore to testify, and mutual legal assistance requests did not yield any helpful evidence.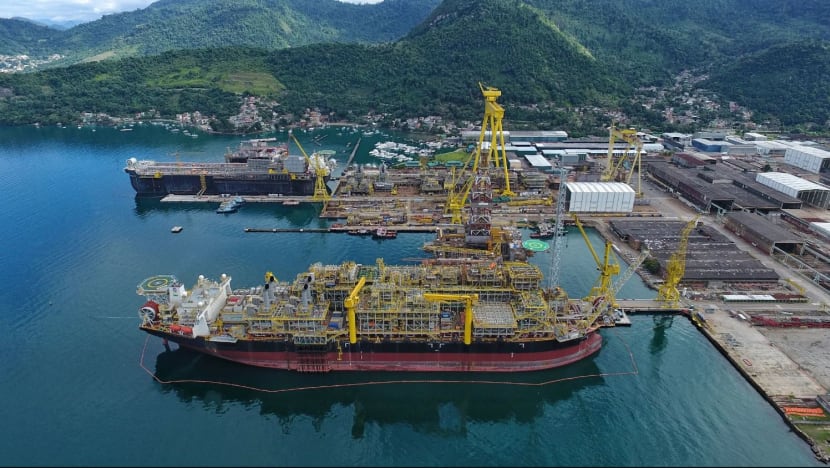 SINGAPORE: Six former senior management staff members of Keppel Offshore & Marine were not prosecuted over a multimillion-dollar bribery case due to insufficient evidence to establish their guilt beyond a reasonable doubt, said Minister in the Prime Minister's Office Indranee Rajah on Monday (Feb 6).
Addressing several questions filed by Members of Parliament over the high-profile case, Ms Indranee elaborated on the difficulties faced by authorities here in gathering evidence.
One of these was that several potential key overseas witnesses would not agree to come to Singapore to testify. One foreign witness who had given evidence in other proceedings was not willing to testify in Singapore, and authorities here could not compel him to do so.
Another person who was involved in the bribery case had entered into a plea bargain in another jurisdiction.
"When this individual was investigated by CPIB on his return to Singapore, he denied knowing that commissions paid to the agent in Brazil were paid out as bribes," Ms Indranee said.
During CPIB investigations, he also did not implicate himself or anyone else.
"Even if the public prosecutor applies to a Singapore court to admit the plea agreement, the agreement did not identify any specific individuals and was made in the context of a plea bargain, and will be given limited weight without further supporting evidence, and in the face of potentially conflicting oral testimony," she told the House.
In Singapore, the attorney-general also serves as the public prosecutor.
Seventeen MPs had filed questions over the case, such as why the Attorney-General's Chambers (AGC) and Corrupt Practices Investigation Bureau (CPIB) chose not to prosecute the officers, and what the Government's response was to concerns that the penalty was too light.
Last month, the CPIB issued stern warnings to the six former senior management staff members for a US$55 million (S$73 million) bribery case involving Brazilian oil giant Petrobras. 
The warnings were in lieu of prosecution for offences punishable under the Prevention of Corruption Act. CPIB did not name the individuals.
In a commentary on Feb 1 initially published on Singapore Law Watch, Senior Counsel Harpreet Singh Nehal then questioned the decision not to prosecute the six former Keppel O&M staff members. The commentary has since been removed.
Ms Indranee subsequently said in a Facebook post that the assertions were made on an "inadequate understanding of the facts". 
Keppel O&M had allegedly conspired with others between 2001 and 2014 to pay large bribes to officials of Brazilian state-owned oil company Petrobras to influence the securing of 13 projects in Brazil.
The illegal payments were purportedly concealed through consulting agreements with shell companies, with Keppel O&M and its related companies earning profits of more than US$350 million from business corruptly obtained in Brazil.
These facts were admitted by Keppel O&M in an agreed statement of facts it signed with the United States Department of Justice (DOJ) in 2017, as part of a deferred prosecution agreement.
As part of a global resolution involving the DOJ, and authorities in Brazil and Singapore, Keppel O&M paid US$422 million in fines.
BASIS FOR STERN WARNINGS 
On Monday, Ms Indranee told the House that the public prosecutor, in deciding whether to charge the six individuals, had to "consider whether he has the necessary evidence to prove that those individuals were involved in certain conduct and possessed a certain mental state to establish the offences".
Ms Indranee also spoke about other evidential difficulties that CPIB faced. 
Three mutual legal assistance requests were made to Brazil, and a request was sent to "another relevant foreign authority to interview other potential material witnesses". These requests did not yield evidence that could secure a conviction in Singapore's courts or help to advance the case, Ms Indranee said.
"Simply put, there is a lack of sufficient evidence, either documentary or through witnesses, which would establish any criminal charge beyond a reasonable doubt against a specific individual," she added.
She said that if new and compelling facts subsequently come to light, it "remains open" for the public prosecutor to re-evaluate his decision to issue stern warnings.
As for why the six individuals were not named, Ms Indranee said that CPIB does not disclose the names of individuals unless they are charged in court and it is a policy that is not unique to Singapore. 
Law enforcement agencies in the United States, United Kingdom and New Zealand have a similar approach, she added.
"​​The principle underlying this policy is to avoid prejudicing that individual's right to due process, and also to avoid any presumption of guilt in the absence of any formal findings," said Ms Indranee, who also called for MPs to speak out if they feel this practice should be changed.
She added that stern warnings are "not unusual" and are issued in cases with evidential difficulties or little public interest to prosecute.
From 2017 to 2021, CPIB issued an average of 138 warnings annually and prosecuted 139 individuals.
While CPIB did not receive any admissions or confessions from the six individuals during the investigation process, Ms Indranee explained the rationale for issuing the stern warnings. 
"A stern warning is given when you feel that … you can't say that you give a complete clean bill of health. But at the same time, you don't have enough to clear the evidentiary hurdle. 
"So you see, what are the choices? … Do nothing at all, bring charges when you know you don't have sufficient evidence, or is there something in between? The stern warning device is the something in between," she said. 
Issuing a stern warning is the "only device available to the AGC" given the circumstances, and "an expression of AGC's position", added Ms Indranee.
It signals that "we don't think that you're completely off the hook but we don't have enough to charge you and I want you to know this, and I'm putting down a marker (that) there is something not entirely right". 
ZERO-TOLERANCE TO CORRUPTION 
In response to Ms Indranee's speech, eight MPs from both sides of the House, including the Leader of the Opposition, raised follow-up questions covering various concerns, including queries about whether the Government could do more to prevent future similar cases.
Ms Indranee reiterated that the Singapore Government "doesn't run these private companies that operate abroad".
Ensuring that practices are clean and above board is "a matter for the company's own corporate governance".
"But, as a Government, what we do is we make sure that our laws are directed at ensuring that you have good corporate governance. 
"We also encourage programmes which require good corporate governance. We have a very strong stance on anti-corruption. So all the signals that we send (as the) Government are to tell our companies, please do business properly," she added. 
While no criminal proceedings have been brought in this case, it does not change Singapore's zero-tolerance policy on corruption, stressed Ms Indranee. 
By having regard to the rules of evidence, CPIB and AGC are observing "the basic rules for a fair and just criminal justice system". 
"Singapore's success arises in no small part because of its policy in upholding the rule of law and adopting a zero-tolerance policy to corruption. Both are necessary factors and our zero-tolerance policy must be upheld in a manner that complies with the rule of law," she said.