Senior counsel questions handling of Keppel bribery case as other lawyers weigh in; Indranee to address matter in Parliament
Minister in the Prime Minister's Office Indranee Rajah says assertions about the case have been made based on an "inadequate understanding of the facts".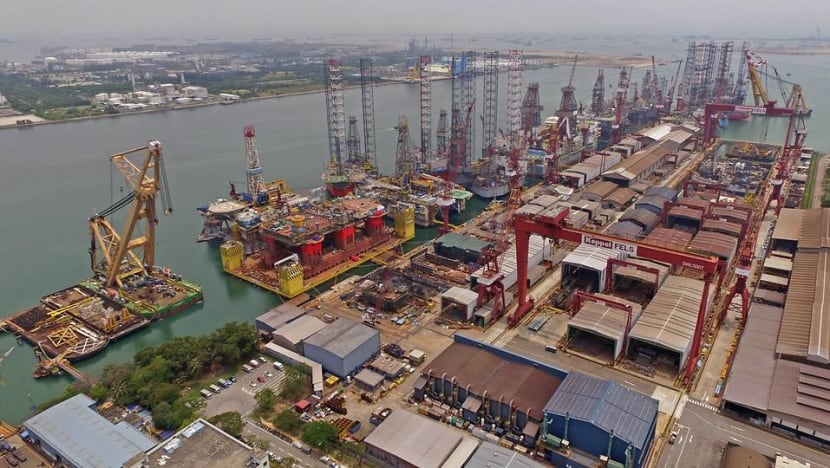 SINGAPORE: A senior counsel has questioned the decision by Singapore authorities not to prosecute six former senior management staff members of Keppel Offshore & Marine for a US$55 million (S$73 million) bribery case involving Brazilian oil giant Petrobras.
However, other lawyers who weighed in on the subject, while acknowledging the lack of clarity and how it might appear questionable to the public, suggested that the Attorney-General's Chambers (AGC) might have reason not to divulge certain legally protected information.
After the commentary by Senior Counsel Harpreet Singh Nehal was published on Wednesday (Feb 1), Minister in the Prime Minister's Office Indranee Rajah addressed "assertions" about the case in a Facebook post on Thursday and said the assertions were made on an "inadequate understanding of the facts". 
She said she would explain the facts at the next Parliament sitting on Feb 6, and the public "can decide for themselves".
The commentary was initially published by the Singapore Law Watch, a local news service for the law community. It was no longer available online as of Thursday afternoon.
Responding to CNA queries, the Singapore Academy of Law, which manages the news service, said the article "was not within the editorial parameters of Singapore Law Watch which are focused on commentaries on the latest Singapore Supreme Court judgments and articles on recent legislative changes".
WHAT THE SENIOR COUNSEL SAID
In his commentary, Mr Singh questioned the decision by the AGC and the Corrupt Practices Investigation Bureau (CPIB) made in January.
The two agencies had announced that they would not be prosecuting the six Keppel O&M employees for their involvement in the bribes allegedly paid to Brazilian state officials to secure 13 large contracts there.
Instead, the six will be given stern warnings.
Mr Singh asked if this decision signalled "a crack in Singapore's long professed policy of zero tolerance towards corruption", and whether Singaporeans should be concerned by the decision.
"In the absence of compelling further information from the authorities, the decision is discomforting," he wrote.
Keppel O&M had allegedly conspired with others between 2001 and 2014 to pay large bribes to officials of Brazilian state-owned oil company Petrobras to influence the securing of 13 projects in Brazil.
The illegal payments were purportedly concealed through consulting agreements with shell companies, with Keppel O&M and its related companies earning profits of more than US$350 million from business corruptly obtained in Brazil.
These facts were admitted by Keppel O&M in an agreed statement of facts it signed with the United States Department of Justice (DOJ) in 2017, as part of a deferred prosecution agreement.
As part of a global resolution involving the DOJ and authorities in Brazil and Singapore, Keppel O&M paid US$422 million in fines.
CPIB investigated at least six former senior management staff members for their involvement, and summarised its decision not to prosecute them in "just one short paragraph" in a press release, said Mr Singh.
The paragraph reads: "This case is complex and transactional, involving multiple authorities and witnesses from several countries. There are evidential difficulties in cases of such nature. Many of the documents are located in different jurisdictions. In addition, key witnesses are located outside of Singapore and cannot be compelled to give evidence here. The decision whether to prosecute the six individuals for criminal offences has to take into consideration all relevant factors, such as the culpability of each individual, the available evidence and what is appropriate in the circumstances. Having taken these into consideration, stern warnings were issued to the six individuals."
Mr Singh in his commentary questioned whether CPIB's decision was justified. He said non-prosecution could not be justified just because a corrupt scheme is complex and transactional, and said there is already a large amount of evidence of the scheme available and accessible to prosecutors.
The six former staff members appear to be within Singapore's jurisdiction, so CPIB has extensive investigative powers over them, he said.
"It is, therefore, difficult to appreciate the decision not to prosecute based on the CPIB's limited explanation," said Mr Singh. 
He added that Keppel O&M itself has openly admitted its involvement and paid a massive fine. This is also "one of the largest bribery scandals in Singapore's history" with the corrupt acts involving the wholly owned subsidiary of a Singapore public listed company, he said.
He asked what exactly was the missing evidence that prevented an effective prosecution from being mounted, who were the "so-called 'key witnesses' who are located overseas" and whether their evidence was so crucial that a conviction cannot be secured without their testimony.
Mr Singh also asked whether assistance has been sought from foreign authorities for any crucial foreign evidence and if such assistance has been refused.
"Is the evidence in this case such that not even a single individual was sufficiently blameworthy to warrant a prosecution?" he asked.
Mr Singh said that failure to prosecute cases like this one without strong justification, when the facts appear glaring, is "highly damaging" and leads to unhelpful speculation that there is some other factor at play.
"While the attorney-general is not ordinarily required to explain his prosecutorial decisions, given the stakes involved here, it will be highly desirable that he does so in this case," said Mr Singh.
OTHER LAWYERS' VIEWS
CNA contacted some lawyers about the issue, with a few declining comment. 
Mr Navindraram Naidu, partner at Dentons Rodyk & Davidson and former deputy director of corruption and financial crimes at AGC, said there is "generally no obligation on the part of law enforcement and the prosecution to explain how prosecutorial discretion was exercised".
"However, a more detailed explanation by the authorities regarding any evidential difficulties they have alluded to, could assist in giving the public a better appreciation of the basis behind this decision," he said.
"The long and wide reach of the Prevention of Corruption Act covers corrupt acts done by Singapore citizens overseas," said Mr Naidu. "In such cases, it may be necessary to secure evidence that is located overseas."
He said that while such evidence may be obtained via the Mutual Assistance in Criminal Matters Act 2000, there may be practical difficulties in doing so for particular cases. 
Even if the relevant evidence can be obtained, its admissibility in court proceedings in Singapore is still another hurdle that needs to be cleared, said Mr Naidu.
However, he said that such challenges in obtaining evidence may not necessarily be insurmountable. 
In previous corruption cases, the prosecution has relied on statements of witnesses who are overseas, subject to the appropriate safeguards, he said. 
Mr Marshall Lim, partner at Martin & Partners and former deputy public prosecutor and deputy senior state counsel, said the decision to prosecute or not is a multi-faceted one that can be broken down into two main steps:
First, an assessment of whether there is sufficient evidence that discloses an offence, and second, whether it is in the public interest to prosecute.
Among many factors that the prosecution naturally considers is national policy, said Mr Lim.
"In the context of the Keppel Offshore Marine case, the facts are particularly hurtful because it challenges our commitment to zero corruption. All things being equal, it might even be suggested that court prosecution ought to be default when corruption is found," said Mr Lim.
However, he said that while it might appear logical to prosecute anyone accused of corruption to fulfil this important national policy, this "cannot be an unyielding position that automatically subordinates or diminishes other factors that the prosecution must also consider in determining whether the public interest is served by court prosecution". 
"There is no doubt that our policy of zero corruption must extend to the human actors involved in cases of corporate corruption," said Mr Lim.
"However, we must take care to avoid prematurely suggesting that a decision not to prosecute in one case threatens our commitment to law and order or reflects an erosion of our ethos."
He said that to do so is "to do injustice to the high constitutional office held by the Public Prosecutor, and the difficult task that he and his officers undertake daily to uphold the rule of law".
Lawyer Ramesh Tiwary said that people will speculate, because the reasons and criteria applied by the AGC are "unknown or even obscure".
He said there is a lack of clarity on when and why conditional warnings are given in any particular case.
However, he said there is also equally a problem with requiring full disclosure from the AGC, as some individuals might be legally protected or privileged.
"The AGC may have information which they may not want to divulge, to protect a source, or that information may be legally privileged and thus cannot be made public," he said.
CNA has contacted CPIB and AGC for comments.
ASSERTIONS BASED ON "INADEQUATE UNDERSTANDING OF FACTS": INDRANEE
Ms Indranee said in her Facebook post on Thursday that she was aware that "some people have made assertions about the stern warnings" issued to the Keppel O&M staff in lieu of prosecution.
"These assertions are being made based on an inadequate understanding of the facts and of the Deferred Prosecution Agreement between (Keppel O&M) and the United States Department of Justice and the United States Attorney's Office," she said.
She said she would explain the facts in Parliament on Feb 6.
"As a country and as a Government, we do not condone or tolerate corruption," she said. 
"This has always been our position, and continues to be so. If there were grounds and sufficient evidence to bring criminal charges, they would have been brought. At the same time, criminal proceedings cannot be initiated based on sentiment. The rule of law applies both ways."