Laws to regulate private ambulances: Operators caught in the middle with new classification
When it is passed, the Bill will require emergency ambulance services which cater to patients with acute or sudden medical conditions requiring emergency care to fulfil different requirements from medical transport services which cater to more stable patients.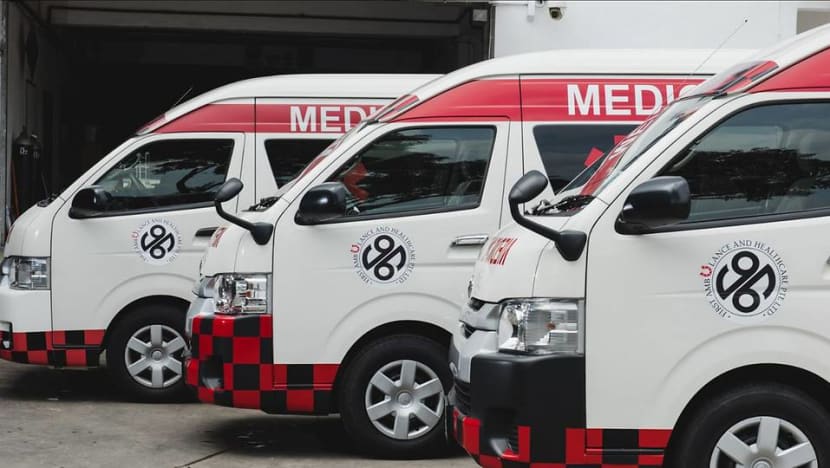 SINGAPORE: Private operators who provide both emergency ambulance services and medical transport services could be caught in the middle with a classification under a new Bill that will separate these services.
Under the Healthcare Services Bill that will be tabled later this year, emergency ambulance services which cater to patients with acute or sudden medical conditions requiring emergency care will have to fulfill different requirements from medical transport services which cater to more stable patients.
Emergency ambulance services, for example, will need to employ a clinical director who will be accountable for the maintenance of high standards in providing comprehensive emergency care. The clinical director will be expected to conduct an audit, as well as training and protocol development.

Vehicles used for medical transport services will not be allowed to be fitted with blinkers and sirens.
And this, the private ambulance operators said could potentially pose a problem for them.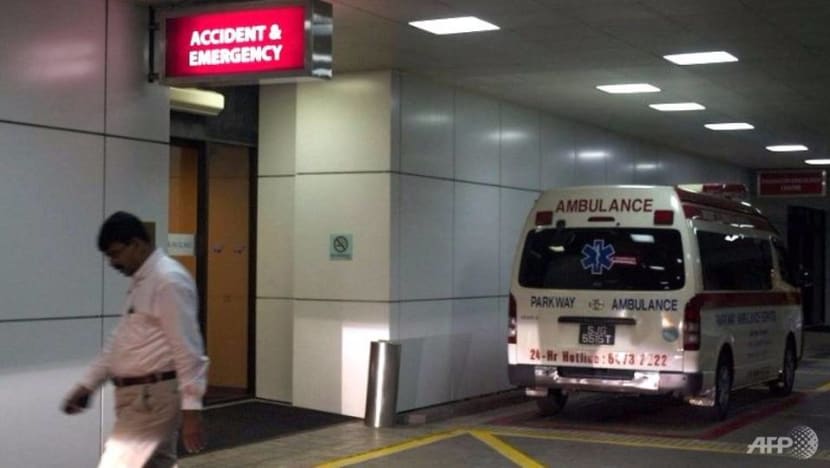 Operations supervisor at First Ambulance Khai Mazlan said that patients' conditions could deteriorate en-route and may need immediate medical attention at the nearest hospital, although under the new classification, her ambulances would be grouped under medical transport services. 
She said: "Once there was a patient who was bleeding in the ambulance, his blood pressure started to drop and we needed to rush him to the nearest hospital." 
The firm serves more than 30 patients a day and works with the National Kidney Foundation.

Director of Comfort Ambulance & Services Eugene Yang, who has been in the industry for 15 years echoed this view.
"Sometimes, the cases we take could be non-emergency in nature. But patients' conditions could deteriorate, and they could be upgraded to (an) emergency," he said, adding that not being able to use sirens or lights in such situations would pose a problem. 

His firm serves more than 50 patients a day and has tie-ups with five hospitals.
In order to solve the predicament, the firms have decided to invest to convert their medical transport service vehicles into emergency ambulances, which are able to provide both services. 
Mr Yang said he will be investing at least S$200,000 to convert his 26 vehicles into emergency ambulances. He will also upgrade the GPS systems in the ambulances, he said, adding that the cost will inevitably reflect in fees.

"We private ambulance operators are sandwiched. I think medical transport services would be a suitable classification for those ambulances in nursing homes. We are a hybrid," he said.
Dr Charles Johnson, who manages Hope Ambulance, and plans to register his fleet of 42 ambulances for emergency services, however, has no issues with the classification. His firm conveys about 100 patients a day. 

"It's a logical move. The needs are different for each category of patients. Patient safety could be compromised if medical transport services attend to emergency cases," he said. 
OPERATORS WELCOME REGULATION DESPITE CONCERNS
While he considered the classification problematic, Mr Yang acknowledged it would have its merits.
"This will up the level of competition. The public can be assured that there will be high standards, with a medically-trained professional being accountable," he said.
It will also weed out mushrooming small companies who may not provide proper training, he added.
Major operators who spoke to Channel NewsAsia said that regulation of the industry has been a long time coming.
Currently, the operators are governed by guidelines provided by the Health Ministry (MOH) almost 20 years ago, which are not enforceable. 
"I think it's (the regulation) long overdue. Ambulances are an extension of healthcare, and we need to ensure that standards are in place, that ambulances are properly equipped. Prior to this, the standards have been too basic, there was no policing," said Dr Johnson.
He added that standards will rise as operators risk their licence if they do not comply.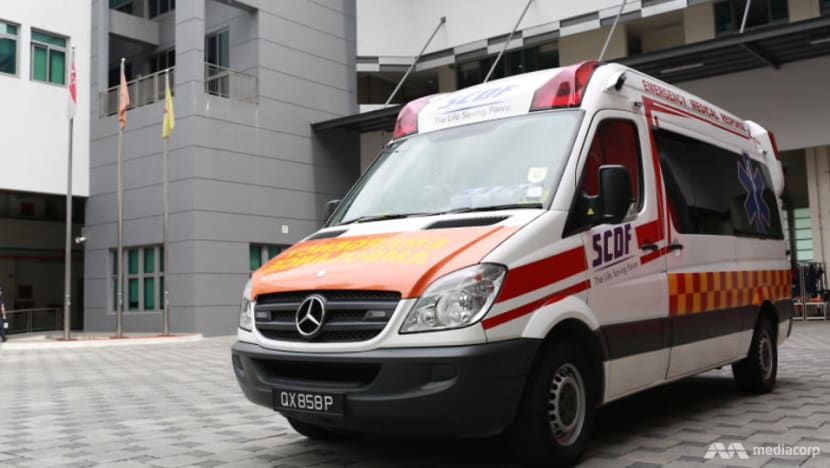 MOH said it recognises that providers may require support to ramp up capabilities, and will help to facilitate the ramp-up process by introducing a Voluntary Accreditation Scheme.
The Scheme will encourage ambulance operators to comply with requirements early and work with educational providers to develop ambulance crew training programmes in order to upgrade their personnel, a spokesperson said.
Dr Johnson said that the legislation could be tightened, by including details on how the ambulance should be built, as several ambulances are modified cargo vans.
"When that happens, walls are not reinforced, floor is not reinforced. Ambulances are in harm's way every single time. We need to build safe vehicles that will protect their occupants," he said.

MOH said based on 2017 data, the existing Singapore Civil Defence Force fleet of 60 ambulances service an estimated 90 per cent of the emergency cases conveyed to public sector hospitals.