Lombok quake: Hotel shook 'very violently', says Shanmugam
Back in Singapore, the Law and Home Affairs Minister offered his condolences to the Indonesian people after an earthquake on Lombok.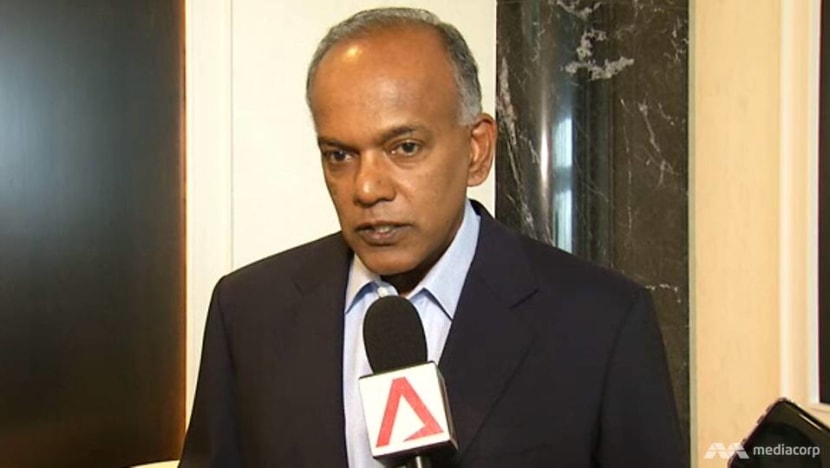 SINGAPORE: Law and Home Affairs Minister K Shanmugam returned to Singapore safely from earthquake-struck Lombok island on Monday afternoon (Aug 6).
He was at the worst-hit region of Mataram for a security conference when the Indonesian island was hit by a 6.9-magnitude earthquake.
Speaking to local media, Mr Shanmugam said: "It's a tragedy for the Indonesian people, and the people of Lombok ... and I think our thoughts and prayers are with them."
The powerful quake has killed more than 90 people and wounded hundreds, with thousands of buildings left damaged. 
Mr Shanmugam said this was his first experience with an earthquake and the hotel they were in "shook very violently".
"It went through my mind should we just crawl under something but I wasn't sure the building was going to hold up, and I thought, (let's) take a chance and leave," he said, adding that no one in the Singapore delegation was hurt.

On his Facebook page, he shared pictures showing damage and people fleeing.

The power went out and they began evacuating once the building stopped shaking, he said.​​​​​​​

"A lot of debris, a lot of doors blown out, ceilings fallen through, people screaming, walking down," he said, describing the scene as they evacuated.
He and his team tried to go to another hotel, but people were also fleeing from there. They then decided to go to the airport.
"There were several other security ministers - Australia, New Zealand, Myanmar's National Security Advisor, Brunei's minister and others had all left (the hotel)," he said.
Eventually, they spent the night at a one-storey police post near the Lombok International Airport.

"MFA's e-registration shows that there are about 40-odd Singaporeans, MFA is trying to contact all of them," said Mr Shanmugam.
"There are four officers at the airport trying to help Singaporeans. Some Singaporeans had reached out to me on Facebook after my post, MFA is also reaching out to them."
In a separate Facebook post, the Ministry of Foreign Affairs said it has set up a counter at Lombok International Airport to provide consular assistance to Singaporeans affected by the recent earthquake in Lombok.
Singaporeans requiring consular assistance may also contact the Singapore Embassy in Jakarta.