Accidental fame for proud Singaporean who cried during National Anthem at NDP 2022
Television cameras spotted Mr Azuan Tan crying while singing the National Anthem during the National Day Parade 2022.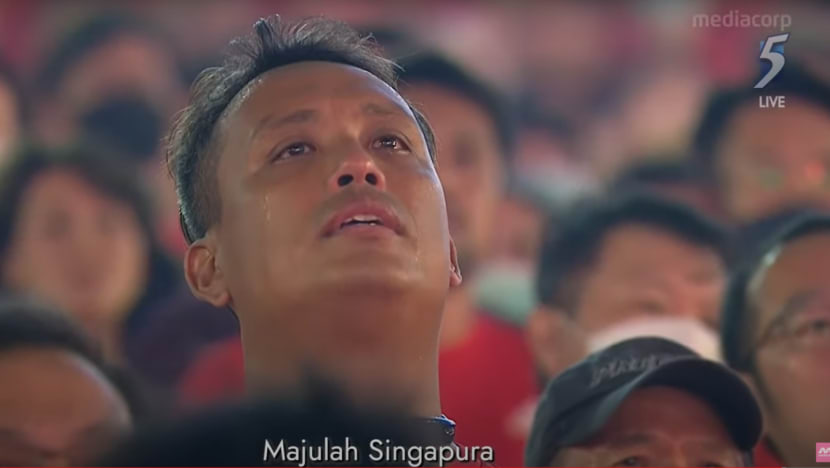 SINGAPORE: When Mr Azuan Tan cried while singing the National Anthem during the National Day Parade (NDP) on Tuesday (Aug 9), he did not think it would become a highlight of the event.
Television cameras caught the 41-year-old Bedok View Secondary School teacher with tears in his eyes as the anthem was sung at Marina Bay's floating platform.
Deputy Prime Minister Lawrence Wong posted a screengrab of Mr Tan on social media on Tuesday night, and said it was turning out to be "one of the iconic images of NDP 2022".
The National Day Parade returned as a full-scale event after two years of pandemic restrictions.
Mr Tan told CNA he was "soaking in the particular moment" and did not realise the camera was filming him.
"I should have realised," he said, laughing. "I would have sat down or put myself together."
He found out he was on television after a fellow spectator at the parade showed it to him.
The teacher was attending the NDP with his three children – a son aged 10, and two daughters aged eight and four – for the first time. The last time he watched the parade live was as a teenager with his family, he said.
The narrative of the parade this year left him emotional, he added.
"I thought it was a story about everyone, every single Singaporean. I think many Singaporeans, frontline workers or not, contributed in one way or another, trying to get ourselves out together and fight through this (pandemic)," he said.
Hearing everyone on the floating platform singing the National Anthem and reciting the pledge made him burst with pride, he explained.
"The vibe, the atmosphere was sombre, very emotional. You could hear it from each and every Singaporean who was reciting the pledge, resonating with every single word, sentence, phrase in the National Anthem. I'm very sure other Singaporeans were tearing and crying as well," Mr Tan said.
INITIAL EMBARRASSMENT
The National Day Parade has always been a tearjerker for him, Mr Tan said.
Watching the parade live and the anxiety from a Red Lions parachute team member taking a hard landing made his emotions more intense, he said. Crying for the country to see was not something he was prepared for.   
"I was embarrassed about the fact that I was so emotional and it was caught on national TV," he said.
"I was conscious of the fact that I was crying and I didn't want to show my children I was crying so I already wiped everything (his tears) away," Mr Tan added.
But he has since started to see the experience more positively, he said, explaining that he managed to reconnect with some friends who had seen the picture of him.
"I don't feel as paiseh (embarrassed) as I used to feel," he said.
Mr Tan added that he is glad he could share his emotions with other Singaporeans who felt the same way as he did.
"I have always been a proud Singaporean," Mr Tan said.
Watching the parade on television, or on mobile phones while catching the fireworks, is always a family affair.
"I am that guy, who every National Day, even if I am watching it on TV ... who stands up and sings the National Anthem and recite the pledge and I make my children do it," he said.
Mr Tan is a grassroots volunteer in the Pasir Ris-Punggol constituency, where he lives. He joined in 2017 and became more active in 2020, during the early days of the pandemic.
He distributed care packs and masks with his friends and family, before roping in other grassroots volunteers to join him.
Mr Tan said: "I'm very proud of my two parents who are able to nurture me to be as proud a Singaporean as I can be."
He added that his parents worked hard to provide for him and his two siblings.
"Singapore allowed that to happen so I am able to achieve an education ... the benefit of an education system which I'm very proud of," he added.
"I have continued to instil in my children to always be grateful and in whatever way I can, contribute back to society."