Red Lions parachute team member in stable condition after hard landing at National Day Parade 2022
3WO Jeffrey Heng was stretchered off after he suffered a hard landing at NDP 2022.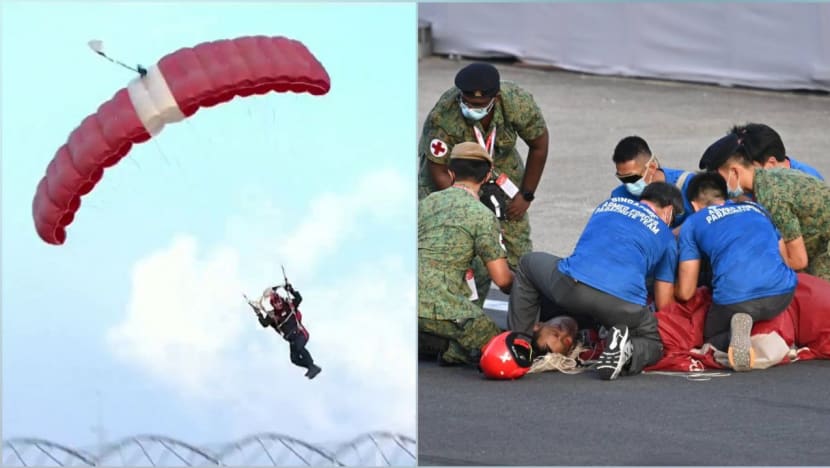 SINGAPORE: A member of the Red Lions parachute team who suffered a hard landing at the National Day Parade on Tuesday (Aug 9) is in stable condition, said Defence Minister Ng Eng Hen.
The incident happened at about 6.10pm. Third Warrant Officer Jeffrey Heng, who was the last of 10 parachutists to land, skidded on the pavement and fell to the ground. 
Medics rushed to his side before he was stretchered off.
In a Facebook post about an hour later, Dr Ng said: "Many Singaporeans would have seen one of the Red Lions take a hard landing at NDP.
"3WO Jeffrey Heng's condition is currently stable, alert and conscious, and he is receiving medical attention. Let's all wish Jeffrey a quick recovery."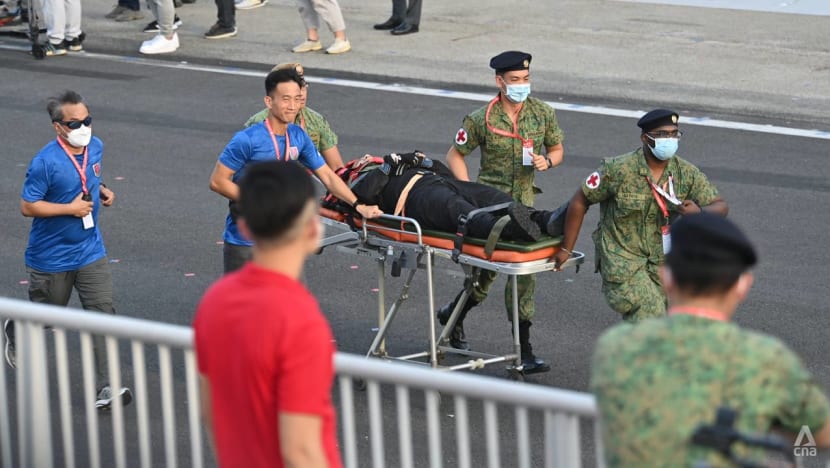 Parade host Joakim Gomez also updated the crowd about 3WO Heng's condition. He added: "Sir, if you're watching this right now, the entire nation wishes you a speedy recovery."
The incident drew concern from both spectators and people watching the parade from home. Many took to social media to send him well wishes. "I really hope the last Red Lion is ok," one wrote.
Another said: "I hope the last red lion is ok. My jaw just dropped when he landed that way. Prayers."
Marcus Song wrote on Facebook: "That was a hard fall. Hope he's fine and recovers soon."
Steven Chan added: "It's super windy today. It wasn't easy. My best wishes and speedy recovery to that brave Red Lion."
In a Facebook post, the Ministry of Defence (MINDEF) thanked Singaporeans for their concern and support.
"On behalf of all of us at MINDEF and SAF, we wish our Red Lion 3WO Jeffrey Heng a speedy recovery," the ministry said. "We would like to thank Singaporeans for their concern and support."