New National Cancer Centre Singapore programme allows some patients to get treatment at home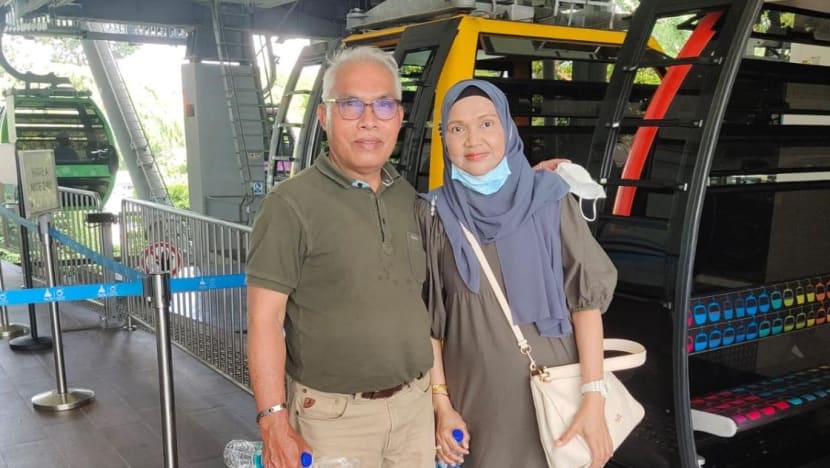 SINGAPORE: Madam Tuan Asiah Tuan Mansor was diagnosed with breast cancer in 2017. 
As her disease progressed, she required oral chemotherapy drugs and hormonal therapy that required monthly injections. 
The 53-year-old would go to the National Cancer Centre Singapore (NCCS) once a month for her treatment, with her husband driving her to and from the facility. Including travel and waiting time, each session would take about four hours, she said. 
But when Madam Asiah became eligible for an NCCS home care programme last October, she decided to sign up for it. 
Since then, a team from third-party home care provider Jaga-Me has been going to her flat in Bukit Panjang to treat her once a month. Her treatment sessions now take up a fraction of the time they used to - just 30 minutes.
Initially, she felt apprehensive as she worried if she would get the same quality of care she was receiving at NCCS. But she has grown to appreciate the programme.
She now has more time and energy to do other things after her home appointments, including household chores, she said.
"I can go about my life like normal people, nothing to worry about even though I have advanced breast cancer," she said. She continues to see her doctor at NCCS for follow-up checks once every three months.
Madam Asiah is one of 329 patients in the home care programme as of this January.
HOME CARE PROGRAMME
NCCS Home Care was first piloted with one drug used to treat breast cancer patients in July 2020. By November, the programme expanded the list of drugs that could be administered at home.
Based on a survey conducted in 2021 on more than 80 patients enrolled on the programme, almost all of them were either satisfied or very satisfied with the service, NCCS said. And 75 per cent preferred receiving their treatment at home as compared to the hospital.
All cancer patients are eligible for NCCS Home Care, as long as their drugs can be injected under their skin or into their muscles, said senior consultant in the Division of Medical Oncology at NCCS Elaine Lim.

The treating doctor will assess and select suitable patients for NCCS Home Care and prescribe the treatment, Dr Lim said.
The drugs currently on the NCCS Home Care list include those used on: Patients on chemotherapy regimens that induce low white blood cell counts; patients with bone metastases; patients on cancer medication that induces osteoporosis; breast cancer and prostate cancer patients. 
The programme is sponsored by grants from various parties, NCCS said.
"Discussions with relevant authorities are underway for the service to be MediShield Life claimable, and/or MediSave deductible," a spokesperson said.
BENEFITS OF HOME CARE PROGRAMME
Before the COVID-19 pandemic, the programme was intended for typically elderly patients who were less mobile and required supervision or special arrangements like an ambulance to go for treatment, said Dr Lim.
"We were aiming for better access to care for patients, greater convenience, and improved treatment compliance," she said. 
The development of medicines that could be administered under the skin or through the muscles, instead of by intravenous infusion, also sped up the start of NCCS Home Care, she added. 
Then the pandemic brought forward its implementation. 
The programme "dovetailed nicely" into the slew of safe management measures that discouraged people from clustering, she said. 
Younger patients also chose to enrol into NCCS Home Care as they wanted to avoid potential exposure to the COVID-19 virus at the hospital, she added. 
Among the benefits of the programme is that it fulfils MOH's aim to minimise clustering of patients at healthcare institutions during the pandemic, Dr Lim said. 
With more accessible and convenient care, patients are also less likely to miss their treatments, she said. 
Not only does the programme save caregivers time and travel expenses, it also gives patients individualised care and better quality of life. 
Resources at NCCS are also freed up to serve those who can only be cared for on the premises. 
The programme may be expanded soon. Other drugs that are administered subcutaneously or intramuscularly, like those used to treat lymphoma patients, are in the development pipeline, Dr Lim said.
"Intravenous administration of selected drugs is being explored. The limiting factors are the complexity of the process and the capacity of specialised nursing expertise," she said.