Tighter home loan limits, new rules to cool HDB resale market: What you need to know
What are the property cooling measures that took effect on Sep 30 and how will they affect your ability to take up home loans? What happens if you are selling your private property to buy an HDB resale flat?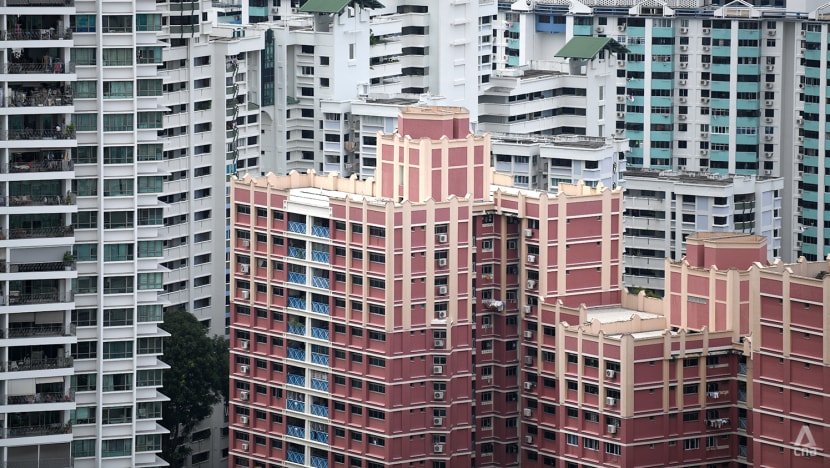 SINGAPORE: New property cooling measures took effect on Friday (Sep 30), with tighter lending limits for housing loans that are aimed at ensuring prudent borrowing amid rising interest rates.
To moderate demand in the public housing market, authorities have also introduced a 15-month wait-out period for private home owners before they can purchase a non-subsidised HDB resale flat.
Here's a breakdown of what the measures are and how they may impact property owners.
STRICTER CRITERIA FOR BORROWING
The medium-term interest rate floor for property loans from banks will be raised by 0.5 percentage points - from 3.5 per cent per annum to 4 per cent for residential home loans.
Simply put, the figures are used to assess a borrower's ability to repay loans, such that it meets requirements under the total debt servicing ratio (TDSR) and mortgage servicing ratio (MSR).
TDSR limits the amount borrowers can spend on repaying their monthly debt obligations - including housing loans and car loans - to 55 per cent of their gross monthly income.
So if the medium-term interest rate - described as a stress test rate - goes up, home loan applicants must still be able to maintain a TDSR of 55 per cent, even if this stress test rate increases to 4 per cent. 
This is a common method financial institutions use to determine if a borrower can still manage repayments in the event of actual interest spikes.
As an example, if a buyer wants to take up a S$1 million home loan after the stress test rate adjustment to 4 per cent, he would either have to have a higher monthly income to meet the TDSR, or the loan amount will have to be reduced. (Assuming no other debt obligations.)
 Type of Loan
 Medium-term interest rate
Residential property purchase loans and 
 mortgage equity withdrawal loans
The higher of a 4 per cent per annum floor (up from 3.5 per cent per annum) or the thereafter interest rate*
*The thereafter interest rate is the highest possible interest rate applicable during the tenure of a property loan, excluding introductory or promotional rates.
 Non-residential property purchase loans 
 and mortgage equity withdrawal loans
The higher of a 5 per cent per annum floor (up from 4.5 per cent per annum) or the thereafter interest rate
MSR, meanwhile, applies only to loans for HDB flats and executive condominiums (ECs). It limits monthly repayments to 30 per cent of a borrower's gross monthly income.
Both TDSR and MSR work together to prevent borrowers from falling into debt from loans they cannot handle, and also to regulate lending amounts by financial institutions.
They also stop borrowers from committing a higher proportion of household income to repay a loan faster.
However, the actual interest rates charged for mortgages will continue to be determined by private financial institutions.
WHO DOES IT AFFECT?
This will apply to property loans where the option to purchase (OTP) is granted on or after Sep 30. If there is no OTP, it will apply when the date of sale and purchase agreement is on or after that date.
This also applies to fresh applications for an HDB loan eligibility letter received on or after midnight on Sep 30.
NEW HDB LOAN INTEREST RATE FLOOR
A new interest rate floor of 3 per cent has also been introduced for computing HDB's concessionary housing loan amount. This works in tandem with the TDSR and MSR framework.
This means a borrower's eligible housing loan amount will be computed using 3 per cent per annum or 0.1 percentage point above the prevailing CPF Ordinary Account interest rate, whichever is higher.
An interest rate floor is the lowest possible determined interest rate in a loan, which may otherwise fluctuate during the repayment period.
The revised interest rate floor will not affect the actual HDB concessionary interest rate, which remains at 2.6 per cent per annum, and will not impact existing applications received by HDB before this time.
According to HDB, its use of the interest rate floor to compute the housing loan amount "encourages flat buyers to borrow prudently as purchasing a flat is a long-term financial commitment".
LOWERING LTV
The loan-to-value (LTV) limit for HDB loans has been lowered from 85 per cent to 80 per cent. This is the amount you are allowed to borrow to finance your HDB flat.
With the new 80 per cent loan-to-value limit, it means potential home owners will have to fork out 20 per cent in cash down payments upfront or through CPF.
WHO DOES IT AFFECT?
The revised LTV limit will apply to new flat applications for sales exercises launched and complete resale applications which are received by HDB on or after Sep 30.
The revised LTV limit does not apply to loans granted by private financial institutions, which will remain at 75 per cent.
15-MONTH WAIT-OUT PERIOD
When private home owners sell their property, they will now have to wait for 15 months before they can purchase a non-subsidised HDB resale flat.
This will also apply to those who sold their private property prior to submitting an application to buy a resale flat.
Previously, such property owners were allowed to buy an HDB resale flat on the open market if they sold their private properties within six months of purchasing the HDB unit.
Seniors aged 55 and above who are moving from their private property to a four-room or smaller resale flat are unaffected by the new rules.
The wait-out period for private home owners buying their first HDB flat who wish to apply for the CPF Housing Grant and Enhanced CPF Housing Grant for their resale unit also remains unchanged at 30 months.
WHY ARE AUTHORITIES DOING THIS?
Market interest rates have "risen significantly" and are likely to increase further, noted the Monetary Authority of Singapore, the Ministry of National Development and the Housing and Development Board (HDB) in a joint media release.
This will affect borrowing costs for home purchases.
The tightened loan limits are to "ensure prudent borrowing and avoid future difficulties in servicing home loans", authorities said.
The longer wait-out period is aimed at moderating demand and ensuring that resale flats remain affordable - a temporary measure which will be reviewed in future "depending on overall market conditions and housing demand".
Authorities cited a "clear upward momentum" in HDB resale prices, with an increase of more than 5 per cent in the HDB Resale Price Index as of the end of the second quarter of 2022.
You may also be interested in: