Otter family that established home in Seletar estate transferred out after earlier reports of intrusion
Otters that make their homes in residential areas where they are unable to access their natural food sources will be transferred out, said Senior Minister of State for National Development Tan Kiat How. 
SINGAPORE: A group of otters that made their home in a residential area in Seletar was transferred out last week and relocated to a place where they could access their natural food sources.
The transfer comes after media reports earlier this year stated that a group of otters in Seletar had entered a private home and killed more than 50 fish in a pond.
The National Parks Board (NParks) said on Monday (Oct 17) that it is closely monitoring otters in residential areas.
Otters that establish homes - known as holts - in residential estates where they are unable to access their natural food sources will be transferred to areas where they can do so, NParks outlined in a media factsheet. 
Singapore has seen a growing otter population and increasing encounters between humans and smooth-coated otters in recent years.
There are currently about 170 otters in about 17 families with several groups such as the Bishan, Marina and Zouk families being more prominent.
Over the years, otters have been spotted crossing roads in the central business district as well as eating pet fish at condominiums and other private estates. 
Last year, a man was reportedly attacked by otters and sustained more than 20 wounds during a trip to the Singapore Botanic Gardens.
According to figures from NParks, there were 208 instances of feedback relating to otters in 2020, and 305 in 2021. Majority of the feedback was related to otter sightings.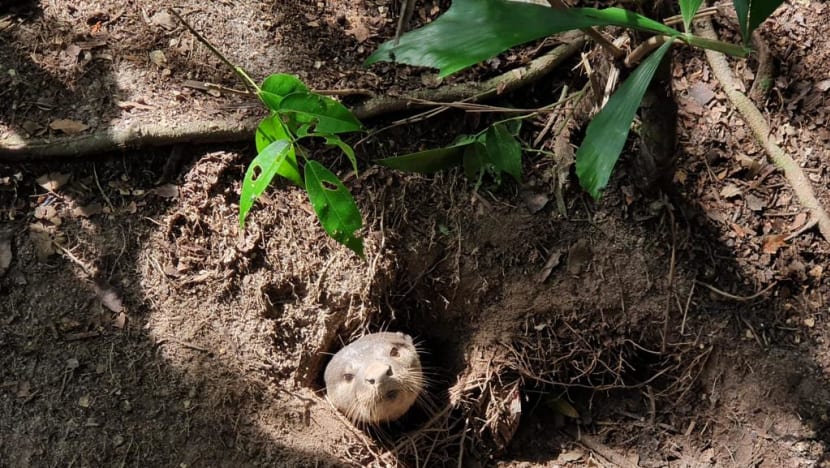 In a Facebook post on Monday, Senior Minister of State for National Development Tan Kiat How said that residents have had a number of recent encounters with the otters in residential estates.
"While otters largely stay within the waterways, they may occasionally visit residential properties with ponds as the fish there are easy prey for them.
"NParks and the (Otter Working Group) have been working with residents and estate managers to implement measures to prevent otters from entering, such as meshing up gaps in gates and erecting otter-proof barriers for ponds. With these measures in place, the otters are likely to move on as they are unable to access the ponds for food," Mr Tan said. 
The Otter Working Group was formed in 2014 and includes the Animal Concerns Research and Education Society, Mandai Wildlife Group, the National University of Singapore, NParks, OtterCity, OtterWatch, PAssion Wave and national water agency PUB. 
In the cases of otters who establish holts - holes in the ground for resting and sleeping - in residential areas, NParks will work with the Otter Working Group to transfer the otters out, said Mr Tan. 
"This is for the welfare of these otters and to mitigate any issues that could arise from human-wildlife encounters, such as when residents face incursions into their ponds."
A representative of the Otter Working Group, Bernard Seah told the media on Monday that otters do not usually stay in one holt nor do they just forage in one estate. 
"Most (otter) families are transient and moving from point A to point B ... they may come back to point A again but they are transient in that sense that they will move through their territory over and over again," he added. 
You may also be interested in: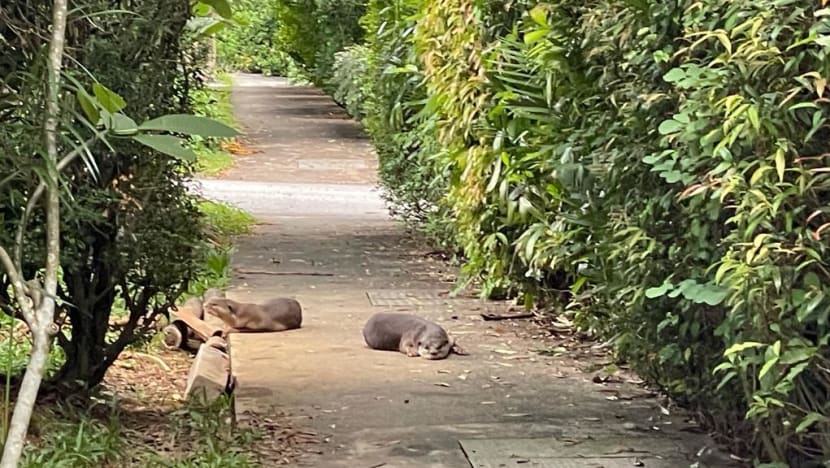 TRANSFER IN SELETAR
In Seletar, three adult otters and three pups were transferred to an undisclosed location in NParks' first such operation last week. 
Ahead of the transfer, NParks and the Otter Working Group assessed the situation and monitored the otters to find out their behaviour patterns, the locations of ponds they fed at, and their suitability for transfer. They also studied when the otters were most active in order to plan the operation. 
Otter watchers found that the estate had become the otters' main foraging ground and that they were not in the main waterways around the area, according to NParks.  
"To secure the otters, perimeter fencing was installed around the holt, and once the otters were secured, they were transferred to an area where they have access to their natural food sources. Vets were involved to ensure the health and welfare of the otters," NParks said. 
The otters are currently being monitored in their new holt, Mr Tan said in his Facebook post. 
OTTERS IMPORTANT TO ECOSYSTEM
Otters are found in waterways and reservoirs and are natural predators which control the fish population in these areas, hence ensuring a healthy ecosystem, according to a media factsheet issued by NParks. 
In Singapore's urban environment, otter populations are limited by the "carrying capacity" or amount of resources in an area, as well as the availability of suitable habitats. 
As otters are highly territorial, they will compete for space and the resulting mortalities will limit the expansion of the population. 
However, there are some otters, usually groups consisting of two to three adults, that have split off from larger families and made their homes in residential estates. 
When such groups are identified, NParks will assess the situation before working with the Otter Working Group to transfer them.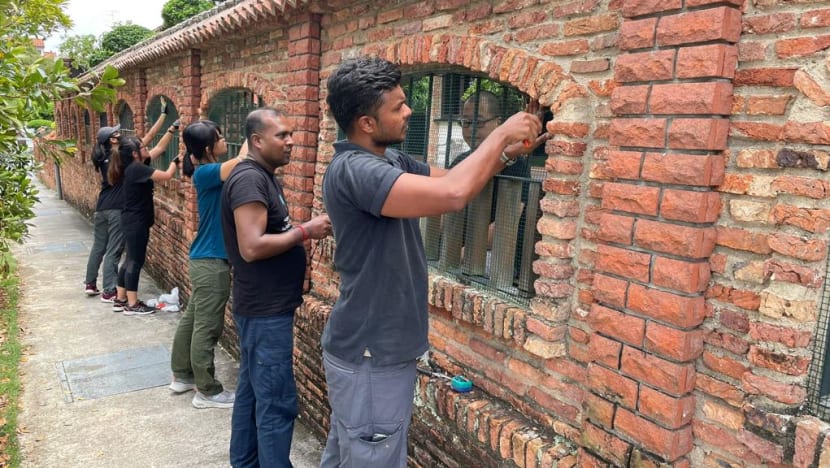 In past years, NParks has been engaging homeowners and estate managers to prevent otters from entering compounds by identifying and blocking off entry points, such as covering gaps with mesh. 
Home owners have also been advised to block off fish ponds or cover them with netting, to prevent otters from getting at pet fish. 
"Otters are generally shy animals and will not attack unless provoked or when they feel threatened," said NParks. 
"When encountering otters, the public can observe them from a safe distance, and avoid feeding, touching chasing, cornering or approaching them especially when there are pups as the adults can be protective over their young when approached by humans."