Time has come to repeal Section 377A, with Singapore at a stage where society can accept it: Shanmugam
The law humiliates and hurts gay people and repealing it will make clear that they are not criminals, says the Law Minister.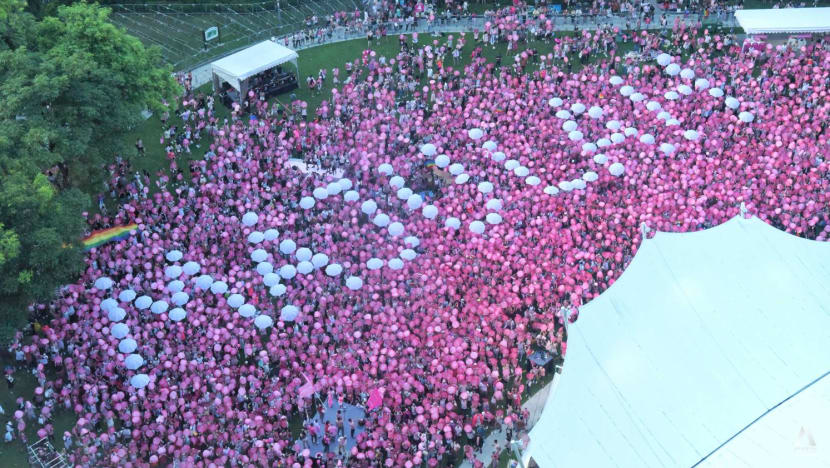 SINGAPORE: Repealing Section 377A of the Penal Code is the right thing to do now that society is more ready for it, said Minister for Law K Shanmugam on Monday (Nov 28). 
Speaking during a parliamentary debate on repealing the colonial-era law penalising sex between men, Mr Shanmugam said: "The time has come for us to remove Section 377A. It humiliates and hurts gay people.
"Most gay people do not cause harm to others. They just want to live peacefully and quietly, and be accepted as part of society the same as any other Singaporean." 
They could be our family, friends or colleagues, and they deserve dignity, respect and acceptance, he continued. 
"They do not deserve to be stigmatised because of their sexual orientation." 
Prime Minister Lee Hsien Loong first announced, at the National Day Rally in August, the Government's intention to repeal Section 377A.
This was discussed at Monday's debate in Parliament, along with another Bill to amend the Constitution to protect the definition of marriage from legal challenges.
Even if Section 377A is not enforced, it is a reminder to gay people that every time they engage in private sexual activity, they are criminals, said Mr Shanmugam, who is also Minister for Home Affairs. 
Describing this as a sword hanging over a gay person's head, he added: "We have to ask, is it fair that gays have to live in this way? 
"This is not something we should accept even if we personally disagree with homosexuality. So I will say, let us start to deal with these divides, heal these divides, remove their pain." 
Repealing Section 377A makes it clear that gay people are not criminals, said the minister. 
"Section 377A should no longer be in our books." 
In some religions, homosexuality is considered a sin, he noted.
"Some sins are crimes. But not every sin is a crime," said the minister. 
"Our position in Singapore, for conduct to be a crime, there should generally be a public order or public interest issue." 
It is generally not the function of criminal law to intervene in the private lives of citizens, he added. 
If Section 377A is repealed, "the only thing" that will no longer be an offence is consensual, male adult homosexual conduct in private, Mr Shanmugam stressed. 
Compared to when the issue was last debated in Parliament in 2007, Singapore is now at a stage where society can accept the repeal, he added. 
"From our engagements, we see that most Singaporeans accept that sex between men should not be a crime. Even those who want to retain Section 377A do not want to see it actively enforced," said Mr Shanmugam. 
"But, as has been stated in and out of Parliament, we must and we will take steps, at the same time to deal with the possible consequences of the Repeal ... because some consequential effects would be unacceptable to a significant section of our society." 
ROLE OF THE COURTS 
Section 377A has, on multiple occasions, been challenged in the courts as unconstitutional.
If Parliament does not do its duty and deal with a law that is "likely unconstitutional", this may leave the courts with no choice, Mr Shanmugam said in Parliament on Monday. 
"If Parliament does not do what it has to do, then the courts will have to do what they don't want to do."
In Singapore, the courts have recognised that Parliament is better suited to resolve such difficult societal issues. 
"In Parliament, there can be consultation, discussion, debate. Considerations going well beyond the law can be taken into account whereas courts can only consider the legal issues," he added. 
"Consensus can be forged to bridge divergent viewpoints. Open-ended resolutions are possible, instead of binary, win-lose outcomes." 
Some have said it is unlikely that the courts will ever strike down Section 377A, said the minister.
"In other words, we can just take the easy way. We don't need to decide. We just let things be. 
"But such an approach would be irresponsible and wrong ... We should not assume that the courts will never strike down Section 377A just because the Government chooses to retain it."
DIFFICULT TO FIND CONSENSUS 
Earlier, Mr Shanmugam said homosexuality remains a deeply divisive issue around the world.
This is true even within more religiously homogenous communities like the Church of England and the Global Anglican Church, he added. 
For example, the Church of England supported the partial decriminalisation of homosexual conduct in the United Kingdom in 1967, he noted. 
"But actually, within the Church of England, there was no consensus," said the minister, adding that the Church was equally split on the issue when put to a vote. 
This shows that even within a single religious community, it is difficult to agree on the right answer - if there is one - on the issue of homosexuality, said Mr Shanmugam.
"Homosexuality is a topic that continues to raise strong viewpoints … If we do not handle this carefully, homosexuality can be a deeply divisive issue even among those who share a common belief." 
If the law is challenged in the courts, they cannot consider competing social norms and the social consequences of their decisions, said Mr Shanmugam. 
"If they strike down Section 377A, they will do so without being able to consider the consequential effects of that decision on the definition of marriage, for example. 
"Whereas in Parliament, we are now proposing amendments to the Constitution to further protect heterosexual marriage." 
For example, if the definition of marriage is changed through a court challenge, there can be a cascading effect on issues related to same-sex marriage, media content, housing and so on.
"Such changes through the courts are not in our interests," said Mr Shanmugam.
If this decision to strike down Section 377A was left to the courts, the Government would bear no blame, and it would be the "path of least resistance", said Mr Shanmugam. 
"If we approached this purely as politicians, concerned only with votes and not making anyone unhappy or making as few people as unhappy as possible, then that route ... would have been easier. Pretend these issues do not exist ... leave it to the courts," he continued. 
"But this Government will not take that approach. As elected representatives of the people, we cannot do that."