CNA Explains: Protecting marriage in the Constitution – what it could look like and what it means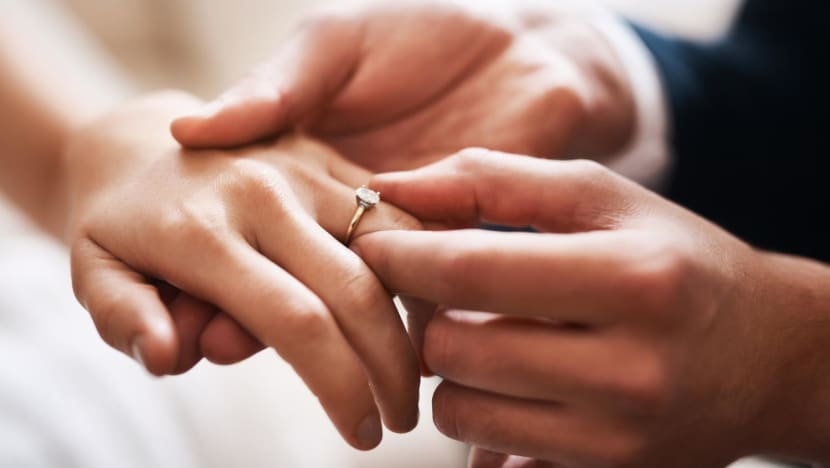 SINGAPORE: The legal definition of marriage in Singapore is under scrutiny as debate over Section 377A of the Penal Code intensifies.
Some of those contributing to the discourse around the statute criminalising sex between men have called for constitutional protection of marriages – legally defined as being between a man and a woman – if Section 377A is repealed.
The Roman Catholic Archdiocese of Singapore called for heterosexual marriage to be "safeguarded and even enshrined in the Constitution of the country as the natural structure of human society".
In a widely circulated WhatsApp message addressed to church leaders, a pastor from a local Christian church said that a constitutional clause referencing the current definition of marriage was likely in order to "balance" a possible repeal of Section 377A.
People who attended an event billed as the Protect Singapore Townhall have also spoken out against Section 377A being repealed, unless and until there are "adequate safeguards" to protect marriages, which include enshrining man-woman marriages in the Constitution. More than 1,200 people showed up at the townhall, which was held on Jul 23.
Law and Home Affairs Minister K Shanmugam has said that the Government is looking at how it can safeguard the current legal position on marriage while it considers the next steps for Section 377A.
"The two questions we are dealing with are therefore: One, what is to be done with Section 377A. Two, at the same time, we are also considering how can we safeguard the current legal position on marriage from being challenged in the courts, so that it does not get challenged like the way Section 377A was in a series of cases," he said on Jul 30.
In particular, most people want the current position on marriage – which is defined by law as between a man and a woman – "to be retained", he said.
"People don't want that to change and people also do not want any change to the current policies that take reference from this definition of marriage," said Mr Shanmugam.
At least one organisation that advocates for the lesbian, gay, bisexual and transgender (LGBT) community, Oogachaga, has since come out to say it has no immediate plans for legal challenges to redefine marriage.
What would it actually take to enshrine marriage in the Constitution? What are the potential consequences of this, and what space, if any, remains for constitutional challenge? Here's what CNA found out from constitutional law experts.
How is marriage legally defined in Singapore?
The current legal definition of marriage is found in provisions in the Women's Charter, supplemented by the Interpretation Act, said Assistant Professor Benjamin Joshua Ong of Singapore Management University's (SMU) Yong Pung How School of Law.
One of the aims of the Women's Charter is "to provide for monogamous marriages". The Interpretation Act defines a monogamous marriage as one "recognised by the law of the place where it is contracted as a voluntary union of one man and one woman to the exclusion of all others during the continuance of the marriage".
The Women's Charter adds further details. The most pertinent to the debate on Section 377A is Section 12(1): "A marriage solemnised in Singapore or elsewhere between persons who, at the date of the marriage, are not respectively male and female is void."
Other sections in the Women's Charter specify 18 as the minimum age for civil marriage and prohibit marriage within certain degrees of familial relation, marriages of convenience and polygamy.
These legal provisions do not apply to Muslim marriages, which are governed under Part 6 of the Administration of Muslim Law Act.
A religious official must give his written consent to the solemnisation of a marriage, and will only do so if he is satisfied that "there is no lawful obstacle, according to the Muslim law or this Act, to the marriage".
How could marriage become enshrined in the Constitution?
Assistant Professor Kenny Chng of SMU's Yong Pung How School of Law highlighted two options for enshrining marriage in the Constitution.
The first way is by "direct incorporation", that is, directly expressing a definition of marriage in the Constitution and declaring that only such marriages will be recognised in Singapore.
In general, constitutional amendments require the support of two-thirds of the total number of Members of Parliament (MPs), excluding Nominated MPs. Currently, this means that at least 63 votes from the 94 elected and Non-Constituency MPs would be required. The ruling party has 83 MPs.
The second way is by including a constitutional provision that references the relevant provisions of the Women's Charter or Interpretation Act and shields them from constitutional challenge. Such "shielding provisions" already exist in Singapore's Constitution, Asst Prof Chng pointed out.
An example is Article 149(1) of the Constitution on legislation against subversion, which shields laws designed to prevent certain actions, such as the promotion of ill will and hostility between different races, from constitutional challenge.
Article 39A(3) of the Constitution, on Group Representation Constituencies (GRCs), also shields GRC-related legislation from constitutional challenge.
Such "shielding provisions" in the Constitution require a two-thirds majority in Parliament to pass. A shielded provision in the Women's Charter can be changed with a simple majority vote.
However, another legal expert said it "makes no sense" to enshrine a definition of marriage in the Constitution, and that there is "no need to do so".
"If the idea is to make it harder to amend the definition of marriage, all that needs to be done is to make certain provisions of the law ... amendable only by two-thirds majority in Parliament," said Adjunct Professor Kevin Tan of the National University of Singapore's Faculty of Law.
He referred to Section 12 of the Women's Charter as an example, and adds: "Entrenchment can be done within the respective legislation without the need to tamper with the Constitution."
However, there is no precedent for legislative provisions to have entrenched clauses needing a two-thirds majority to be amended.
­If marriage is enshrined in the Constitution, is it here to stay? How could it be challenged by those who oppose it?
Asst Prof Chng said that both "direct incorporation" and "shielding provisions" are able to protect a definition of marriage from constitutional challenge through judicial review.
Judicial review is the process by which the High Court exercises supervisory jurisdiction over entities that perform public functions and duties.
Depending on which of the two methods is used, the difficulty of making subsequent changes to a definition of marriage through the political process will differ, as they require different levels of support in Parliament.
On constitutional challenges, Asst Prof Ong highlighted a legal theory that the Constitution cannot be amended in a way that alters certain "basic features" or its "basic structure".
"Our courts have not had an occasion to rule on whether this theory applies in Singapore," he said, although various academics have argued that it could.
"Our Court of Appeal has remarked that, assuming this theory applies in Singapore, only 'something fundamental and essential to the political system' would be part of the 'basic structure'."
When asked this question, Adj Prof Tan said: "The debate has focused too much on the meaning of 'marriage' and not the consequences of being married."
He said that this would require a consideration of how those who are married are treated differently from those who are not.
Some examples he cited are eligibility for new public housing, being considered next-of-kin for situations like making medical decisions, being considered a spouse within the meaning of the Intestate Succession Act and adoption.
"Differential treatment between classes of individuals" engages Article 12 of the Constitution governing equality and equal protection of the law, said Adj Prof Tan.
"The point here is that when the law treats one class differently from another (regardless of the definition of marriage), there is a potential for a constitutional challenge."
There have been no constitutional challenges in these discrete areas since the "big challenge" has been against Section 377A so far, he said.
So legally speaking, marriage is more than a word. What does this mean for constitutional enshrinement?
All three experts drew attention to the fact that marriage goes beyond legal terminology to entail legal consequences.
In this regard, Asst Prof Chng said another set of options for enshrining marriage could involve "a substantive bundle of rights and privileges ... reserved specifically for a marriage relationship", and not just defining the terminology of "marriage".
Asst Prof Ong pointed out that the legal effects of marriage can be achieved through means other than getting married. And even if a definition of the word "marriage" is fixed in law, this would not affect rules that do not use the word.
He cited the fact that people can leave their property to anyone else in a will, nominate anyone to receive their Central Provident Fund (CPF) savings upon their death, appoint anyone as a healthcare spokesperson for end-of-life planning and jointly buy private residential property with anyone.
These rules can include a same-sex partner, and they would not be changed by a law defining "marriage" as they do not use the word, said Asst Prof Ong.
What are the possible implications of amending the Constitution to define marriage?
Another facet of the debate that has been alluded to is how the Constitution could be affected by any move to enshrine a definition of marriage.
Asst Prof Ong said that such an amendment "would radically change the fundamental nature and purpose of the Constitution". He cited two main functions of the Constitution at present.
First, the Constitution sets out the ground rules for how state institutions operate. For example, it specifies who is qualified to be President or a Supreme Court judge, and how ministers are appointed.
Second, the Constitution is there to "provide for a democratic order, having regard to Singapore's multi-racial and multi-religious nature", said Asst Prof Ong.
"This includes saying who are the citizens of Singapore; specifying that the President and MPs are popularly elected; and setting out certain basic fundamental liberties which secure a minimum level of protection for all.
"The purpose of these fundamental liberties is to uphold certain basic rights that everyone ought to have in a democracy – for example, rights that everyone ought to have as a safeguard against the 'tyranny of the majority'."
Asst Prof Ong's view is that any definition of marriage would not be directly related to these matters, and would cause the Constitution to take on a function it presently does not have.
"Such a step is not to be taken lightly because it may have unintended consequences," he said.
Laws aside, is enshrining marriage in the Constitution a political necessity for the repeal of Section 377A?
Attendees at the Protect Singapore Townhall reportedly called for a "new political package" to protect marriage, family and children if Section 377A is repealed.
Politically, a constitutional definition of marriage is a way of "accommodating both retentionists and abolitionists" of Section 377A, said constitutional law expert and political analyst Associate Professor Eugene Tan, also of SMU.
If the law is repealed, the concerns of those who are not in favour of this will need to be adequately addressed, he said.
"It would appear that one way of doing so would be to assure the '377A retentionists' that society's laws, policies, values and mores remain strongly in support of the family as the basic unit of society and marriage as a heterosexual union."
His view is that defining marriage in the Constitution seems to be intended as a "replacement marker" for what Section 377A has been doing symbolically, as the law remains on the statute book but is not actively enforced.
Repealing the statute is probably "the cleanest option legally", but it raises other concerns like how to accommodate the LGBT community and "enhance the 'live and let live' ethos", he added.
"Ultimately, the real issue with Section 377A is not legal in nature," said Assoc Prof Tan.
"Any lasting solution will have to be extra-legal in substance whereby the various concerns are even-handedly addressed enabling a societal consensus to be reached."