SCDF unveils training facility with five labs to enhance emergency responders' physical, mental performance
A new "non-dispatch policy" for cases triaged to be non-emergencies was also announced at SCDF's workplan seminar this year. 
SINGAPORE: The unassuming treadmill is an important part of the training to physically and mentally prepare Singapore Civil Defence Force (SCDF) emergency responders for gruelling scenarios, such as rescuing casualties in a fire.
But the treadmills in the Heat Acclimatisation and Thermoregulation (HEAT) lab, located inside SCDF's Emergency Responders' Fitness Conditioning and Enhancement Lab (EXCEL), are not your regular gym treadmills. 
One treadmill is flanked by two tightly wound fire hoses, with each roll weighing 12kg. 
To use the treadmill, an emergency responder will have to don the standard attire that weighs about 7kg and hoist a breathing apparatus that weighs about 10kg onto their back. 
Stepping onto the treadmill, they will pick up both hoses and walk for about three minutes. 
After completing the station, they will move to another treadmill, where they will walk backwards against a slight incline while lugging a dummy in front of their chest for another three minutes.  
All this is being done while the temperature in the room is set anywhere from -10 to 80 degrees Celsius and at a humidity level of 20 per cent to 95 per cent.
Getting on the treadmills
When I tried the stations prior to their unveiling at SCDF's workplan seminar on Friday (Jun 10), I began perspiring profusely after barely 30 seconds on each treadmill, carrying the breathing apparatus on my back, and without the firefighter's uniform. 
I also tried two other stations – ladder climbing and stair climbing – in the same get-up. 
While my few exhausting minutes in the HEAT lab gave me a newfound respect for emergency responders being able to maintain composure in demanding scenarios, it only scratched the surface of how the EXCEL facility could strengthen their capabilities.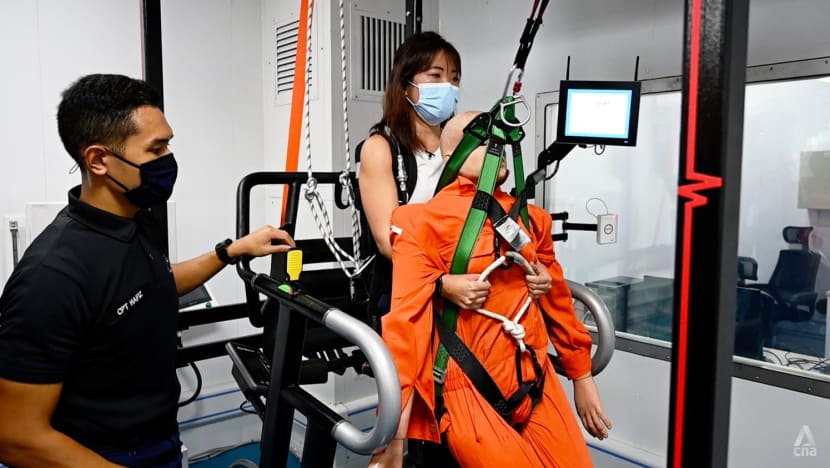 ENHANCING PHYSICAL AND PHYSIOLOGICAL PERFORMANCE USING DATA
Jointly developed by SCDF and the Home Team Science and Technology Agency (HTX), EXCEL is a new integrated research and development and training facility that was highlighted at SCDF's workplan seminar. 
"SCDF has applied science and technology and data analytics in the training of its officers," said Minister of State for Home Affairs and National Development Muhammad Faishal Ibrahim at the event. 
"EXCEL collects and holistically analyses the physiological and cognitive data of trainees. This enables the development of customised training programmes to enhance responder performance and maximise officers' potential through an evidence-based approach." 
The EXCEL facility comprises five specialised labs, including the HEAT lab, and a "nerve data centre".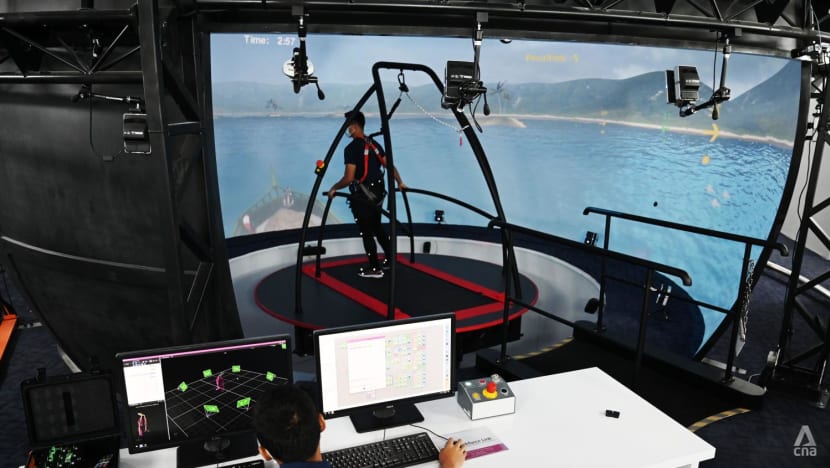 One of the labs is Strength, Conditioning & Rehabilitation in Virtual Environment (STRiVE), which features a 360-degrees interactive virtual environment for the assessment of human factors and ergonomics, and conditioning for operational and unconventional terrains.
"It ensures responders are in optimal condition for training and operations," said SCDF and HTX.
For example, the lab can simulate rough sea states during motion acclimatisation training for responders in marine units. 
The data collected at STRiVE can also be used to potentially treat responders with post traumatic stress disorder (PTSD). 
This can be done by developing operational scenarios within the STRiVE system that have increased possibility of causing PTSD symptoms, SCDF told CNA.  
In doing so, STRiVE would be used as "pre-intervention training for mental acclimatisation and resilience" before deploying responders to frontline operations.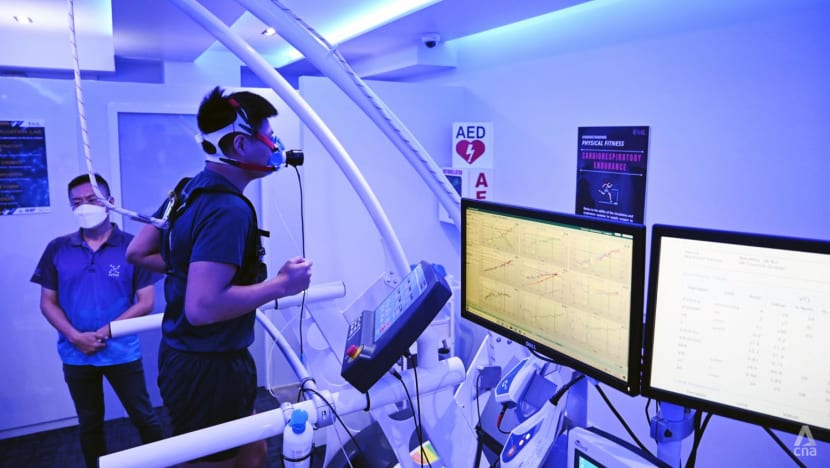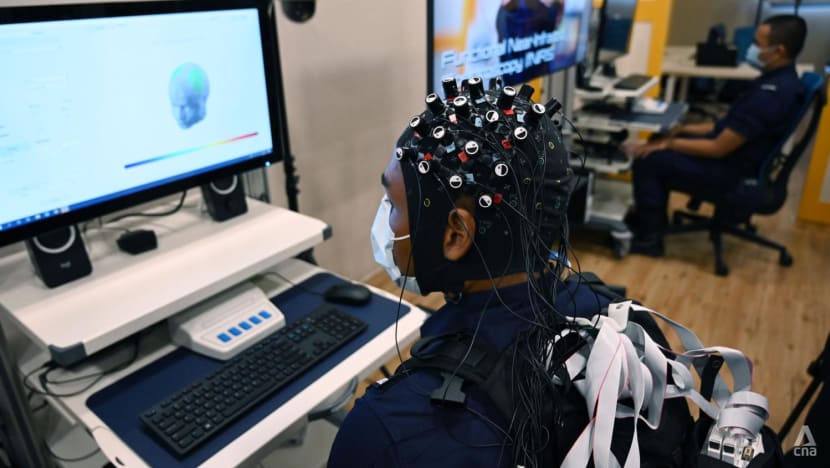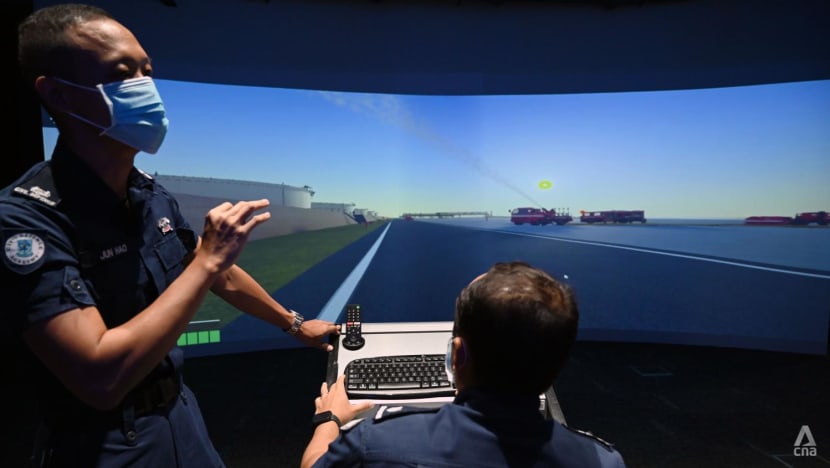 At the fitness evaluation lab, responders' physical fitness will be measured against "gold standard scientific procedures". 
This allows SCDF to not only identify a responder's strengths and weaknesses, but also their "predisposition to musculoskeletal injuries", said SCDF and HTX in a media factsheet. 
The cognitive lab enhances responders' cognitive and behavioural performance. 
One way is through a psychomotor vigilance test to identify timepoints when the responder's attention typically wanes, in order to recommend optimal work-rest cycles for them. 
At the digital learning lab, responders use extended reality technology to learn about different challenging scenarios they may find themselves in. 
For example, driving simulators allow responders to practise emergency response driving. Data collected will provide insight into their performance to "facilitate targeted or corrective training", said SCDF and HTX.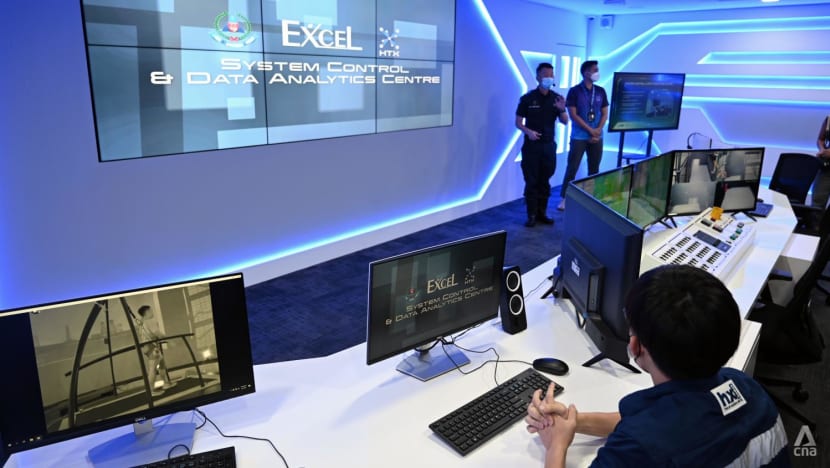 Data from the five labs will be collected in a system control and data analytics centre. 
Also known as the "nerve centre" of the facility, the centre enables "longitudinal tracking and multi-modal profiling of emergency responders at both the individual and cohort or unit level", said SCDF and HTX.
The EXCEL facility forms Phase 1 of the Civil Defence Academy's redevelopment, said SCDF Commissioner Eric Yap.
Phase 2, which is the largest of the three phases, will be completed early next year. It will comprise the National Emergency Medical Services (EMS) Training Centre, a Fire Research Centre, and a slew of facilities depicting mixed-use premises, pre-war shophouses, an underground MRT station and a road tunnel.
Phase 3 will involve upgrading the existing furnace building with simulators that complement facilities in Phase 2 for "joint training by our fire and rescue, EMS personnel, and our Home Team colleagues", added Commissioner Yap.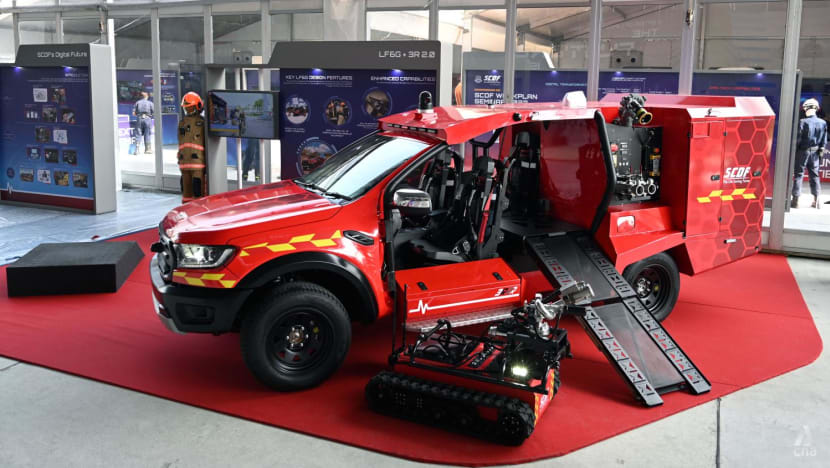 RED RHINO
To mark SCDF's transition towards a three-man concept of operations from Jun 1, the 6th generation light fire attack vehicle (LF6G) – known as Red Rhino – was also launched during the workplan seminar. 
The move from a four-man to three-man light fire attack vehicle was designed to "optimise resources", said SCDF.
The vehicle features various new equipment and capabilities, such as two compressed air foam trolleys and a battery-operated hydraulic forcible entry tool.
Compressed air foam is more effective in extinguishing fires as compared to water, said SCDF.
The new forcible entry tool will also be more efficient than the existing forcible entry equipment, which requires two people. The new tool can be operated by a single firefighter.
Meanwhile, a 2nd generation Red Rhino robot will also be fitted into all LF6G versions of the Red Rhino vehicles by end 2023. This will be SCDF's smallest firefighting robot, allowing it to manoeuvre easily in confined spaces. 
The robot is also equipped with a heat imaging camera and video streaming capabilities, which will allow the crew to assess situations from a safe distance.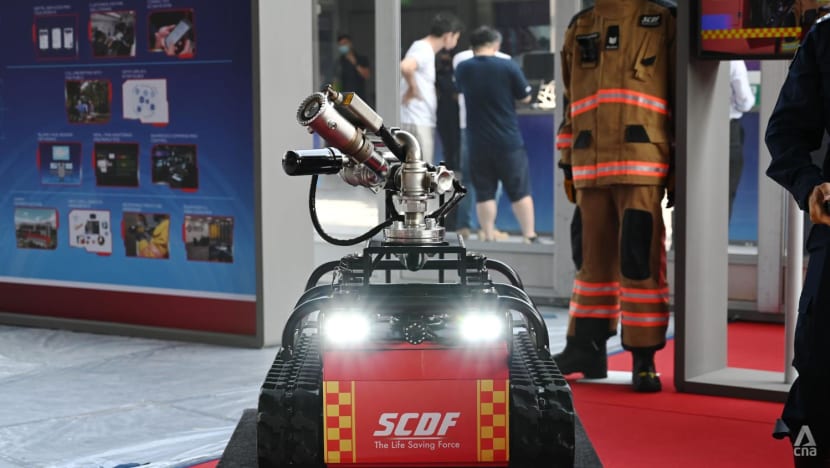 DEPLOYMENT OF HAZMAT SENSORS ISLANDWIDE 
SCDF is working on a non-dispatch policy for cases triaged to be non-emergencies by the 995 Ops Centre, said Assoc Prof Faishal on Friday.
This is expected to be implemented sometime next year, he added.
"This will ensure that our EMS (emergency medical services) resources are optimised for emergencies only, as committing emergency resources to non-emergency cases will deprive those in need," he said.
Since 2017, SCDF has adopted a "tiered approach" to manage the increasing demand for emergency services, added Assoc Prof Faishal.
In 2019, SCDF implemented the policy of "non-conveyance" if the case is assessed by an on-site paramedic to be a non-emergency. 
SCDF responded to more than 210,000 emergency medical services calls in 2021 – an increase of about 12 per cent from 2020.
He reassured members of the public that their requests will be "professionally triaged through the rigorous Advanced Medical Protocol System and assessed by trained ops centre call-takers".
Assoc Prof Faishal also announced the progressive deployment of hazardous materials (hazmat) sensors islandwide. These sensors will enable SCDF to determine and monitor the affected areas, so that appropriate and timely public protective actions, such as evacuation, can be implemented, he said.