Singapore in the middle of COVID-19 wave, about 30% of cases are reinfections: Ong Ye Kung
Daily COVID-19 infections have risen from about 1,400 a month ago to roughly 4,000 cases last week.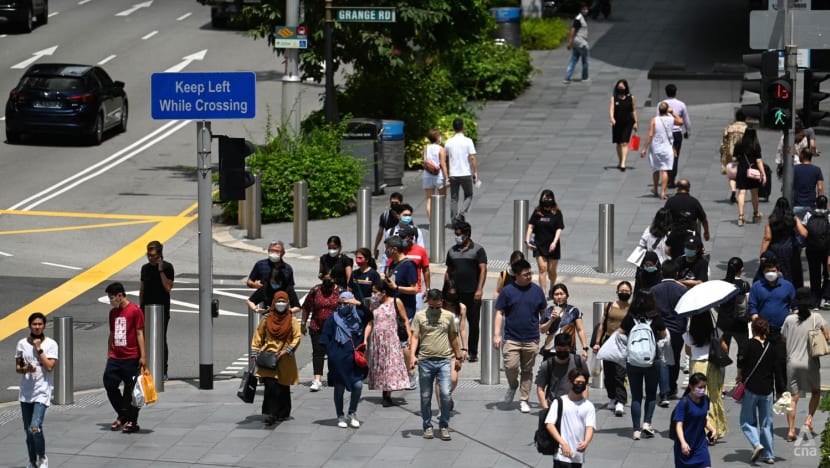 SINGAPORE: Singapore has been in the middle of a COVID-19 wave over the past month, with daily infections rising from about 1,400 a month ago to roughly 4,000 cases a day last week.
About 30 per cent are reinfections, higher than the proportion of 20 per cent to 25 per cent during the previous wave, said Health Minister Ong Ye Kung on Friday (Apr 14).
While the number of hospitalised COVID-19 patients has gone up, from 80 last month to 220 currently, Mr Ong said this is still "far below" the figure during the peak of the pandemic and much lower than the number of patients hospitalised for non-COVID infections.
Fewer than 10 COVID-19 patients have been in the intensive care unit at any one time over the past month, he added. 
"What is happening is a clear demonstration of how far we have come in dealing with COVID-19," Mr Ong said. "Even during a COVID-19 infection wave like now, we continue to live life normally, we're not preoccupied over infection numbers ... This is what endemicity should look like."
Speaking during the National Healthcare Group's population health collective annual work plan seminar, Mr Ong also addressed comments by some people who attributed the rise in Singapore's COVID-19 infections to travellers.
"But the understanding that this caused a rise in infections is actually incorrect," the minister said. 
"The virus is endemic, which means it is always circulating within the community. In such a situation, what drives our local waves is not imported infections, but reinfections of existing individuals in the community," he added.
"When the protection against infection from past infections or vaccination wanes over time, people do get reinfected and that causes the number of cases to rise and a new wave will emerge."
SUBVARIANTS
Mr Ong said Singapore continues to conduct genetic sequencing of the viral samples, noting that there are now multiple COVID-19 variants circulating, including XBB.1.16.
"Of particular interest now is XBB.1.16. It is only of particular interest because someone gave it a sexy name called Arcturus," he said.
"But really of all the variant strains now, there is really not a single one that we notice is particularly dominant. There is no evidence showing that any one of them causes more severe illness."
Singapore in February stepped down its COVID-19 measures and its disease alert to the lowest level since the pandemic started.
COVID-19 infection numbers are now updated on a weekly basis.
How are COVID-19 caseloads estimated?
The Ministry of Health (MOH) estimated that there were 14,467 COVID-19 cases in Singapore in the week from Mar 19 to Mar 25 (epidemiological week 12). The following week, the estimated caseload increased to 28,410.
This dropped to 16,018 cases in epidemiological week 14 – from Apr 2 to Apr 8 – the latest data showed.
The number of COVID-19 cases in Singapore each week is estimated based on the National Acute Respiratory Infection (ARI) Surveillance Programme, MOH told CNA.
The programme is currently carried out at polyclinics to monitor the infection trends of COVID-19 and other respiratory viruses in the community.
As COVID-19 testing is no longer routinely required after Singapore returned to DORSCON Green, the number of reported COVID-19 cases is expected to "underrepresent the actual situation", said MOH.
To get a more accurate estimate of the number of local COVID-19 cases, the ministry takes into account the number of ARI attendances at polyclinics, the proportion of polyclinic ARI samples that test positive for COVID-19 for each epidemiological week, and the share of national ARI cases that are seen in polyclinics.
MOH said that the rise in the estimated caseloads from epidemiological week 9 to week 12 was due to an increase in the proportion of COVID-19 positive samples detected through the surveillance programme.
"Like all endemic diseases, we no longer have very granular data on COVID-19 infections," Mr Ong said, adding that the Ministry of Health continues to monitor the coronavirus closely through sampling patients who display acute respiratory symptoms and testing wastewater samples for viral fragments.
While the estimated daily infections have gone up, the Health Minister said this is a small fraction of the 20,000 or more daily cases Singapore used to experience during the peak of the pandemic.
"Our assessment is that this week, the numbers have probably stabilised, may have even come down," he added.
Although the current wave is not severe, Mr Ong cautioned that the additional caseloads do add to the heavy workload of the hospitals. 
He urged people to do their part to keep themselves healthy and if they are unwell, to stay home and wear a mask.
"And if they are vulnerable groups, such as (people) aged 60 and above, get your vaccinations annually," he added.