Rising COVID-19 cases in Singapore driven by XBB subvariants; MOH says infection waves expected 'from time to time'
Recent weekly official figures showed the highest surge so far this year, with cases climbing since the beginning of last month.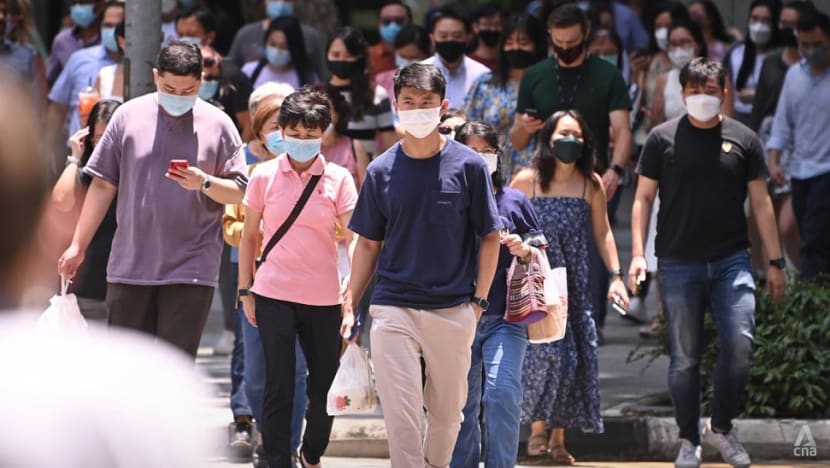 SINGAPORE: COVID-19 infections are on the rise again, but doctors say most cases are mild, adding that this is part and parcel of living with the virus as Singapore shifts into the endemic phase.
Recent weekly official figures showed the highest surge so far this year, with cases climbing since the beginning of last month.
In the final week of March, 28,410 cases were recorded, almost double the previous week's figure of 14,467.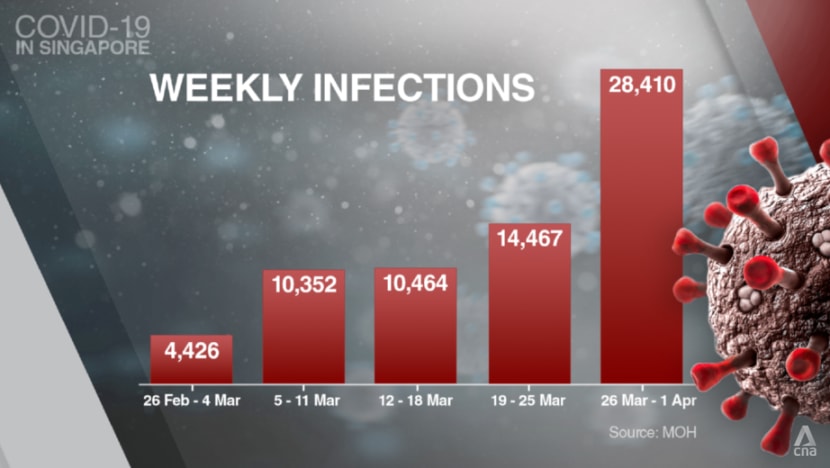 The Ministry of Health (MOH) told CNA that the current COVID-19 infection wave is driven by a mix of XBB subvariants including XBB.1.5, XBB.1.9 and XBB.1.16.
It added, however, there is currently no evidence of increased severity in the cases.
While the number of new COVID-19 hospitalisations also rose steadily over the past weeks, with cases climbing to 339 at the end of March, admissions into intensive care units (ICU) have decreased.
"We continue to expect new COVID-19 infection waves from time to time, similar to other endemic respiratory diseases such as influenza," MOH said in a statement.
CLINICS SEEING MORE CASES
Clinics are also seeing a spike in patient load but doctors said the jump in cases is expected, now that COVID-19 restrictions have been eased.
Unihealth said last week that each of its clinics has been seeing about 15 to 20 COVID-19 patients per day, up by nearly twofold over the past month.
"Most of the COVID-19 patients that we see in clinics continue to present with mild symptoms," said Dr Xie Huizhuang, the firm's medical director.
"Their vitals are stable and they do not require hospital admissions. They are treated symptomatically and they subsequently recover uneventfully."
To cater to the uptick, the clinic chain has ordered more medication, including COVID-19-targeted treatments.
Over at Phoenix Medical Group, its clinics have also reported twice as many patients in the past two weeks. Similarly, most of the cases were minor and manageable.
Dr Chua Hshan Cher, the group's medical director, said most patients showed "routine respiratory symptoms". He typically advises these patients to "go home and rest", and drink lots of fluids.
However, he cautioned that higher-risk patients – the elderly and those with pre-existing medical conditions – should continue practicing vigilance.
"If you have underlying medical conditions or you are a bit more susceptible because you're undergoing, say chemotherapy for example, you do obviously want to take extra (precautions)," said Dr Chua.
WHY ARE CASES INCREASING?
Doctors attributed the jump in cases to the easing of measures and the resumption of travel.
Singapore ditched its mask-wearing rule for public transport commuters in February, and non-vaccinated travellers entering Singapore are no longer required to show a negative pre-departure test.
Aside from COVID-19, there are also more patients seeking medical treatment for influenza.
"Most people have resumed normal life. When we go about our daily routine, you will see most people being unmasked these days," said Dr Chua. "This is probably one of the reasons why the prevalence of these respiratory cases has gone back pretty much to what it was like pre-COVID."
Dr Xie said Unihealth clinics have seen a 30 per cent increase in patients with acute respiratory infection. About a fifth of these cases suffer from influenza infection, around 5 to 10 per cent from COVID-19, and the remaining from viral infection.
As activities resume and life returns to normalcy, clinics said they expect COVID-19 cases to continue rising before stabilising.
"I think eventually we will hit a steady state, and we might get some spikes from time to time. If it follows other respiratory viruses like influenza, then we might see spikes during the winter seasons," said Dr Chua.
LITTLE CAUSE FOR CONCERN
With Singapore now treating COVID-19 as endemic, doctors are also moving away from focusing on topline figures.
"We are living with COVID … We do not think this is a concern, because it is well known that the current strains of COVID-19 cause minor symptoms in the vast majority of cases," said Dr Wong Kia Boon, communications director of OneCare Medical.
The firm's clinics no longer swab for verification or certification, and only do so if patients need it for administrative reasons, he added.
"There is also intense surveillance locally, regionally, internationally for any emerging strains that may lead to severe illnesses again," he said. "Guidelines will certainly evolve to deal with any emerging trend should this ever happen."
As Singapore lives with the virus, the Health Ministry and doctors are reminding the public to get their COVID-19 booster shots when due, and to continue good personal habits, such as masking up in crowded areas, and seeking prompt medical attention if unwell.
You may also be interested in: