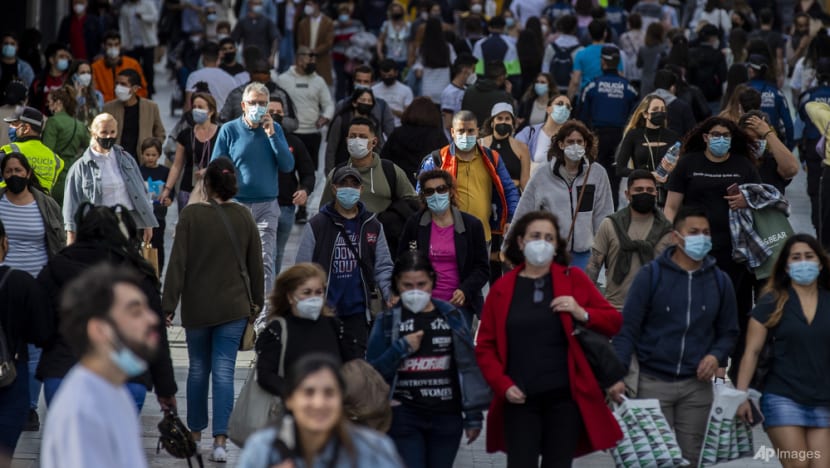 Two years into the pandemic, weary governments are hoping the fast-spreading but less severe Omicron variant marks a turning point, a shift toward a more predictable and manageable phase.
Determined to escape the crisis and avoid more restrictions, officials in some countries suggest it is approaching time to treat COVID-19 as an endemic disease, like seasonal flu. World Health Organization (WHO) experts say that is premature.
With Omicron ripping through populations and vast parts of the planet still unvaccinated, the pandemic is not over. The bottom line: The path to reaching that endemic stage is full of uncertainties, posing tough questions for policymakers everywhere.
WHAT DOES ENDEMIC MEAN?
In an epidemic, a disease spreads rapidly and unexpectedly in a given location; it becomes a pandemic when it spreads globally, or over a very wide area.
A disease that is endemic is continuously present in a given population at a lower and more stable level, even if cases spike under certain conditions.
Scientists expect that when enough people gain at least some protection from the coronavirus through vaccines or prior infections, it will blunt the spread of the virus and reduce hospitalisations and deaths, so that over time COVID-19 will pose less of a threat.
The virus will not go away entirely, however, and endemic diseases can still take a serious toll. Tuberculosis and malaria, which are endemic in some parts of the world, claimed an estimated 1.5 million and 627,000 lives, respectively, in 2020.
"Endemic in itself does not mean good. Endemic just means it's here forever," said Mike Ryan, executive director of the WHO's health emergencies programme.
WHEN MIGHT COVID-19 BECOME ENDEMIC?
In mid-January, COVID-19 was taking about 50,000 lives a week globally.
Learning to live with the virus should not mean enduring that much death, WHO Director-General Tedros Adhanom Ghebreyesus said. Countries are likely to start considering COVID-19 endemic at different points in time, based on their levels of immunity.
While two-thirds of people in wealthy countries had received at least one dose of vaccine as of Jan 12, just 11 per cent had in low-income nations.
In Portugal, where 89 per cent of the population is fully vaccinated, COVID-19 already looks like an endemic illness. In Africa, about 85 per cent of people have yet to receive a single dose.
China, the world's most populous country, is in a category of its own: It has stuck to a zero-COVID strategy, using strict lockdowns and extensive quarantines to quell outbreaks.
So infections are few, but natural immunity is also scant. While 87 per cent of the population is fully vaccinated, it is unclear how effective China's shots are.
WHAT IS THE ROLE OF THE OMICRON VARIANT?
Data show the latest iteration of the coronavirus is less virulent than previous variants, which means it is less likely to cause hospitalisations and deaths.
Because Omicron is also more transmissible, it is creating surges in infections. But that feature could also mean it could speed a transition to an endemic stage by outcompeting the more harmful Delta variant, which became dominant worldwide in mid-2021.
There is an important caveat, however. It is not yet clear whether Omicron is spreading so quickly because it is inherently more fit than Delta or whether it is just better at evading the immunity some have from vaccination and previous infections. If it is the latter, as some populations build up immunity to Omicron, it may lose its advantage, allowing Delta to resurge.
WHAT ELSE COULD COMPLICATE THE PATH?
It is impossible to know what the next variants will look like, and how infectious and virulent they may be.
The slow rollout of vaccines among poor countries raises the risk that shot-evading variants could emerge. Another unknown is how durable immunity will be.
The coronavirus may prove to be similar to the flu virus, which produces a relatively steady number of cases annually but also has the potential to cause epidemics and even pandemics when it mutates sufficiently to evade the immunity large numbers of people have from vaccination and prior infections.
WHICH COUNTRIES ARE RE-EVALUATING THEIR VIEW OF COVID-19?
Spain's Prime Minister Pedro Sanchez said it is time to think about new ways of living with COVID-19 given that the rise in Omicron cases has not led to an equivalent surge in hospitalisations and deaths.
UK cabinet minister Nadhim Zahawi hopes his country will become one of the first major economies to show the world "how you transition from pandemic to endemic", adding that testing, vaccines including boosters, and antiviral drugs will be key parts of the strategy.
US President Joe Biden said he believes the virus can be managed with new tools. It is important to remember, however, that leaders have underestimated COVID-19 throughout the pandemic.
Last July, Biden declared that the US was close to achieving "independence" from the coronavirus. Researchers warn that rapidly lifting COVID-19 countermeasures could contribute to a rise in cases.
WHAT MIGHT LIVING WITH THE VIRUS LOOK LIKE?
Waning immunity, pockets of unvaccinated people and variants could drive future outbreaks.
Countries might respond with regular boosters, careful tracking of mutations, ongoing surveillance and better ventilation in buildings.
Most infections could be relatively mild, like the flu, but a small fraction resulting in severe illness would add up.
Endemic COVID-19 could mean 40,000 to 100,000 deaths per year in the US, Trevor Bedford, a specialist on viral evolution at the Fred Hutchinson Cancer Research Center in Seattle, estimated in October. By comparison, the flu kills from 12,000 to 52,000.