Commentary: S$140 million of Singapore's COVID-19 vaccines expired – it means we were lucky
Some critics have called the expired vaccine doses a waste of taxpayer money, but predicting vaccine needs amid pandemic uncertainty is complex, says Duke-NUS professor David Matchar.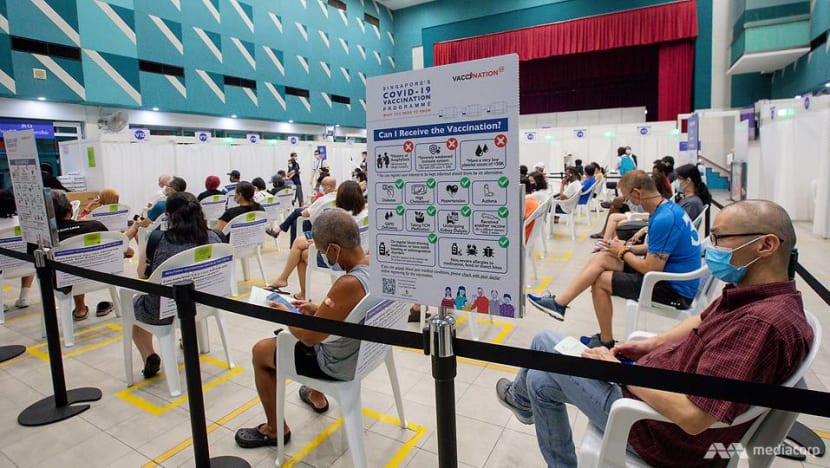 SINGAPORE: S$140 million (US$105 million). That is the value of COVID-19 vaccines acquired by Singapore that have expired.
In Parliament on Mar 21, Health Minister Ong Ye Kung called it a price Singapore was prepared to pay, an "insurance premium" against catastrophe.
Most people would agree that S$140 million is a substantial sum from a personal perspective. Critics called it a waste of taxpayer money, taking issue with the "deliberate" over-procurement.
But how large is this amount when seen from a societal perspective? And more importantly, was it worth it? 
PUTTING EXPIRED VACCINES INTO PERSPECTIVE
All vaccine purchasing (as for virtually any product) is subject to wastage: Components rejected for not meeting specifications, production processes that took longer than anticipated, vials broken in transportation, and, yes, doses that expire before anyone uses them. 
Vaccine needs and uptake are always a challenge, even for long-established vaccines like flu and measles. In the case of COVID-19, the uncertainties were massive, as were the potential negative consequences to health and the national economy. 
Singapore, wanting to assure a steady vaccine supply for all eligible citizens amid these uncertainties, invested heavily in advance purchase agreements with vaccine producers in 2020, even before manufacturers like Pfizer-BioNTech and Moderna had completed their Phase 3 clinical trials.
Ultimately, 15 per cent of the acquired doses - that's one and a half vials per every 10 - went unused. As a comparison, the United States wasted more than 11 per cent of its COVID-19 vaccine stock. But these comparisons don't tell the full story.
GOOD USE OF PUBLIC FUNDS?
Let's ask a larger question: Was the S$1 billion spent on vaccine acquisition a good use of public funds? 
Consider first the deaths avoided - one of the clear benefits of vaccination is its ability to reduce mortality rates. 
Singapore became the first country in Asia to start a COVID-19 vaccination campaign and steadily became one of the most highly vaccinated countries in the world - about 25 per cent higher than the average of upper middle-income countries and more than 60 per cent higher than the world overall. 
And despite having had more than 2 million cases of COVID-19 infections, Singapore had one of the lowest rates of COVID-19 deaths (about 29 per 100,000 population). That's about one-tenth of the COVID-19 death rate reported in the US and the United Kingdom.
Instead of 1,722 COVID-19 deaths reported, Singapore could have seen about 6,000 to 19,000 deaths, or an additional 4,000 deaths or more.
Thousands of families were spared the agony of losing loved ones. That's a clear success story.
Based on international data, the average life expectancy of those who would have died - but didn't, thanks to vaccination - is about 20 years.
While it's clearly difficult to put a dollar value on a person's life, the World Health Organization (WHO) recommends using a standard reference value for a statistical life in health policy to allow comparison with other uses of health resources. For higher-income countries, WHO recommends valuing a year of life as the country's annual gross domestic product per person (per capita GDP), which would be about S$100,000 for Singapore.
That translates to S$2 million per death avoided. The S$140 million in unused vaccines should be seen in this light, as part of the investment in avoiding at least S$8 billion (or more) of deaths.
Not included here are the other benefits of having a high vaccination rate afforded by readily available supplies, such as reduced stress on the health system from fewer and less severe cases.
Singapore did not have to experience the extreme moral dilemma some countries faced in deciding which patients would get a ventilator, nor the dire scenes of refrigerated trucks serving as temporary morgues.
COULD WE AVOID "WASTAGE" IN FUTURE PANDEMICS?
Now as we shift attention from the past three pandemic years and prepare for the next public health threat, could we do better at predicting vaccine needs to avoid throwing out expired vaccines?
As part of a team attempting to understand the dynamics of epidemics, I can attest that predicting vaccine needs is what policy literature calls a "wicked problem", not only because it is complex, but because the requirements for a solution are incomplete, contradictory and difficult to recognise. 
The next epidemic won't necessarily be the same as COVID-19 - it may be a different pathogen, transmitted by a different route, with different levels of transmissibility and severity. 
Estimating the number of doses needed to avoid catastrophe will always involve planning for the worst plausible situation. Wastage may not reflect poor planning, it may mean that we were lucky to have avoided worse.
Dr David Matchar is a Professor at the Health Services and Systems Research Programme at Duke-NUS Medical School, Singapore.
NCID executive director Professor Leo Yee-Sin and Duke-NUS Professor Ooi Eng Eong share the highs and lows of being in the "fog of the war" during the COVID-19 pandemic. Listen to CNA's Heart of the Matter: