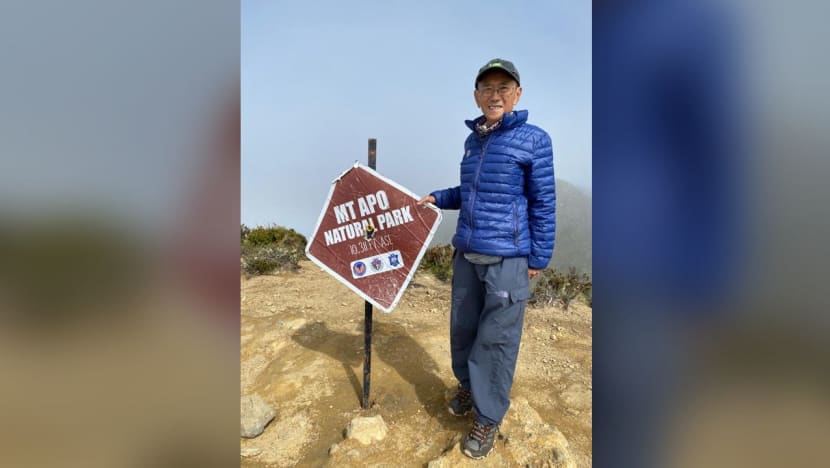 In 2010, Singaporean Peter Chong was in a shop in Baguio, northern Philippines when he saw a huge poster of Mount Pulag, the country's third-highest mountain famed for its breathtaking scenery.
"I knew nothing about it," the 80-year-old retiree told CNA on Monday (May 30). "I was just awed by it, so I asked the staff about it."
When he visited the shop again to print photos, the staff member told him that a group would be climbing Mount Pulag soon, and gave him a contact if he was interested.
This "chance" encounter, as Mr Chong put it, was how he started to climb mountains at the age of 69. First on the list was the 2,928m-tall Mount Pulag, and he almost did not make it.
The exhausting climb took place at night, and Mr Chong said he nearly gave up before the summit. "I did not know the peak was just another 20 or so metres away," he said. "The guide had a laugh when he said, 'You are at the summit!'"
More than a decade on, Mr Chong has climbed six mountains in the Philippines, including Mount Pulag three times and the shorter Mount Cabuyao at least five times. The latter is more accessible as the starting point for the climb is in Baguio, where Mr Chong lives with his Filipina wife.
But Mr Chong was eager to add another local mountain to the list: Mount Apo, a dormant volcano rising 2,954m above mean sea level.
It is the country's tallest peak, and Mr Chong admitted this made the prospect of reaching its top even more attractive.
"Hiking and mountain climbing are my hobbies," Mr Chong said on WhatsApp text messages. "I had been thinking of climbing Apo for some time. Could not do earlier because it was closed for two years due to COVID-19."
In May, he became the oldest person to summit Mount Apo.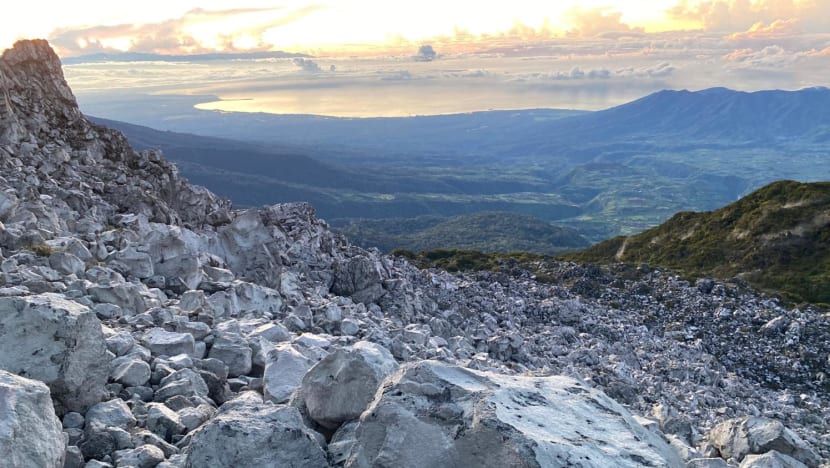 HIKES ALMOST EVERY DAY
Mr Chong considers himself "quite fit". The former Singapore Airlines executive, who was part of the airline's pioneer batch of cabin crew when it was still named Malayan Airlines, played squash in his younger days before picking up golf when he turned 50.
In Baguio, he goes on kilometre-long hikes almost every day. He has also climbed mountains in Nepal, Australia and New Zealand.
When Mr Chong was stuck in Singapore during the pandemic – he visits every few months to see his two children and grandchildren from his late first wife – he cycled almost daily. On Jan 1, he cycled more than 100km around the island, an achievement he proudly relayed through screenshots from his Strava app.
When the Philippines eased border restrictions in March, Mr Chong went back. This was when he started planning to climb Mount Apo.
Mr Chong had also been meaning to visit a close friend in Davao, 45km from Mount Apo. The mountain was an "additional attraction", he said.
To get the ball rolling, Mr Chong connected with a friend whose sister-in-law worked as a tourism officer in Digos, a city that climbers go through to get to the starting point for the climb. The city's tourism office also handles climbing permit applications for Mount Apo.
The tourism officer, Ms Perla May Griffin, helped Mr Chong apply for the permit and introduced him to a guide. Mr Chong paid about 11,000 pesos (S$288) for a package that includes a guide, porter, meals and tents.
Around the same time, Mr Chong saw an official Facebook post that detailed how a 78-year-old local man, a retired engineer, had just become the oldest person to summit Mount Apo. Mr Chong did not think much of it.
"My age was not a consideration; I did not know nor think of setting a record," he said.
THE CLIMB
Mr Chong and his team set off from the starting point of Kapatagan at 8.30am on May 17. The first hour took them across farmland and forest.
The track soon turned "muddy and soggy", Mr Chong described in a Facebook post documenting his trip. "I am told it is rarely totally dry. Fallen trees or branches across track are never cleared. They are intentionally left in situ. So, one climbs across or goes under the fallen tree," he wrote.
Mr Chong said the track went almost consistently uphill for more than 10km, until they reached Gudi-Gudi base camp at about 2pm. There were no toilets, so climbers went out of the camp to do their business in a hole they dug. "Cover up after it's done," he said.
While sanitation was basic, the meals were elaborate. Mr Chong's team brought food ingredients and cooking equipment, and they whipped up a feast for him.
"It's amazing the amount of food they carried up to base camp. No canned stuff at all," he said, adding that he had fried eggs for breakfast at 2am. An hour later, they embarked on their push for the summit.
The team spent an hour traversing the forest before reaching a section of the trek called the "boulders", referring to large and jagged rocks that layer the upper slopes of Mount Apo.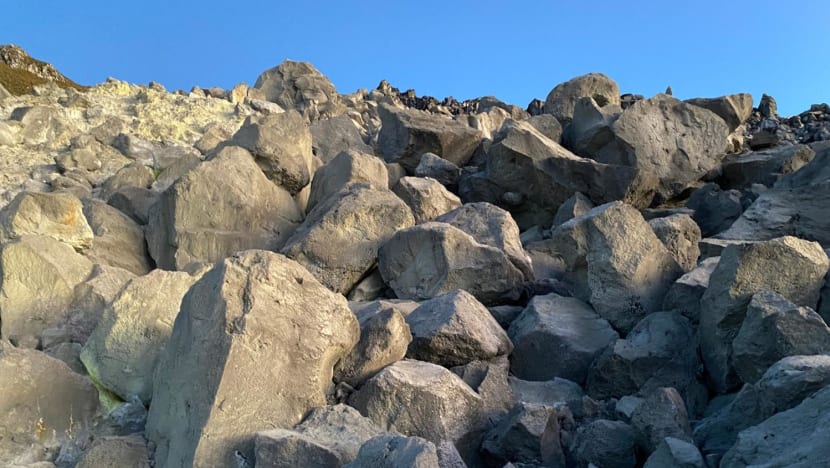 Mr Chong said this was the most challenging part of the climb. "The boulders are quite tightly packed so there's not (enough space) to walk around them," he explained.
Mr Chong's photos on his Facebook posts gave an idea of the rocky terrain that climbers have to tackle, along with the putrid fumes that emanate from sulphur vents on the mountain.
"We were lucky to be upwind and did not get the full 'blast' of the fumes," he wrote, adding that he did not have to pull up the balaclava that hung around his neck.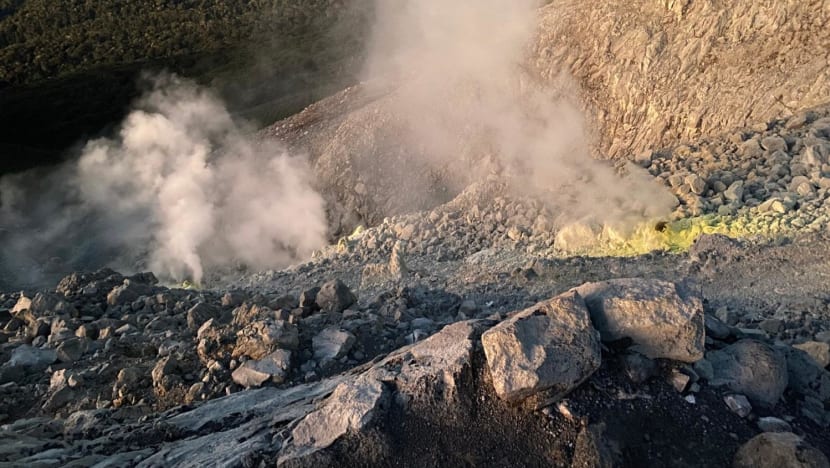 The boulders took two hours to circumvent, and Mr Chong celebrated this by raising his hands in accomplishment.
Mr Chong took a break before the next task: An almost vertical climb up a rock wall known as "87 degrees". This might sound daunting, but Mr Chong said it was "quite safe" as climbers are guided by steps. He managed to take photos of wild berries that grew at that altitude.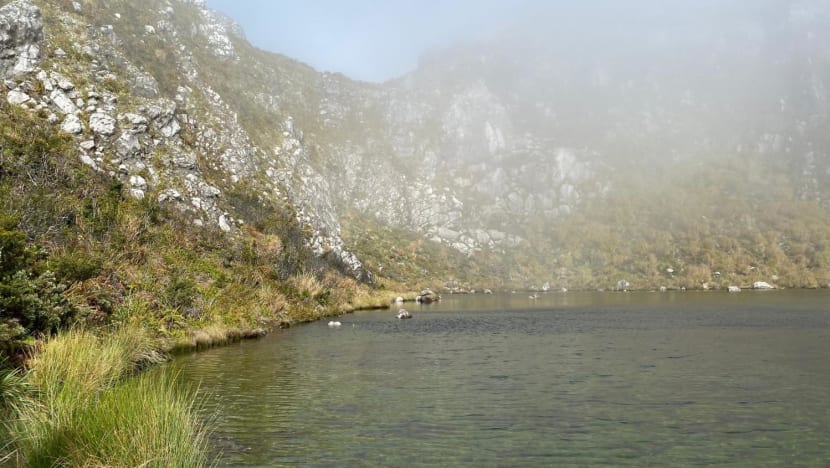 The team then stopped by at a picturesque crater lake before reaching the summit close to 9am on May 19. 
There were "no hiccups" along the journey, Mr Chong said, although he was worried about climbing in the rain after a short drizzle.
"I was tired, yes, but not extremely tired," he said. "I was so exhilarated and overjoyed but I forgot to stay longer to enjoy the view. Perhaps the fear of rain hastened me to descend to base camp."
NEW RECORD
When Mr Chong returned to the start point, he was greeted by a group of people that included Ms Griffin, the tourism officer. The meeting was captured in a video posted that day on the official Digos local government Facebook page.
Ms Griffin presented Mr Chong with a bouquet of flowers and said he had broken the record for the oldest climber of Mount Apo. Mr Chong replied that the climb was "an adventure of my whole life".
When asked how he felt about the reception, Mr Chong told CNA that he was "very surprised but very happy". "So elated to be given a bouquet," he said, adding that it was the first he ever received.
Mr Chong said he had planned to climb Mount Apo "long before" he heard about the age record.
"When I was going to climb, it was only a fleeting thought that it would be nice if I could reach the summit. After that it never crossed my mind again," he said. "That's the reason I was surprised at the reception."
Mr Chong, however, was quick to put things in perspective, explaining that while some parts of the climb were challenging, the mountain's 2,954m elevation was "nothing to shout about".
He also has no plans to climb other mountains at the moment, pointing out that he is engaging in the hobby "for fun". "Shall we say, play by ear," he said.
But one thing is clear: Mr Chong is not about to give up his active lifestyle.
"Age is a number. Do not let it discourage you from physical activities; any type of activity will contribute to your good health," he added. "And you can climb mountains."