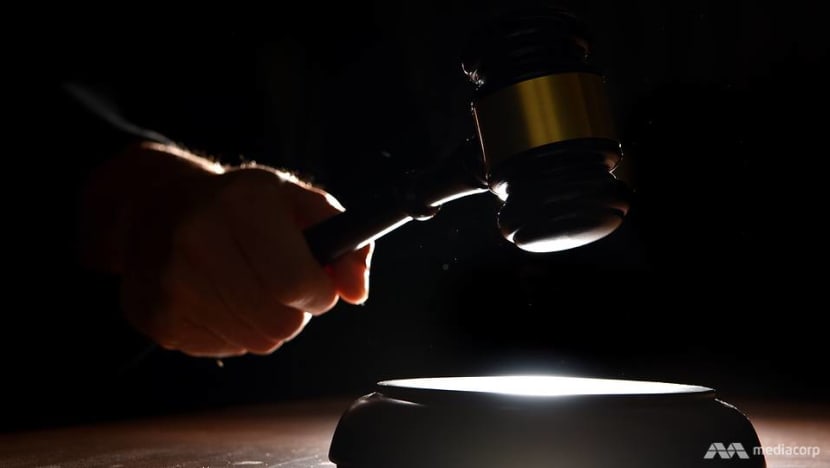 SINGAPORE: A 24-year-old Thai national who was formerly a Singapore citizen returned to Singapore and pleaded guilty on Tuesday (Aug 28) to defaulting on national service (NS). 
Although he was born in Thailand, Ekawit Tangtrakarn became a Singapore citizen by registration when he turned a year old, the court heard.

He largely lived in Thailand and lost his Singaporean citizenship in October 2015, as he had failed to take the Oath of Renunciation, Allegiance and Loyalty within 12 months of turning 21.
After he completed his university studies in 2016, his Singaporean mother Genevieve Lim contacted the Central Manpower Base (CMPB) and said that her son was ready to return to Singapore to face his NS-related offences.

In court on Tuesday, Ekawit admitted to remaining outside Singapore without a valid exit permit from Apr 17, 2010, to Oct 16, 2015.
Another similar charge of being outside Singapore without a valid exit permit from October 2006 to April 2010 will be taken into consideration during sentencing.
ACCUSED'S MOTHER TRIED TO GET DEFERMENT, COULD NOT AFFORD BOND
The court heard that Ekawit was issued with a Singapore passport, valid between 1994 and 2004, and then a second one which was valid between 2004 and 2006.
Even though he was a Singapore citizen, Ekawit lived in Thailand and travelled to Singapore on multiple occasions, mostly using his Thai passport to travel.
Ekawit's mother, Ms Lim, had several discussions with CMPB about her son's NS obligations.
In her correspondence with CMPB, she said that her son decided to continue his education in Thailand, to which CMPB said that holding a foreign citizenship did not absolve him from his NS obligations.
CMPB also told Ms Lim that they could not grant Ekawit deferment from NS pending the renunciation of his Singapore citizenship, and asked her to contact officials regarding her son's exit permit requirements for overseas studies.
When told by CMPB that parents of boys aged between 13 and 16-and-a-half must furnish a bond if their sons intend to travel or remain outside of Singapore for three months or longer, Ms Lim said she did not have enough money.
This bond would be in the form of a bank guarantee of a minimum S$75,000, or 50 per cent of the combined annual gross income of the boy's parents for the preceding year, whichever is higher.
CMPB reminded Ms Lim that Ekawit needed a valid exit permit, and that remaining outside the country without one was an offence punishable with a maximum of three years' jail and a fine of up to S$10,000.
In February 2008, a Police Gazette cum Blacklist was raised against Ekawit.

Several years later, in 2014, CMPB informed Ms Lim in an email that her son had been classified as an NS defaulter for remaining outside Singapore without a valid exit permit. Ms Lim responded, seeking advice on the matter.
After Ekawit lost his Singapore citizenship in October 2015, he was no longer liable for NS. 
He received his university degree in 2016 and returned to Singapore in July that year, where investigations found that one of the reasons he returned to the country was to avoid any trouble should he need to travel to Singapore in the future for work.
HE IS NOW AN ENGINEER IN THAILAND, WANTS TO RESOLVE MATTER: DEFENCE
He now works as an engineer in Thailand, Ekawit's lawyer S Radakrishnan told Channel NewsAsia.
Mr Radakrishnan said Ekawit wanted to return to Singapore to resolve the matter as he did not want to be in hiding.
Asked if it had anything to do with recent news on Crazy Rich Asians author Kevin Kwan defaulting on his NS obligations, Mr Radakrishnan said: "There's nothing to do with it, his case has been dragging on for a few months."
Calling it an unusual case, he asked for only a fine to be imposed, saying that Ekawit identifies as a Thai national and did not take advantage of any benefits of his Singaporean citizenship.
He also said that his family was not well-to-do and could not afford the bond to secure an exit permit.
"The accused had no intention to apply for or obtain Singapore citizenship in the future," said Mr Radakrishnan. "After the present matter is concluded, he hopes to return to Thailand and intends to continue to live and work in Thailand for the foreseeable future."
However, Deputy Public Prosecutor Mansoor Amir said that not being able to afford the bond was not a mitigating factor, as Ekawit's parents should have asked him to return to Singapore if that were so.
"Treating this as a mitigating factor would create the perception that others in the accused person's shoes can simply not apply for an exit permit on account of being unable to afford the bond and thereafter externalise the consequences of this failure by receiving a sentencing discount," said the prosecutor.
He said that Ekawit's voluntary surrender and plea of guilt would grant him a five-week discount, noting that Ekawit had remained outside Singapore without a valid exit permit for five-and-a-half years. After factoring in the discount, the prosecution asked for at least nine weeks' jail.
Ekawit will be back in court next month for sentencing. Under the Enlistment Act, he faces up to three years' jail and a fine of up to S$10,000.