4 men in conspiracy to rape drugged wives in wife-sharing case sentenced to jail
The men are part of a group of seven people involved in a series of rape cases after discussing wife-sharing fantasies online.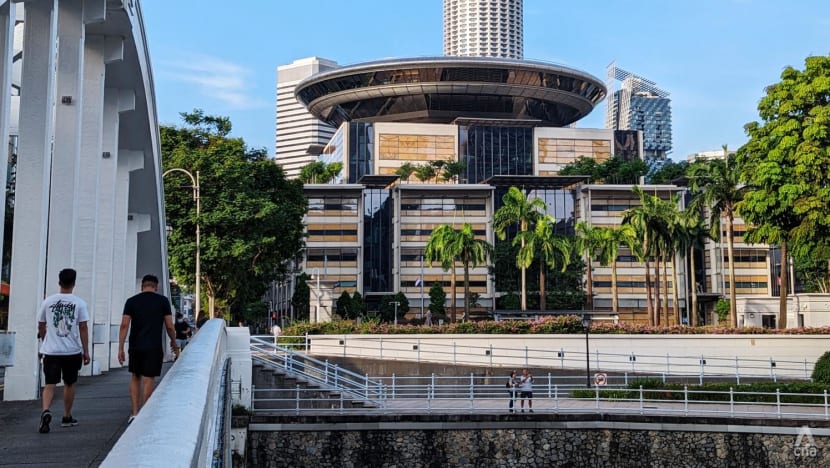 SINGAPORE: Four men who raped their accomplices' drugged wives after discussing wife-sharing fantasies online were sentenced on Wednesday (Nov 16).
The men cannot be named due to gag orders protecting the identities of the victims. They are part of a group of seven men in total involved in this wife-sharing rape saga.
K, 44, was sentenced to 22 years' jail and 20 strokes of the cane. He was married with no children and was working in business development at the time of the offences.
L, 53, was given 13 years and six months' jail. He was a business development manager and was married with three children at the time.
M, 45, was sentenced to 20 years' jail and 20 strokes of the cane. He was a company director and had three children with his ex-wife, whom he allowed an accomplice to rape.
N, 37, was given 18 years' jail and 20 strokes. He was a food deliveryman at the time and was the only one of the four who was single.
Justice Pang Khang Chau said this was "one of the most astonishing and atrocious cases of sexual assault to ever come before this court".
He said it was the role and duty of a husband to love, cherish and protect his wife.
But in these cases, the men had their wives drugged, and conspired with others to have their wives raped, exposing them to unwanted pregnancies and sexual diseases.
"This is betrayal of trust of the most egregious kind," said Justice Pang.
He said the series of offences had been ongoing for almost a decade, since 2010, and called it "a long-lasting campaign involving a wide web of victims".
The main accomplice linked to the cases is a fifth man, J, a 41-year-old man who has four children with his wife. His case is pending.
J's wife was raped multiple times over at least seven years by different men while she was unconscious, blindfolded and drugged.
The series of cases came to light when she discovered images of herself naked in a chat on her husband's phone.
All four men - K, L, M and N - pleaded guilty last month to two charges each of conspiracy to rape, with various other charges taken into consideration.
They met their respective accomplices online as early as 2010, on forum Sammyboy and other platforms for wife-sharing fantasies.
J, who had tried to check if his wife was interested in a threesome but was rebuffed, allegedly hatched a plan to sedate his wife for other men to have sex with her.
K raped his wife in this manner, and offered his own drugged wife to J to rape.
L also raped J's wife after J had sedated her with a drug. J's children and helper were asleep as L raped J's wife, with J recording the act.
L later asked another man P to rape his wife, but P was unable to do so as he was predisposed to erectile dysfunction. P was sentenced for his involvement in January.
M met J on Sammyboy in 2010 and later expressed interest in having sex with J's wife. J drugged his wife and called M over, and M raped J's wife.
M invited his ex-wife to J's place on the guise of networking purposes. J spiked her drink before molesting and raping her.
N also met J online and would discuss his wife-sharing fantasies with J at coffee shops, even though N was single. He raped J's wife between 2017 and 2018 after J drugged her.
The prosecution had called the cases "unprecedented" and "abominable". They asked for between 19 and 23 years' jail and 24 strokes of the cane for K and M. They asked for between 11 and 16.5 years' jail for L, with another six months' jail in lieu of caning.
For N, they sought between 17 and 21 years' jail and 24 strokes of the cane.
K was represented by lawyers Mr Wilson Yeo and Mr Ang Boon Yaw, while L was represented by Mr Chua Hock Lu.
M was defended by lawyer Mr Suang Wijaya and Ms Sophia Ng, while N was represented by lawyers Mr Shashi Nathan, Ms Laura Yeo and Mr Jeremy Pereira.
On Wednesday, Mr Nathan asked for a lower sentence for his client, seeking to distinguish his case from the other three men.
He said his client was the only one of the four whose case did not feature the aggravating factor of abuse of trust. This was because he did not have a wife whom he offered up to be raped.
In response, the prosecution said N was not married and could not have offered up a wife - so this was not a mitigating factor.
The other lawyers had made their cases for their clients in a previous court mention. 
Mr Yeo asked for 17 to 18 years' jail and 24 strokes of the cane for his client K.
L's lawyer successfully argued for no imprisonment in lieu of caning for his client, who is above 50 and cannot be caned.
The judge said he decided to waive the imprisonment in lieu of caning because of the totality principle, which a court follows in order not to impose a crushing overall sentence.
Mr Wijaya, who acted for M, asked for not more than 18 years' jail.
There are a total of 7 men involved in this series of cases: J, K, L, M, N, O and P.
The cases for J and O are pending.