Woodlands Checkpoint to be expanded; 9 HDB blocks will be acquired for redevelopment
Flat owners at the affected Marsiling blocks will get the same rehousing benefits as those under SERS.
SINGAPORE: Woodlands Checkpoint will be expanded to include areas beyond the previously planned Old Woodlands Town Centre, and this will involve the acquisition of nine Housing and Development Board (HDB) flats.
Announcing this on Thursday (May 26), authorities said traffic volume at Woodlands Checkpoint will have increased by close to 40 per cent by 2050, meaning a daily average of 400,000 travellers as compared to pre-pandemic levels.
"If the overall clearance capacity is not increased, the travel time for vehicular traffic could increase by more than 60 per cent to 70 per cent during peak periods by 2050," said the Immigration and Checkpoints Authority (ICA), Singapore Land Authority (SLA) and HDB in a media release.
To expand Woodlands Checkpoint, seven blocks of more than 730 sold flats - blocks 212 to 218 Marsiling Crescent/Lane - will be acquired and owners will be compensated based on the market value of their unit as at the date of acquisition.
They will also get the option to buy a new flat with a fresh 99-year lease at subsidised prices.
Tenants of blocks 210 and 211, comprising rental flats, a rental kiosk, rental shops and a rental eating house, will also get rehousing and clearance benefits.
Residents and tenants will have to move out by the second quarter of 2028, HDB's director of projects and development Ng Hwee Yian told reporters on Thursday.
They will get priority for about 1,100 new replacement flats at Woodlands Street 13. Construction of these flats will start in the third quarter of 2023, with completion estimated by the fourth quarter of 2027.
Owners of the sold flats in blocks 212 to 218 Marsiling Crescent/Lane will be offered the same rehousing benefits as those offered under the Selective En bloc Redevelopment Scheme (SERS), the agencies said.
"To help defray the expenses incurred in the move, HDB will also provide flat owners with a removal allowance, as well as the stamp and legal fees for the purchase of a comparable replacement flat," they added.
EXPANSION TO ADDRESS TRAFFIC CONGESTION
The aim of the expanding Woodlands Checkpoint is to better alleviate traffic congestion and "future-proof" it for the projected increase in traffic volume, ICA, SLA and HDB said.
The expansion will include the addition of "flexi-lanes" that can clear both cars and motorcycles, reducing travel time by as much as four times, the agencies said. This means a clearance time of 15 minutes, down from 60 minutes, during peak periods.
Other plans are:
Enhance clearance for all types of vehicular traffic, beyond the easier planned improvements to clearance capacity for cargo vehicles and motorcycles;
Provide holding areas for traffic to be contained within the checkpoint, to reduce spillage that causes congestion at surrounding roads;
Conduct security checks in a forward and upfront area, away from the main parts of the checkpoint, to mitigate security risks and minimise potential damage to nearby developments should there be vehicle improvised explosive device incidents.
Pre-pandemic, the Causeway was one of the busiest land checkpoints in the world, with about 300,000 people passing through every day.
The initial expansion of Woodlands Checkpoint was first announced in 2017, with the acquisition of two lots of private land in the Old Woodlands Town Centre.
The acquired land will eventually become an extension of Woodlands Checkpoint to increase overall clearance capacity and improve security, SLA had said.
The agencies said on Thursday that a study is ongoing to determine the optimal design of this extension to clear heavy goods vehicles and motorcycles.
"To support this, the Bukit Timah Expressway will be extended and enhanced to channel traffic directly to and from the Old Woodlands Town Centre extension. The immediate and surrounding local road networks will also be upgraded," they added.
The flat acquisition and subsequent redevelopment of Woodlands Checkpoint will be carried out progressively, the agencies said, adding that they will work to minimise disruption to residents.
ICA's deputy commissioner of operations Hsu Sin Yun said there is no timeline yet for the "major" project but estimated that it will take 10 to 15 years.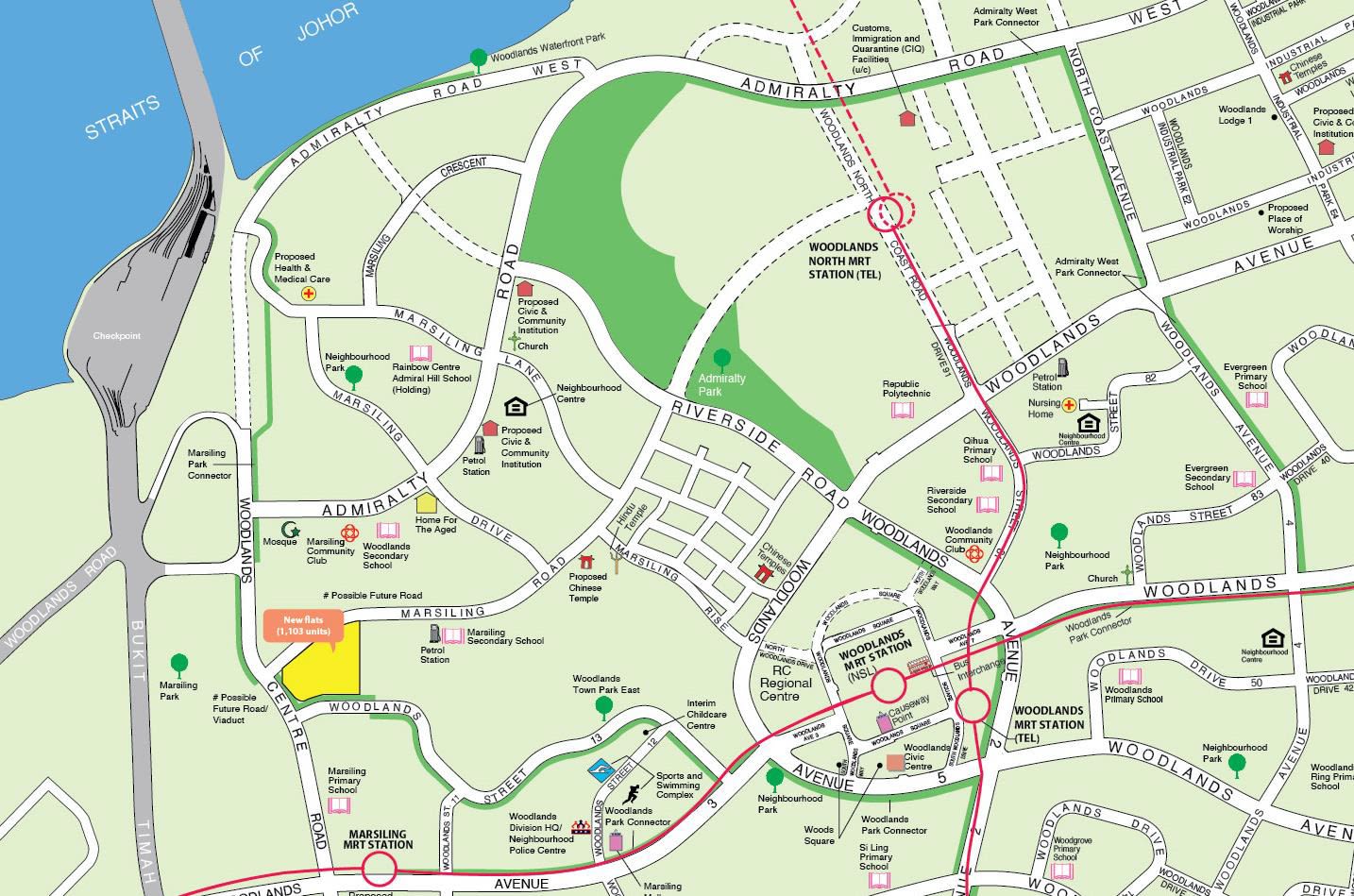 SERS GRANT, REHOUSING BENEFITS
The existing flats at Marsiling Crescent are around 40 years old, noted Huttons Asia's senior director of research Lee Sze Teck.
"It is a good opportunity to move to a new flat with a fresh 99 years lease. The location of the replacement flats is much nearer to an MRT station, improving the accessibility for residents," he added.
Marsiling MRT station is about a 10-minute walk away. There are existing shops and eating houses nearby, and Marsiling Mall and Causeway Point are "easily accessible" by bus, said the agencies.
There will be five blocks of new replacement flats at Woodlands Street 13. They are 23 to 34 storeys high, comprising two-room Flexi, three-room, four-room and five-room flats.
Huttons estimates that the replacement flats could start from S$160,000 for three-room units and from S$345,000 for five-room flats.
"Flat owners have the option of purchasing these new flats with better design and fittings, located within a precinct with modern and comprehensive facilities," said the agencies. 
Eligible flat owners may receive a SERS grant of up to S$30,000 and take out a housing loan from HDB for the purchase of their new flat.
Eligible rental flat tenants will also be given rehousing benefits like a rehousing allowance of S$2,500 and priority allocation of sold flats under the Build-to-Order or Sale of Balance Flats Exercises and at the offered precinct at Woodlands Street 13.
The agencies said they will work closely with the owners and tenants and help them through the process.
Authorities will begin door-to-door visits to each household from 12pm on Thursday to address concerns and share more details with flat owners.