Turning a penthouse with an awkward floorplan into a stylish designer home
Undeterred by the irregular layout of this penthouse in Duo Residences, interior designer Gabriel Tan transformed the unit into a liveable space for its sociable, sophisticated homeowner.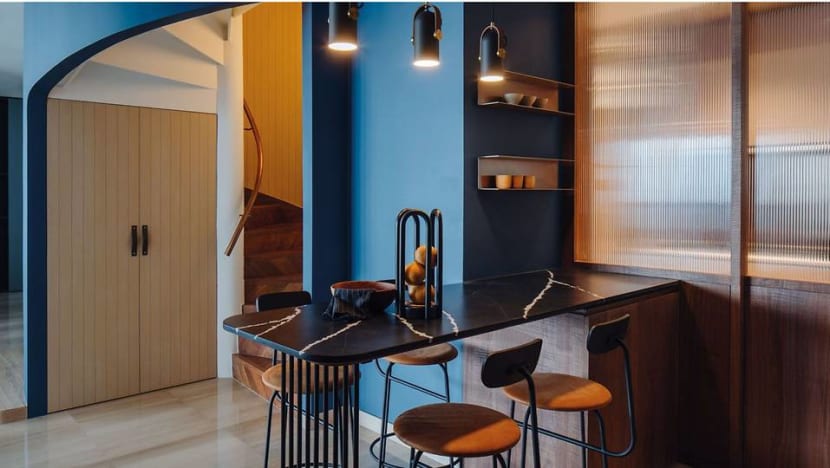 Homegrown talent Gabriel Tan is an established product designer, counting international brands such as Menu, Bla Station and Design Within Reach as clients. As a designer and creative director for Japan-based furniture brand Ariake, he has also paved the way for traditional companies to find new relevance through collaboration. 
Tan's recent foray into spatial design is exciting for both himself and his clients as he incorporates the same inventive problem-solving, careful detailing and material dexterity that characterise his products into interiors.
The results are holistic, multi-layered and refreshing. This penthouse in Duo Residences is a case in point. The client engaged Tan for the job after being impressed with his design of one of the show units in Duo Residences, which is located within the mixed-use complex designed by renowned German architect Ole Scheeren.
COMPOSING WITH CRAFT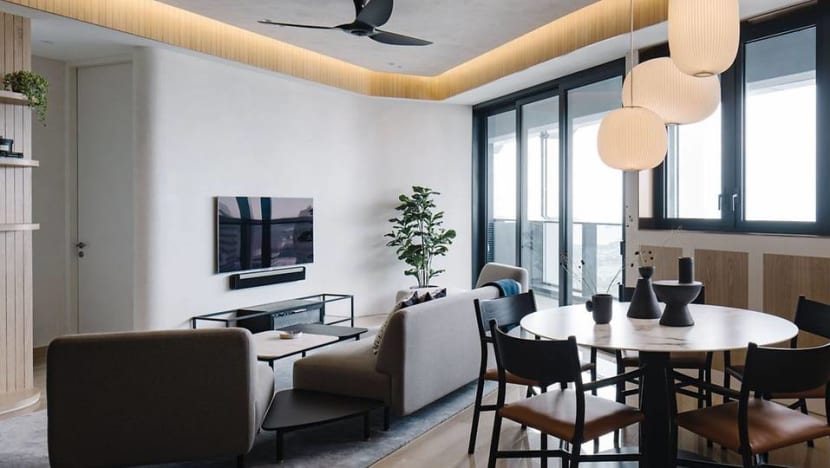 The interior's angular plan echoes the sculpted architecture – Tan's strategy was to smoothen each sharp wall edge with a curve, infusing the interior with a fluidity that is at once visually calming. A graphic wall pattern envelopes the dining room, created by infilling a framework of marmorino plaster with ash timber veneer.
"Our idea was to create a wall inspired by Japanese and Scandinavian elements, to have this sense of regularity and harmony with the repetition," said Tan. Marmorino plaster is usually applied to the exterior of buildings in Europe and dates as far back as Roman times. Used here, it evokes a strong sense of artistry. Its agrarian quality is also given a subtle, light-reflecting sheen with embedded golden mica.
Against this backdrop is a bespoke dining table capped with Dekton, a glass-porcelain-quartz composite. "Using this, we were able to create an ultra-light profile, which is unachievable with a conventional marble top that requires thick metal supports," explained Jessica Chung, the project's lead interior designer.
The slenderness echoes the lithe lines of Tan's Ariake dining chairs, matched with a floating cluster of bulbous, pleated Le Klint Lamella pendant lights. Across the aisle, the stairwell continues the curvilinear theme while an arresting Egyptian blue hue adds punch to the soulful mise-en-scene.

FORM AND FUNCTION
The living room is defined by an angular sofa and carpet that Tan customised to fit the awkwardly shaped space. The azure sofa and carpet reflect the clear blue sky and sea outside – a picture-perfect view framed by bronze-finished, PVD-coated panels that are glossy yet smudge-free.
Overhead, the circular ceiling is accentuated with a rhythmic band of ash timber veneer. Light penetrates the wet kitchen through a fluted glass wall that replaces the original cabinetry in the dry kitchen.
In the utility area, a flip-down panel became a bed for a helper. Such space-saving features emphasise the home's high utility factor. Where possible, Tan cut into walls to carve out shelving and storage space. The stairwell feature adds to the sense of space while a concrete floor plinth capped in timber is transformed into a platform for houseplants.
Tan's product-design skills deftly meld surface and object. In the master bedroom, a brass-edged dresser extends from the mirror for a three-dimensional effect, while the study room shelving and table harmoniously integrate the wall surfaces of cork panels from Portugal, and the rough-sawn walnut and lime-ash veneer. The textured wall draws the eye to the architectural style of the bespoke artwork.
INSPIRED LIVING
The penthouse, soulful but not staid, exhibits a careful blend of pattern and colour. "In fact, we wanted to work with colours because usually we work with objects that are not so colourful," said Tan. A case in point is the prominent staircase volume. Another is the secondary bedroom, where a cool taupe flows from ceiling to wall, anchored by a geometric Vibia Pin wall light designed by Ichiro Iwasaki.
On the rooftop, graphic monochrome tiles, a timber-encased Jacuzzi, customised fabric sun shades draped in elegant loops and an expanded bar counter form an inviting gathering spot. "The owner went to great pains to ensure the terrace is usable. It also reflects her personality. She's very social and had thought about how the space could be used to hold small parties," said Tan.
While the interior design is quintessentially Singapore-inspired, it draws from a rich influence of ideas from all over the world, including the use of spatial colouring inspired by an apartment in Mies van der Rohe's modernist Lafayette Park in Detroit in Michigan, USA.
A visit to the Le Klint factory in Denmark and a collaboration with Shanghai-based furniture manufacturer Stellar Works on the living room furniture added to the eclectic blend of design. Even though the client has a sophisticated style, she nudged the designer toward a design concept that emphasised durability and timelessness.
The results are obvious. "Everyone was happy working on this project – the contractor, client and our design team," Tan shared.