Alleviating the pain of psoriasis and psoriatic arthritis
Taking a holistic and multidisciplinary approach can give patients a better quality of life.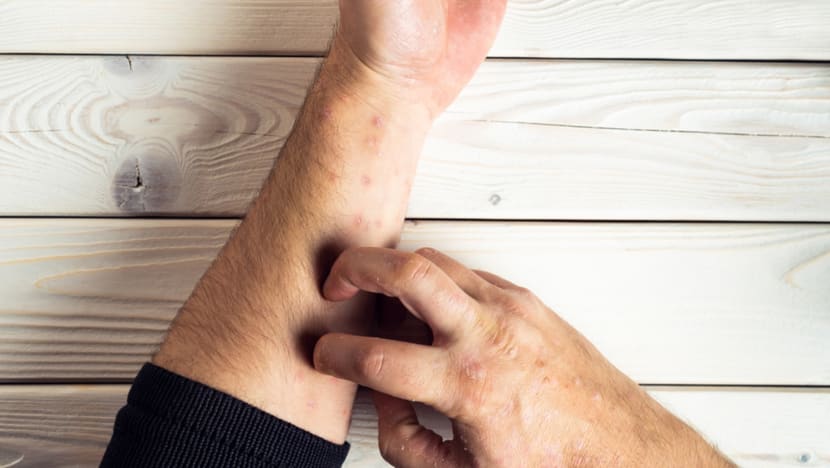 Ignorance about psoriasis can result in whispers and stares, or worse, open discrimination.
Associate Professor Ploysyne Rattanakaemakorn, a consultant dermatologist at Ramathibodi Hospital, Mahidol University in Bangkok, Thailand, recounts a patient who had to grapple not just with the skin disease but also with the loss of her job.
"She worked as a receptionist," said Assoc Prof Ploysyne. "She had a dandruff-like rash on her scalp for a few years, but when the rash appeared on her face and arms, she was fired."
WHAT IS PSORIASIS?
Psoriasis, a chronic disease in which skin cells multiply too quickly because of an overactive immune system, often results in red, scaly and inflamed patches of skin. Dr Ploysyne stated that psoriasis most commonly occurs on the scalp and face, with up to 80 per cent of psoriasis patients seeing inflamed skin on their scalp.
The disease can affect people of any age or gender, though it tends to present most often in young and middle-aged adults, according to Dr Fariz Yahya, a consultant rheumatologist and associate professor at the University of Malaya in Kuala Lumpur, Malaysia.
Psoriasis is not contagious, but lack of knowledge regarding the condition has led to some false beliefs.
"Some people believe that psoriasis is an infection that spreads by touch, or that it is a symptom of HIV (human immunodeficiency virus)," said Assoc Prof Ploysyne, adding that the stress of being ostracised or discriminated against can be so severe that it worsens the patients' condition. 
There are genetic factors that play a significant role in one's chances of developing psoriasis. But Dr Fariz emphasised that not everyone with a family member who has psoriasis will develop the disease.
"Psoriasis can occur in people with no family history of the disease, as other behavioural and environmental factors are thought to be linked to psoriasis," he explained. "Smoking, alcohol consumption, bacterial and viral infections, and certain medications are factors that can affect one's risk of developing psoriasis."
Obesity and stress are two other factors that heighten one's likelihood of developing psoriasis, said Dr Ploysyne. "In the most severe cases of psoriasis, the patient usually has a family history of psoriasis, has had the diagnosis since a young age, and is obese or regularly drinks alcohol," he shared.
TREATING MORE THAN THE DISEASE: COMORBIDITIES
In addition to the distressing skin inflammation caused by psoriasis, the disease has other complications. One of them is psoriatic arthritis, a type of chronic arthritis that leads to swollen, inflamed joints – commonly in the fingers and toes – as well as deformed joints that result from long-term inflammation if left untreated.
"Psoriatic arthritis can happen before or after long-term psoriasis," said Dr Ploysyne. "This impacts the patient's daily life. Patients feel agonising pain in their joints and their functions become limited."
Although Dr Fariz said that psoriasis and psoriatic arthritis do not directly affect a patient's life expectancy, those with psoriatic arthritis also tend to have comorbidities such as obesity, diabetes mellitus and hypertension. He explained that this results in poorer health outcomes for patients – and potentially even death.
"Having concerning comorbidities, such as cardiovascular comorbidities, are key drivers of mortality," he said. "Patients with psoriatic disease should seek proper multidisciplinary care, especially for the comorbidities."
In his opinion, multidisciplinary management in psoriatic arthritis is the optimal method of treating the disease, as it brings together a team of specialists – from rheumatologists to dermatologists – to collaborate on the patient's care.
"Additionally, nurse specialists, physiotherapists, occupational therapists, pharmacists and clinical psychologists are now considered part of an emerging model of care in the management of psoriatic disease," he said.
PROMISING BREAKTHROUGHS
Though a cure for psoriasis or psoriatic arthritis has not yet been found, there have been breakthroughs in treating the disease. These offer physicians more choices compared to the currently available range of medications such as non-steroidal anti-inflammatory drugs and conventional disease-modifying antirheumatic drugs, said Dr Fariz.
"The aim of treatment is to control inflammation and prevent joint damage and disability," he said. "This is because apart from skin and joints, psoriatic arthritis can involve other domains, including the nails, the enthesis (the part of a ligament or tendon that attaches to the bone) and also the spine, all of which can be affected by inflammation."
To decide on the optimal combination of treatments, Dr Fariz said that the multidisciplinary team will need to assess the various domains of psoriatic arthritis in a patient, the severity of the disease and any presence of comorbidities.
He cautioned, however, that given the complexity of the disease, relying on medications alone may not result in success. "In most situations, a combination of different modalities may achieve a better outcome in treatment," he said.
While Dr Ploysyne acknowledged that many patients with psoriasis still struggle with difficulties such as unkind comments from outsiders and not being able to sleep well due to itch, she has a message of hope for them.
"Living with psoriasis is challenging, to say the least," said Dr Ploysyne. "But existing therapies have promising benefits for patients with psoriatic arthritis and can make a huge impact in treating the disease."
With a multidisciplinary approach to care and new advancements in therapies, people with psoriasis and psoriatic arthritis can lead fulfilling lives.