Bridging the tech gap to make the most of hybrid meetings
High-tech and intuitive video conferencing solutions can improve workplace collaboration and promote inclusivity during virtual meetings between remote and in-office employees.
Many of us who work from home count ourselves lucky to be able to skip a long commute or enjoy a flexible schedule. One downside, however, is that we end up spending more time in virtual meetings or conference calls compared to our in-office counterparts.
In June, a Logitech survey of over 1,000 white-collar workers in Singapore found that 52 per cent of hybrid and remote employees spent more than six hours a week in meetings, as compared to only 35 per cent of fully in-office workers.
The survey sought to uncover the meeting habits of workers and identify the challenges they faced while navigating a hybrid work environment. It revealed that 63 per cent of respondents still worked remotely, either fully or partially – a sign that businesses are embracing the shift towards hybrid work, even as the world slowly returns to pre-COVID normalcy.
To promote a healthy workplace culture, business leaders need to ensure positive meeting experiences for all participants, whether remote or in-person. This is where meeting equity comes in.
EQUAL OPPORTUNITIES FOR COLLABORATION
Meeting equity refers to an organisation's ability to ensure that all employees – whether they are hybrid, remote or in-office – feel empowered to contribute during meetings. "When people feel that they have an equal voice, they feel safe and encouraged to communicate, contribute and share ideas," explained Mr Bryan Lee, head of B2B (Southeast Asia), at Logitech. "This results in more productive meetings where all participants are engaged."
When meeting equity is properly exercised, virtual attendees should feel like they have equal opportunities to speak up during discussions, and not be interrupted or overlooked by their in-office peers. But if Logitech's survey results are anything to go by, organisations still have some catching up to do when it comes to establishing meeting equity.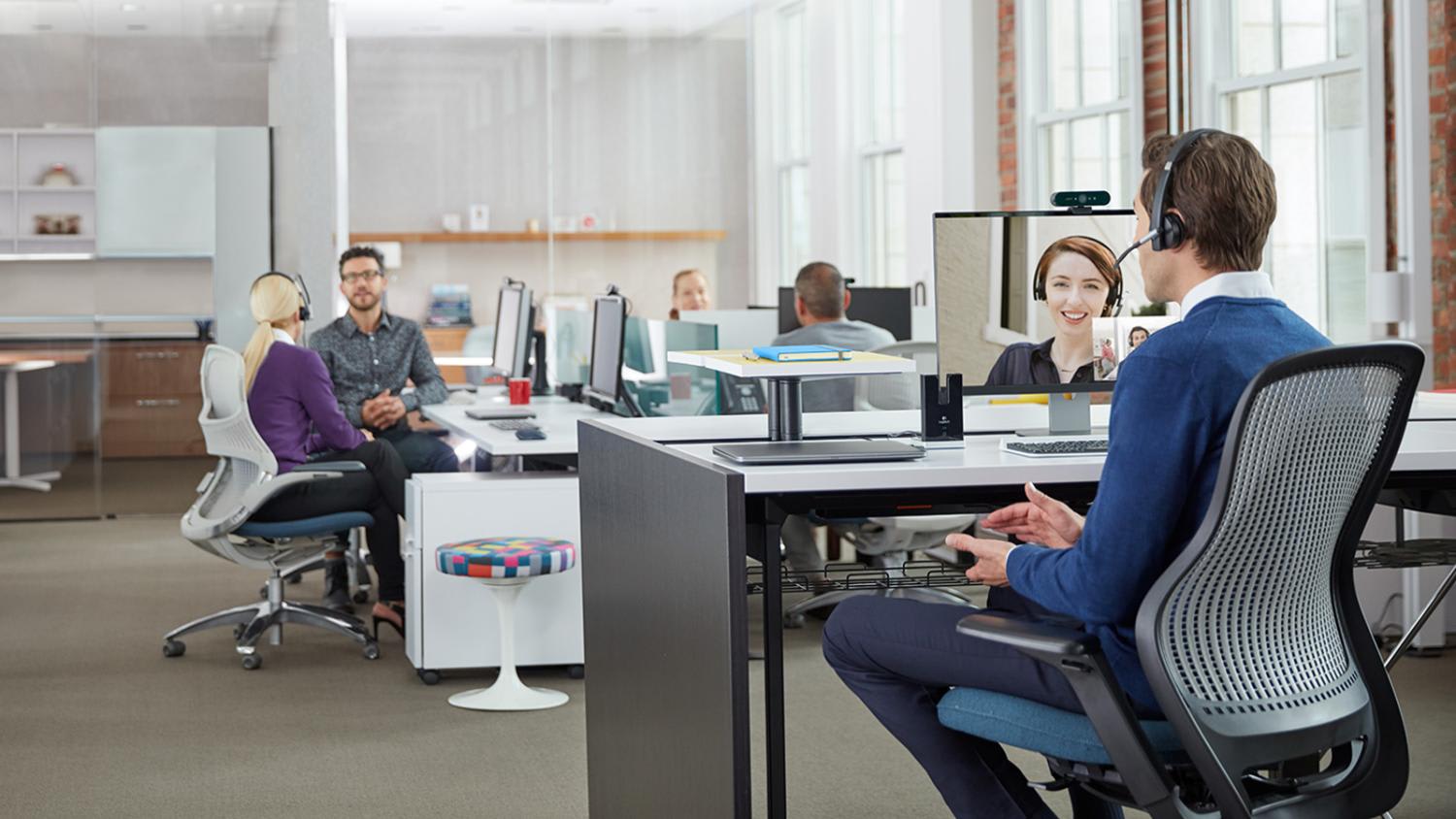 Among those polled, 54 per cent of virtual participants who joined a hybrid meeting felt that they had fewer opportunities to build rapport with their in-person counterparts; 39 per cent felt that input from in-office participants was more valued compared to virtual participants; and 38 per cent felt less included compared to in-person participants.
Over time, hybrid meetings have created an uneven playing field where remote participants often feel invisible and disconnected from the proceedings.
OTHER DOWNSIDES OF DIALLING IN
Apart from feeling disengaged, respondents also highlighted challenges related to connectivity issues as well as poor audio and visual quality. These findings show a tech gap between what employees require to work effectively and what they currently use.
In fact, only 18 per cent of respondents were equipped with enterprise-grade headphones or earphones with microphones, while just 9 per cent were equipped with enterprise-grade webcams. Furthermore, 61 per cent of respondents agreed that hybrid meetings were more engaging when video conferencing systems with high-quality audio and video output were used.
Respondents also identified key areas of improvement, such as reducing technical issues, improving the clarity of speakers and enabling the remote team to see what was happening in the room.
GIVING EMPLOYEES THE TOOLS TO SUCCEED
To facilitate conducive meetings, businesses must first create a reliable and seamless hybrid environment. This can be done by equipping both remote and in-office workers with the right technology, and ensuring that the software and hardware are easy to set up and intuitive to use.
One way to enhance remote attendees' view of in-office presentations is to install a whiteboard camera in meeting rooms to broadcast whiteboard content live onto their video screens at home. Logitech's Scribe whiteboard camera, which is powered by artificial intelligence (AI), goes one step further. It is able to deliver a transparency effect so that remote attendees can see "through" the presenter and get an unobstructed view of the whiteboard.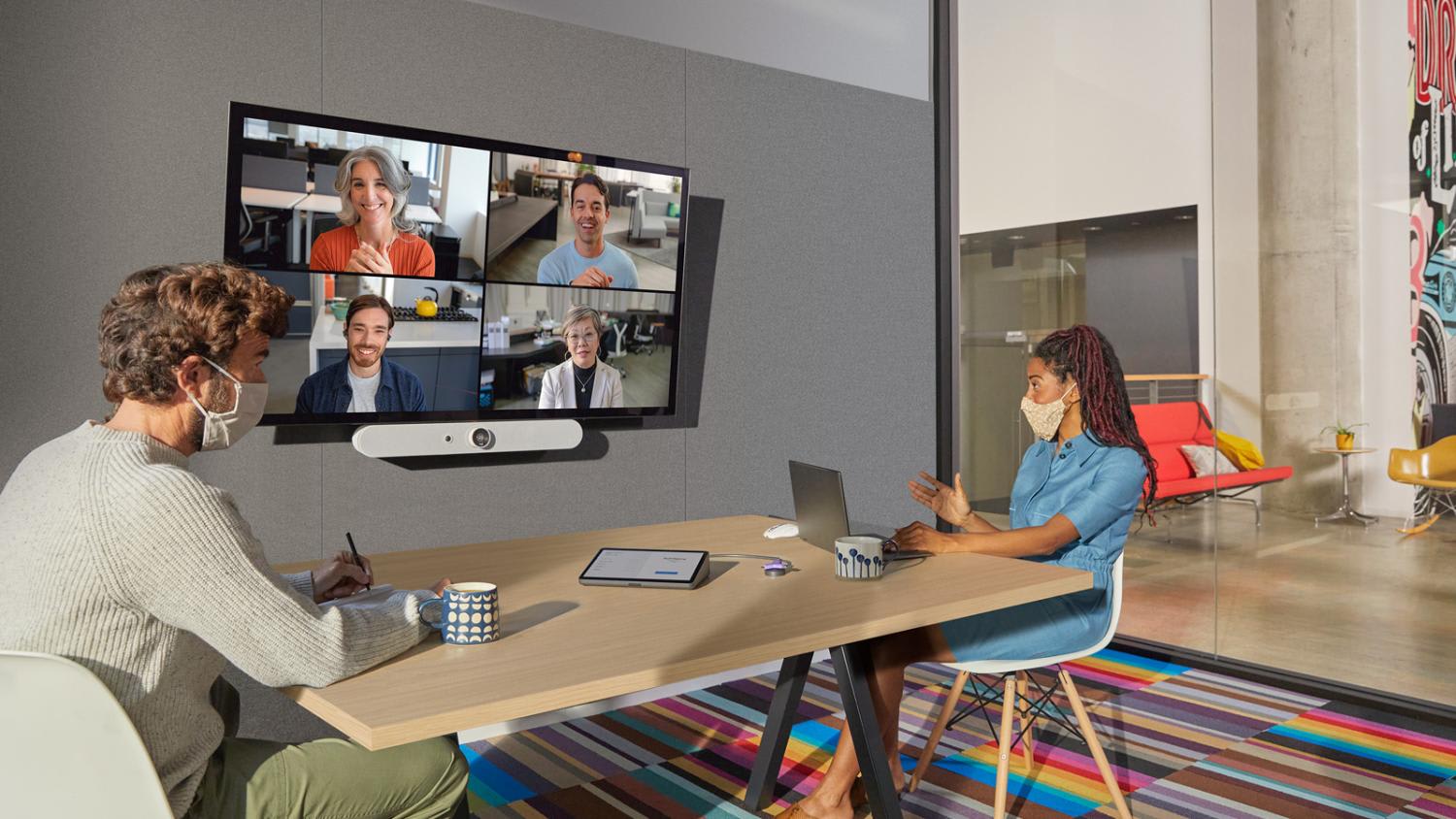 Bigger teams can benefit from using the Rally Bar, a video conferencing system that works well in medium to large meeting rooms. Its dual-camera system features Logitech's proprietary RightSight technology, which uses AI to detect faces and zero in on the active speaker while showing the entire room, so that remote participants will not miss out on anything. The Rally Bar also comes with advanced audio engineering to make sure every voice can be heard clearly. 
To transform your home office into a more productive space, the Logi Dock is a one-stop docking station that connects multiple devices, powers your laptop up to 100W and helps reduce desk clutter by removing the need for chargers or cables. The compact unit comes with a one-touch function that lets you join meetings and control your volume or camera effortlessly. Additionally, it has in-built microphones to capture your voice and minimise background noise so that you can be heard clearly during meetings.
Investing in an enterprise-grade webcam like the Brio 505 also means you can enjoy having a hybrid meeting anywhere. The plug-and-play device is easy to set up and comes with noise-reducing mics to filter out background sounds as well as auto light correction to help you put your best professional face forward.
Ideally, your video conferencing set-up should be certified for compatibility with common global platforms such as Zoom, Microsoft Teams and Google Meet. Logitech's suite of video conferencing tools works seamlessly with the various platforms to deliver a smooth meeting experience.
While providing access to tech solutions is essential to close the gap in hybrid meetings, Mr Lee noted that the human touch is just as important in fostering meeting equity. "Once the tech disparity has been bridged, it also requires effort on the part of meeting organisers to encourage participants to adhere to virtual meeting etiquette, such as minimising side conversations to ensure that remote attendees don't feel left out and inviting individuals to share their thoughts," he said.
Only then, he added, can hybrid meetings become a more equitable and engaging experience for everyone involved.
Take your hybrid meeting experience to the next level by customising your meeting rooms with Logitech's suite of video conferencing and business solutions.