Fir real? A guide to buying your first artificial Christmas tree
Mock trees are becoming hyper-realistic and Masons Home Decor carries plenty for the first-timer to choose from.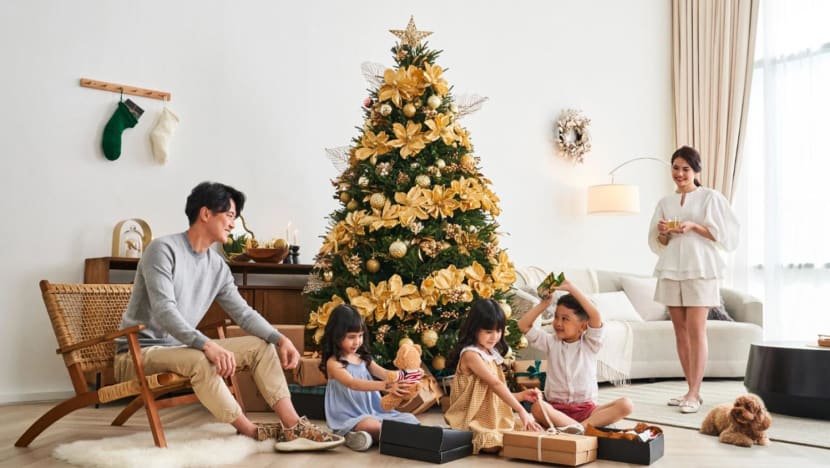 Of all holiday icons, the Christmas tree is perhaps the most endearing. Its presence speaks of the forest, a woodland companion that adds a cosy touch to the home. When dressed in baubles and tinsel, the tree becomes a whimsical centrepiece, alight with a magical glow.
While the traditional evergreen species is not native to Singapore, artificial versions bring the same joy. If you think them a poorer cousin, look again. Today's trees can be hyper-realistic, to the point that visitors wonder if they require watering. Just ask the good folk at Masons Home Decor.
With a bevy of Christmas trees, ornaments and decorations on display, Masons' showroom at Tai Seng is a bona fide holiday wonderland for visitors. Its product manager, Mr Micah Chua, shares a few tips for those looking to get their first tree.
THEY'RE NOT ALL THE SAME
Long gone are the days when artificial trees mean tacky plastic leaves or floppy tinsel ones. Creative manufacturing allows the artificial trees of today to take after their actual inspiration. Even their names are just as specific.
Masons' Umberto Hyper-realistic Short Pine (S$109 to S$299) mimics the pine tree, with needles emerging from clustered stems. The short needles make for a neat presentation, and the tree looks majestic adorned with lights alone. An alternative is the Mirabella Alpine (S$59 to S$169), an ultra-dense and wide model reminiscent of the fir, with rich green needles that stem from straight branches. Its lush foliage means you won't get awkward gaps even with minimal decoration, said Mr Chua.
Such hyper-realistic marvels are possible thanks to precise engineering from Germany, specifically FirTECT technology, which creates luxuriant-looking trees with easy-open hinges for quick set-up and storage.
EVERY HOUSE DESERVES ONE
The thought of having anything bigger than a shrub in the house can intimidate those living in more compact units. This is where artificial trees come in handy, said Mr Chua. Unlike live Christmas trees that require a certain height before assuming that more classic silhouette due to their natural growth, a fake tree can be scaled to different heights while maintaining their shape.
To buy the right-sized tree for your home, Mr Chua suggests choosing trees by their width first as it impacts the space more, instead of its height. If you are able to find a 120x120cm spot, you can easily opt for a six-foot tree, he shared.
For those looking to maximise the effect, pick the tallest tree possible but leave a foot of space between the ceiling and the top of the tree, he added. For example, BTO flats today tend to have eight-foot ceilings so a seven-foot tree is ideal.
For those with space constraints, MrChua recommends you buy a smaller tree and stack it on crates or books. With an artificial tree, you can even press it up against a corner or a wall because the branches can be bent without breaking. The slim-built Renato Colorado Pine (S$89 to S$119) is a wonderful space-saving choice.
One of the hottest-selling options at Masons is the Arenaria Hyper-realistic Balsam Fir (S$299 to S$1,199), which comes in height options spanning a petite five feet to a massive eight feet.
Mr Chua added that all the trees are child- and pet-friendly. There's no need to water the tree so you don't have to consider if there are electrical units near it. There's no needle shed either, so there are no fears of ruining furniture around the tree.
BRING ON THE SPARKLES
The best part about having a Christmas tree is the decorating, of course.
With over a thousand varieties at Masons' showroom, it's easy to be overwhelmed though, especially for the first-timer.
Mr Chua suggests first looking at the room picked for the tree as a guide. Are there more warm tones or cool tones? For those with woodwork and rooms that feature red, yellow, brown and beige hues, complement them with decorations that are similar in colour or simply find ornaments in gold. If one has materials like cement, cool metallics or black, pick from shades of green, blue, purple or silver.
You can also take inspiration from the tree. The Amazzonia Hyper Realistic Cashmere Pine (S$109 to S$299) has a soft dusting that works well with cool- or pastel-coloured ornaments. The Abaco Hyper Realistic Giant Needle Pine (S$109 to S$299) has a deeper shade of green that works well with warm-toned decor.
After deciding the colour theme, Mr Chua recommends starting with a box of 24 single-coloured baubles to fill up the tree, and adding another box if one wishes for density. To create texture, choose one to three boxes of more intricate baubles, like sparkly rhinestone baubles.
If budget allows, try incorporating some other holiday favourites, such as ribbons and tree picks or sprays. The former can be woven through the tree or be tied into bows, and the latter adds interesting textures and silhouettes to your tree. You'll find it easy to attach these ornaments to artificial trees, because their durable and flexible make allows one to bend the needles to better hold them.
Lights and a tree topper are a must. Masons offers the 100-bulb variety on a 10m cable, all endorsed with Singapore's safety mark. Pro tip: Threading the lights through the tree first before adding the decorations helps to hide the wires for a more polished look. Rustic rattan tree collars are also available at Masons to make the tree look potted.
MAKING THAT PURCHASE
Online shopping has become the norm, but with so many sellers in the market, shoppers are advised to do their due diligence before making a purchase. According to Mr Chua, it is not uncommon for one to choose a lush-looking presentation on a website, only to be delivered a tree that is sparse and spindly. Masons uses actual pictures of the trees on its website, to give customers peace of mind.
Another way to determine reliability is via social proof, which can be gleaned from online reviews and social media accounts. Ensure that the seller has a sound reputation on all platforms, said Mr Chua.
At Masons' showroom, you can inspect the trees in person, while making shopping there a bonding opportunity for families and housemates. After all, Christmas is about gathering, and all the better if it were beside that new tree.
Buy your first tree and brighten it up with decorations at Masons Home Decor. Same-day delivery is available for purchases above S$200; otherwise, a delivery charge of S$7.90 per order applies.