Sparking a new era for start-ups in Asia Pacific
Huawei and regional stakeholders are joining hands to ignite fresh innovation and disruption for start-up ecosystems in Singapore and beyond.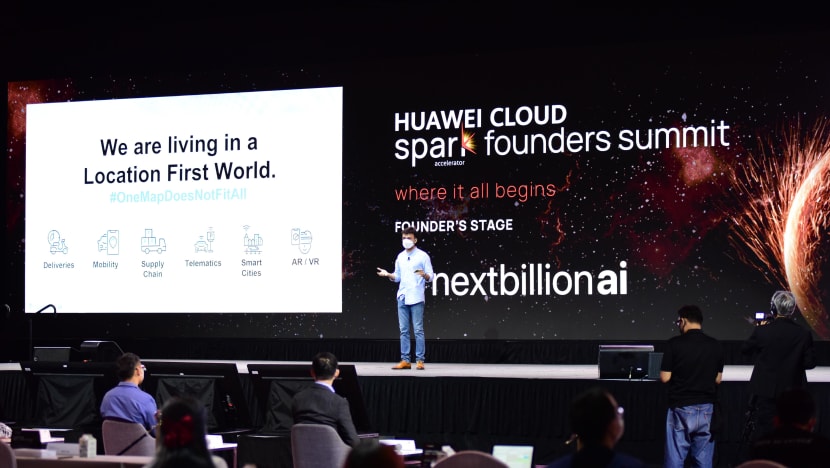 Despite its unassuming size, Singapore has found footing to stand among giants in the global start-up scene. 
The country's unique positioning as a regional business and technology hub – including a deep talent pool and strong innovation culture – has led to many successful start-ups choosing to base themselves out of the city.
This includes Singapore's six unicorns, such as ride-hailing giant Grab and e-commerce heavyweight Lazada. Singapore was notably ranked joint 4th best economy for unicorn startups globally.
However, the start-up terrain remains fairly uneven, with factors such as multi-cultural and multi-lingual landscapes, socio-economic and digital divides as well as siloed stakeholders coming into play. 
Huawei's inaugural Spark Founders Summit saw start-up founders, regional venture capitalists, government officials and subject matter experts across tech and innovation verticals gather in conversation to address such issues and discuss the region's prospects.
IGNITING VALUE FOR START-UPS IN ASIA PACIFIC
The aims of the Spark Founders Summit include amplifying innovation and nurturing talent. 
A hybrid accelerator programme, Spark aims to incubate and accelerate start-up growth for a fully connected and intelligent world.
"For the past two decades, we have remained committed to being 'in Asia Pacific, for Asia Pacific'. Leveraging Huawei's global customer base and full-stack technologies, the Spark Program will invest more than US$100 million (S$136 million) over the next three years and provide comprehensive support to the establishment of a sustainable start-up ecosystem that creates new value for this dynamic region," said Mr Jeffery Liu, president for Asia Pacific Region of Huawei.
According to CEO of Huawei International Foo Fang Yong, Huawei has a keen focus on deep tech start-ups looking to scale in the region and wants to help them harness the advantages of cloud synergy. Start-ups focusing on fintech, energy, manufacturing, sustainability, MICE (meetings, incentives, conferences and exhibitions), education, media and gaming, and innovative city initiatives are all eligible to receive support from Spark, said Mr Foo.
A FUTURE OF DEEP TECH 
While the global pandemic has brought with it major challenges, it has also accelerated the adoption of new technologies – in particular, the uptake of disruptive deep tech innovation such as cloud and artificial intelligence.
Deep tech companies stand at the frontier of the new digital age, carrying the potential to realise ideas and solve thorny issues.
"The true impact of the deep tech economy is realised when we're able to come together to catalyse new opportunities. Working alongside partners like Huawei enables us to accomplish our mission of supporting promising talent and emerging tech start-ups in Singapore," said Dr Lim Jui, CEO of SGInnovate, an organisation committed to furthering Deep Tech start-ups locally. 
Echoing the sentiment, Mr Kuo-Yi Lim, co-founder and managing partner of Monk's Hill Ventures, said: "Huawei has amplified the vibrancy of the tech ecosystem in Southeast Asia with its active engagement and differentiated value-add. Its position as a strong player in both enterprise and consumer spaces presents significant partnership opportunities for companies in Singapore and the region." 
LEVERAGING A STRONG NETWORK OF RESOURCES
A company that has reaped benefits from Huawei's Spark programme is cybersecurity software company Scantist. Its founder, Dr Liu Yang, shared that Spark provided the company with access to a vast pool of resources and benefits such as training, go-to-market support, technical support and networking opportunities.
"We are grateful to have participated in Huawei Spark 2020 and believe its strong network of resources provides the support start-ups need to realise ideas, test strategies and grow," he said.   
Reiterating Spark's value add, Mr Kurt Wee, president at the Association of Small & Medium Enterprises, Singapore, said: "Through the programme, SMEs will be able to leverage additional resources to grow and innovate, as well as be exposed to a wider range of opportunities and potential partners." 
A GROWING SPARK 
Beyond Singapore, Hong Kong, Malaysia and Thailand, Huawei will focus its efforts on developing four additional start-up hubs – in Indonesia, the Philippines, Sri Lanka and Vietnam.
The company aims to recruit 1,000 start-ups, out of which 100 are scale-ups, into the Spark programme. Forty start-ups are already participants.
Huawei aims to supercharge start-up growth with the following vision: To build an inclusive and sustainable start-up ecosystem in Asia, to build a platform for tomorrow's scale-ups, and to contribute to socio-economic prosperity in Asia.
These efforts are compounded by three additional startup-related initiatives launched at the Spark Founders Summit: 
•    The Spark Developer Program, which aims to nurture a developer ecosystem powered by Huawei Cloud in the Asia Pacific region; 
•    The Spark Pitstop Program, designed to on-board and support start-ups on Huawei Cloud to accelerate product development; and 
•    The Spark Innovation Program, focused on facilitating enterprise innovation through the Spark start-up ecosystem.
Huawei also launched its Cloud-plus-Cloud Collaboration and Joint Innovation Program, through which it will support start-ups with US$40 million worth of resources. 
"I am impressed by the direction Huawei is taking with Spark and its cloud services. Its contribution could give entrepreneurs a boost by speeding up the time needed to roll out suitable products, thereby increasing the likelihood of a start-up's survival," said Mr Edwin Chow, assistant CEO of Enterprise Singapore.
Learn more about how Spark is accelerating deep tech start-ups in Asia Pacific.