Transforming their career trajectories with a postgraduate education
Radio presenter Andrea Heng and senior financial analyst Audrey Sheh discovered fresh perspectives when they enrolled in part-time international Master's degree programmes at the Singapore Institute of Management.
Radio presenter Andrea Heng, from CNA938 at Mediacorp, found herself grappling with an unforeseen challenge last year, when she was tasked with re-organising the station's programming schedule. However, with her Master of Business Administration (MBA) studies under her belt, Ms Heng proved to be more than capable of handling the challenge.
Said Ms Heng: "It prepared me to be nimble, to learn to communicate with different stakeholders and to understand their needs so that the right solutions can be determined. It also gave me the confidence to contribute ideas and gain consensus on their implementation."
QUALITY EDUCATION AT YOUR OWN PACE
Ms Heng enrolled in the part-time University of Birmingham programme at the Singapore Institute of Management (SIM) in 2021 to upgrade her soft skills, broaden her worldview and hone her critical thinking skills as a journalist.
She chose SIM as she needed an educational institution that could accommodate her demanding work schedule without sacrificing the quality of her learning.
SIM offers full- and part-time postgraduate programmes spanning a wide variety of industry-relevant disciplines. Ranging from graduate certificates and graduate diplomas offered by SIM to Master's degrees awarded by top-ranking universities, these programmes are designed to develop real-world competencies and skills in students so that they can thrive and succeed in the workplace.
A key advantage of embarking on studies at SIM is the direct access to globally recognised qualifications awarded by world-ranked institutions from the United Kingdom, Australia and France that make up SIM's postgraduate university partners.
Ms Heng's choice, the University of Birmingham, offers Master's degree programmes in business and finance and is part of the prestigious Russell Group of universities. The university is also triple-crown accredited by the Association of MBAs, the Association to Advance Collegiate Schools of Business and the EFMD Quality Improvement System.
Said Ms Heng, who graduated with a Diploma in Mass Communication in 2005: "The MBA is a second chance for me to pursue academic excellence. The well-paced and comprehensive curriculum provides an immersive learning experience that keeps me fully engaged throughout the sessions."
Similarly, Ms Audrey Sheh, a senior financial analyst at HP Singapore, was seeking a Master's degree programme with a strong academic reputation. She found it in the part-time Master of Science (MSc) in Professional Accountancy, awarded by the University of London (UOL) at SIM .
University College London (UCL) – the arm of UOL that provides the academic direction for the MSc – retained its position at No 8 in the QS World University Rankings 2023 for the second consecutive year.
"SIM is an established and reputable institution in Singapore, and hearing the numerous success stories from its students sealed my decision to sign up," said Ms Sheh. "I also like that after graduation, I can remain connected as a member of the UOL alumni network, which has a diverse community of over 100,000 alumni across 180 countries."
A SHARPENED SET OF SKILLS TO AID STRATEGIC DECISION-MAKING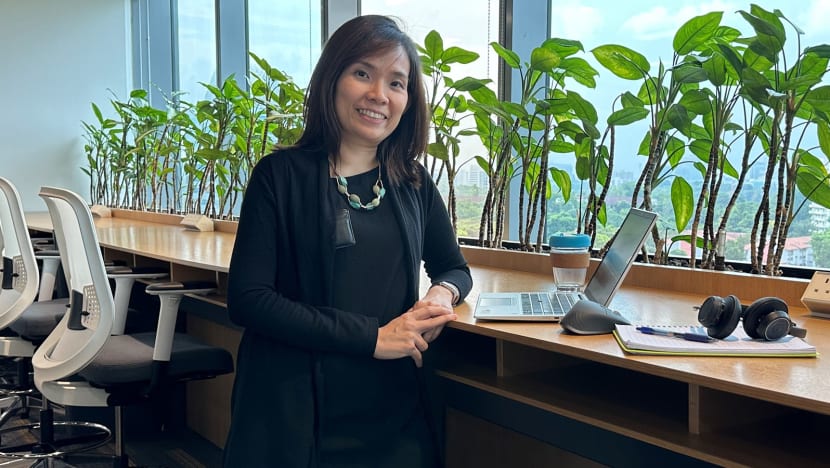 Before joining HP Singapore in 2009, Ms Sheh was an auditor for three years. The uncertainty of the COVID-19 pandemic spurred her to take the next step in her lifelong learning journey. She recounted: "Circumstances felt beyond my control but I realised what I could do was to invest in and equip myself to be ready for the future job market, so that I could seize opportunities in a post-COVID era."
Ms Sheh enrolled in her MSc in 2021 and graduated last year. She said that the MSc has not just equipped her with a higher qualification, but has also sharpened her communication and research skills. She particularly valued the curriculum's global perspective, which enabled her to develop a comprehensive understanding of how international events can impact the finance sector.
Said Ms Sheh: "This curiosity or sensitivity towards the events happening around us and their potential implications has honed my ability to 'connect the dots'. I can now better relate to the story behind the financial figures at work and advise my business partners on the macro-economic landscape. By identifying potential headwinds, I can help my team develop remediation plans well in advance."
GROWING AS A PERSON, EMPLOYEE AND LEADER
Ms Heng, who has worked in radio for five years after stints in publishing, marketing, branding and television journalism, has also gained new skillsets and fresh perspectives that she finds highly useful in her current role.
"The lecturers and modules – especially those on international business, leadership, organisational behaviour, human resource management and managing change – all provide world views on how to manage human relations," she said. "My classes have also helped me understand how to practise neutrality in all aspects of a business, which is an essential skill of any journalist."
Ms Heng hopes to use her learning to develop new ideas for work, rally stakeholders to embrace creative risks and drive the support to see these ideas through. "I am confident that pursuing an MBA at the University of Birmingham will further enhance my leadership skills, especially in areas such as strategic planning, execution and change management. These skills will be invaluable in delivering a better product to our audience," she said.
Ms Heng also recommended the MBA programme to those seeking to upgrade their management skills and broaden their perspectives. "The quality and in-depth content will change the way you view the world," she said. "You'll grow as an employee, a manager, and most of all, a person."
Reflecting on her MSc journey, Ms Sheh said it was a deeply fulfilling and fruitful period of her life. Apart from expanding her professional network, the programme has helped her cultivate personal discipline and resilience.
"I am proud of how far I have come," she said. "I feel ready and confident to embrace the challenges ahead at work. I am now better equipped to identify and evaluate options to solve complex business problems, think more critically, challenge the status quo and communicate my ideas effectively."
Visit sim.edu.sg to learn more about how SIM's postgraduate programmes can help you learn for life, thrive for life, with university partners such as the University of Stirling, the University of Wollongong and Grenoble Ecole de Management, and disciplines that range from data science and artificial intelligence to global ageing and luxury management.