Weird and wonderful: Patricia Piccinini's human-like sculptures evoke questions of nature versus science
We Are Connected is the Australian artist's first major solo showcase in Southeast Asia and features over 40 artworks at ArtScience Museum.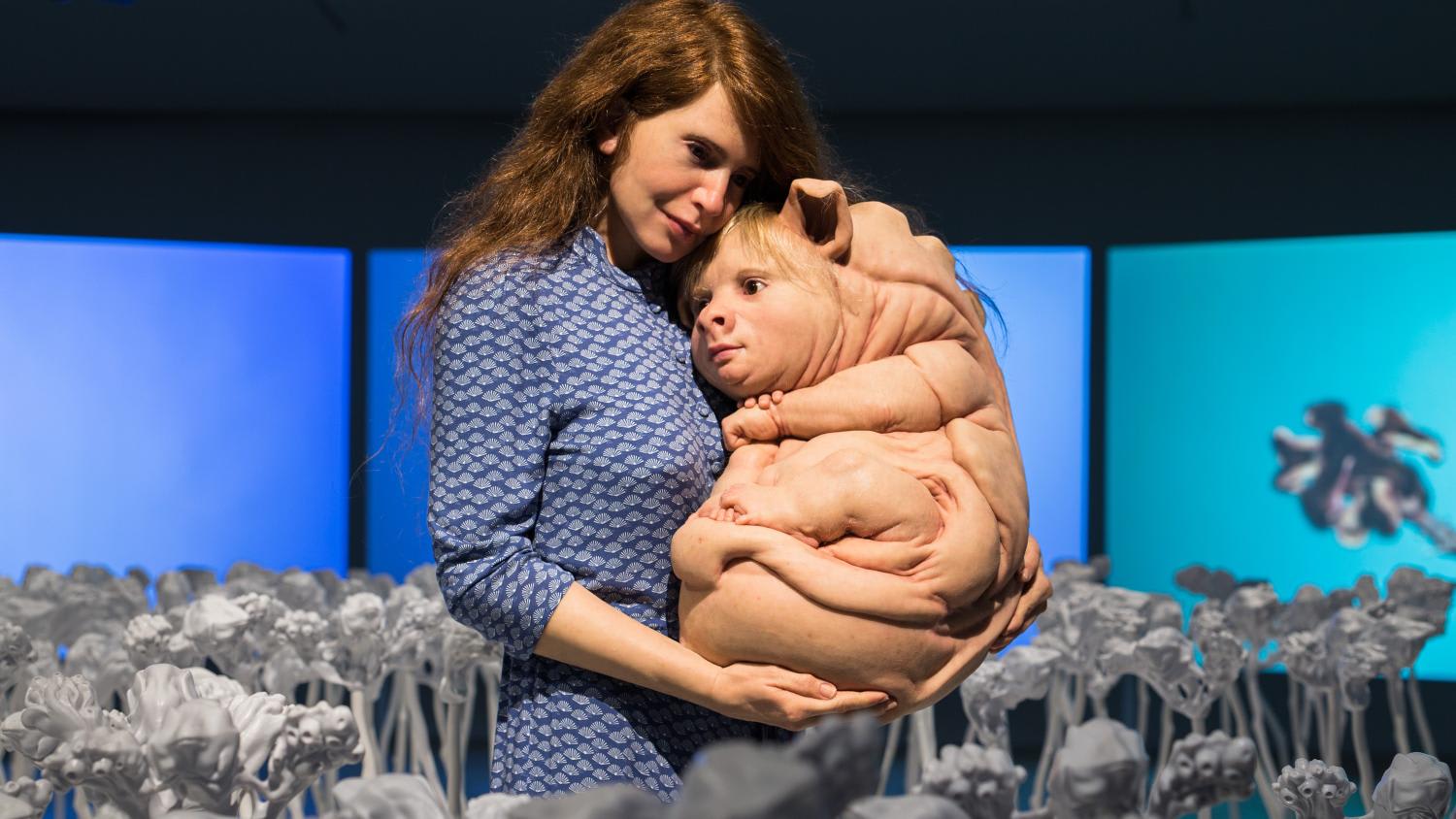 It is said that humans developed opposable thumbs over 2.5 million years ago as a result of evolution. With today's advanced bioscience and technology, artist Patricia Piccinini asks: What kinds of evolution would we see?
The answer to some of her imaginings can be found in the bizarre but tender creatures greeting visitors at her show, Patricia Piccinini: We Are Connected, from now to Jan 29, 2023, at ArtScience Museum.
For over three decades, Piccinini has examined the intimate relationship humans have with nature and how both have shaped each other. More than a spectacle of the strange, her show invites guests of all ages to approach these hyper-realistic beings with an open mind and to discover the surprising feelings of empathy that emerge.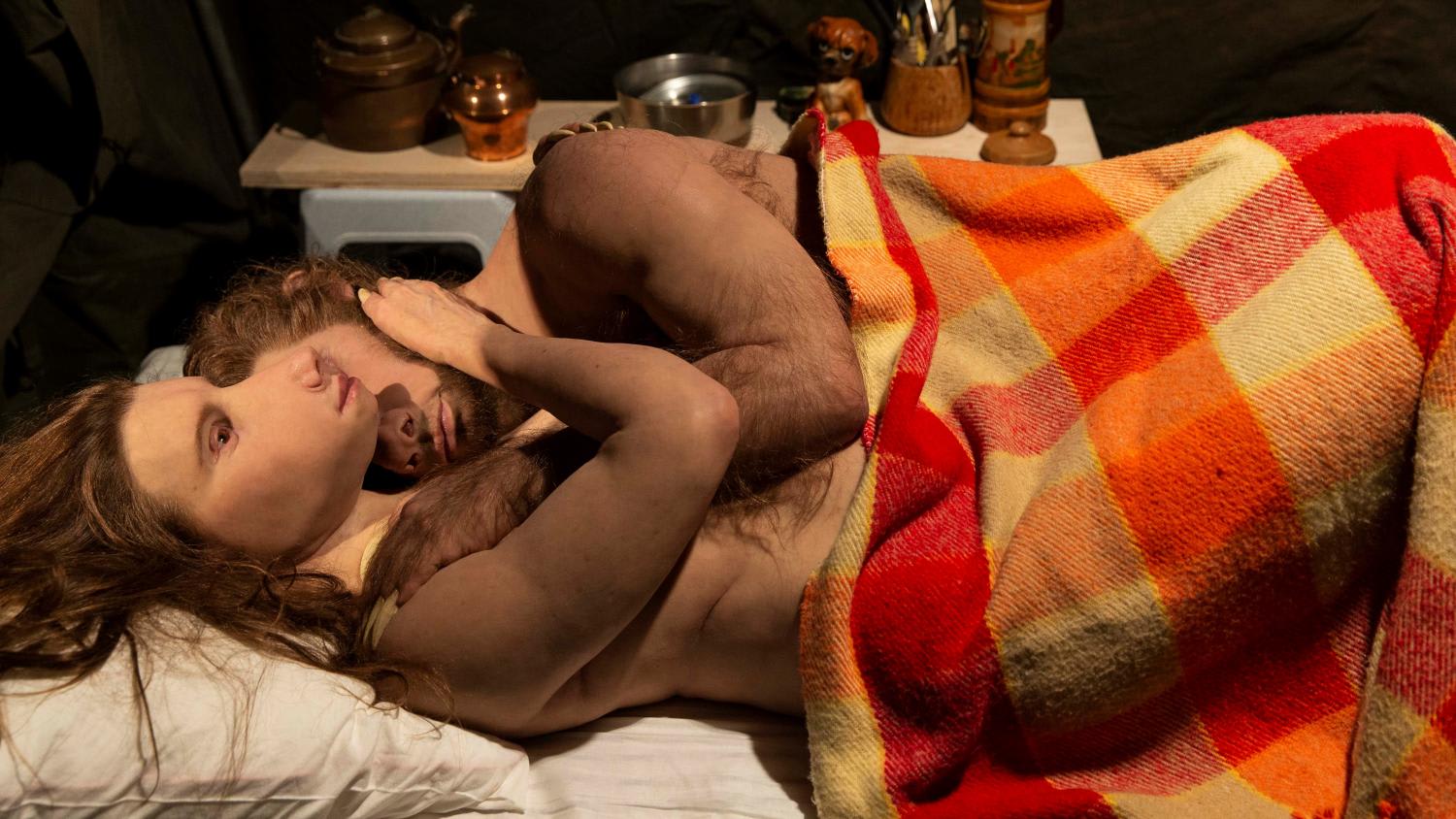 On her website, the Australian artist shared: "My practice is focused on bodies and relationships; the relationships between people and other creatures, between people and our bodies, between creatures and the environment, between the artificial and the natural."
One of the world's leading contemporary artists, Piccinini represented Australia at the Venice Biennale in 2003 and has had other major solo shows globally. Today, her fantastical hybrid creatures continue to enthral, and those who come face to face with them here will be mesmerised by this extraordinary intersection of art, science and biotechnology. 
A STRANGE, WONDROUS REALITY
There's always an audible gasp when one first witnesses Piccinini's work. It can come from the surprise of seeing two strange, yet human-like creatures embracing in a tent or from the delight of a hybrid being looking like it stepped out from the pages of a fantasy tale. Regardless of the setting, Piccinini's art exudes a tenderness that makes it all the more intriguing.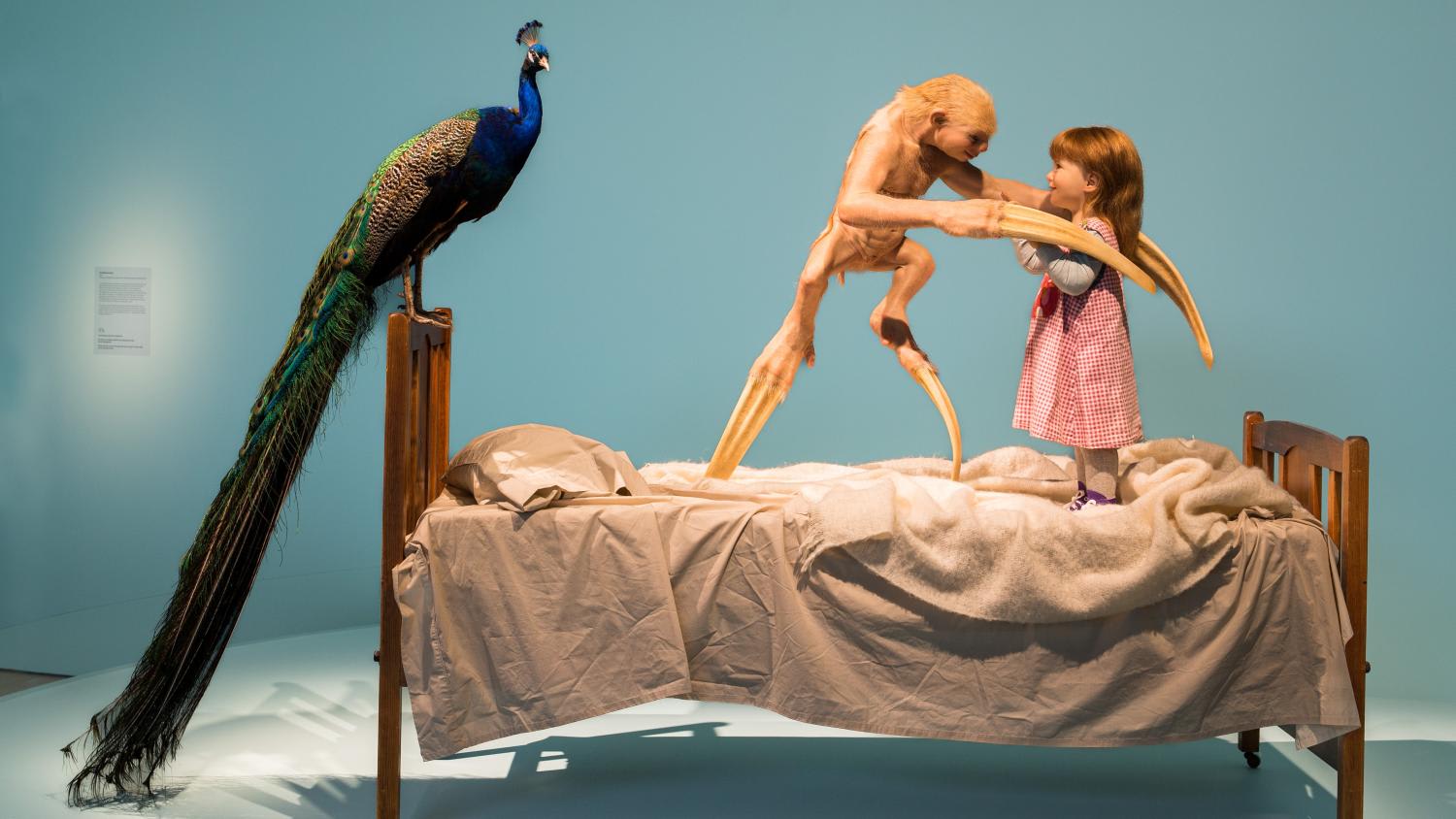 Spread across seven sections expressing different themes, We Are Connected features a mix of sculptures with other installations, videos and collages from the early 2000s to 2021. It includes a new video work – We Travel Together (2021) – dedicated to the connection between a young Asian girl and a hybrid creature.
Made from silicone, fibreglass, resin and even human hair, the sculptures often seem alien at first glance but offer more human similarities than differences on a closer look. Kindred, for example, is an orangutan with human-like features holding her children in a recognisably maternal way. In The Welcome Guest, a sloth-like creature with long claws embraces a child in what could be a startling encounter. But move in, and you'll see warm smiles on both – a promise of friendship beyond outward appearances. 
ARE WE SO DIFFERENT?
In the same way that she employs body language in Kindred and facial expressions in The Welcome Guest, Piccinini's expert grasp of universal human emotion results in art that provokes wonder and compassion.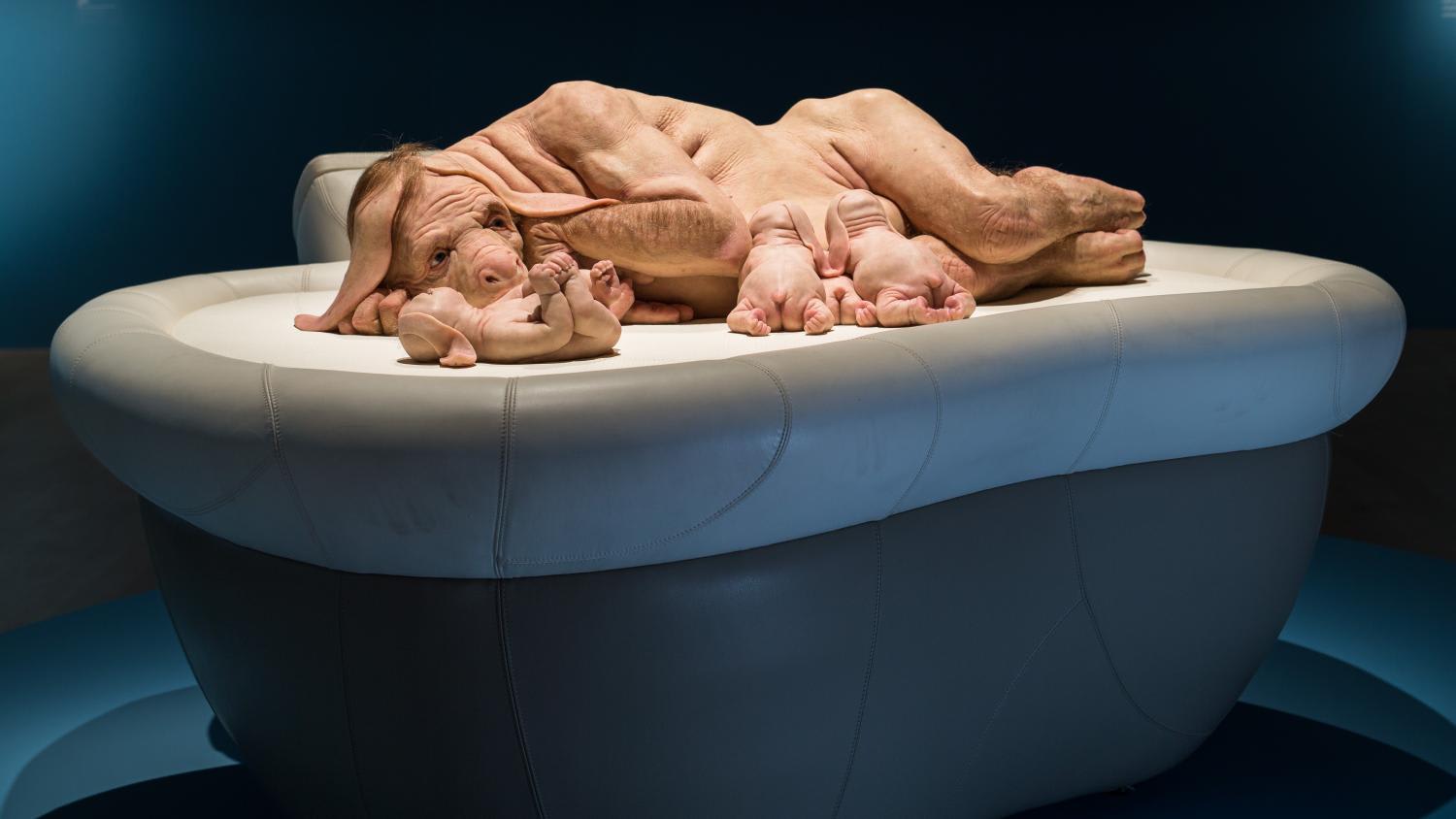 Her creations challenge our lived reality and norms, too. In Sanctuary, two elderly ape-like creatures hold each other dearly, showing that intimacy is not just for the young. In The Comforter, a girl hugs an amorphous being, making one wonder about affection and the effects of nature versus nurture.
By highlighting themes of inter-species connections, scientific intervention and natural evolution in an open-hearted way, Piccinini's pieces also explore issues of climate change, species extinction, conventional notions of beauty and the ideal body. It is her hope that when we ask these questions, we can break down barriers and taboos while creating room for joy and love.
EXPLORING THE SHOW DEEPLY
To engage visitors, ArtScience Museum is offering a hands-on activity in the space, where visitors can make their own hybrid puppet friend with paper cuttings.
There will also be drop-in crafting sessions that encourage young minds to imagine and think about different futures – promising to delight kids. What would living among new species be like? Participants get to create their own hybrid puppet friend using an array of materials provided. Each session takes place every last Friday of the month, from 11am to 1pm and 3pm to 5pm. Entry is S$5 with limited slots available.
For the adults, how about a masterclass with popular Singaporean sculptor Daniel Yu? Learn basic sculpting and painting techniques at an exclusive session with the talented artist, who makes clay-and-resin figurines inspired by local traditions and popular culture. Then create your very own chimera – or an anthropomorphic creature – shaped from Playmobil figures and your imagination. Taking place on Oct 29 from 1pm to 4pm, the workshop has limited slots, with tickets costing S$88 each (early bird tickets available at S$68 each).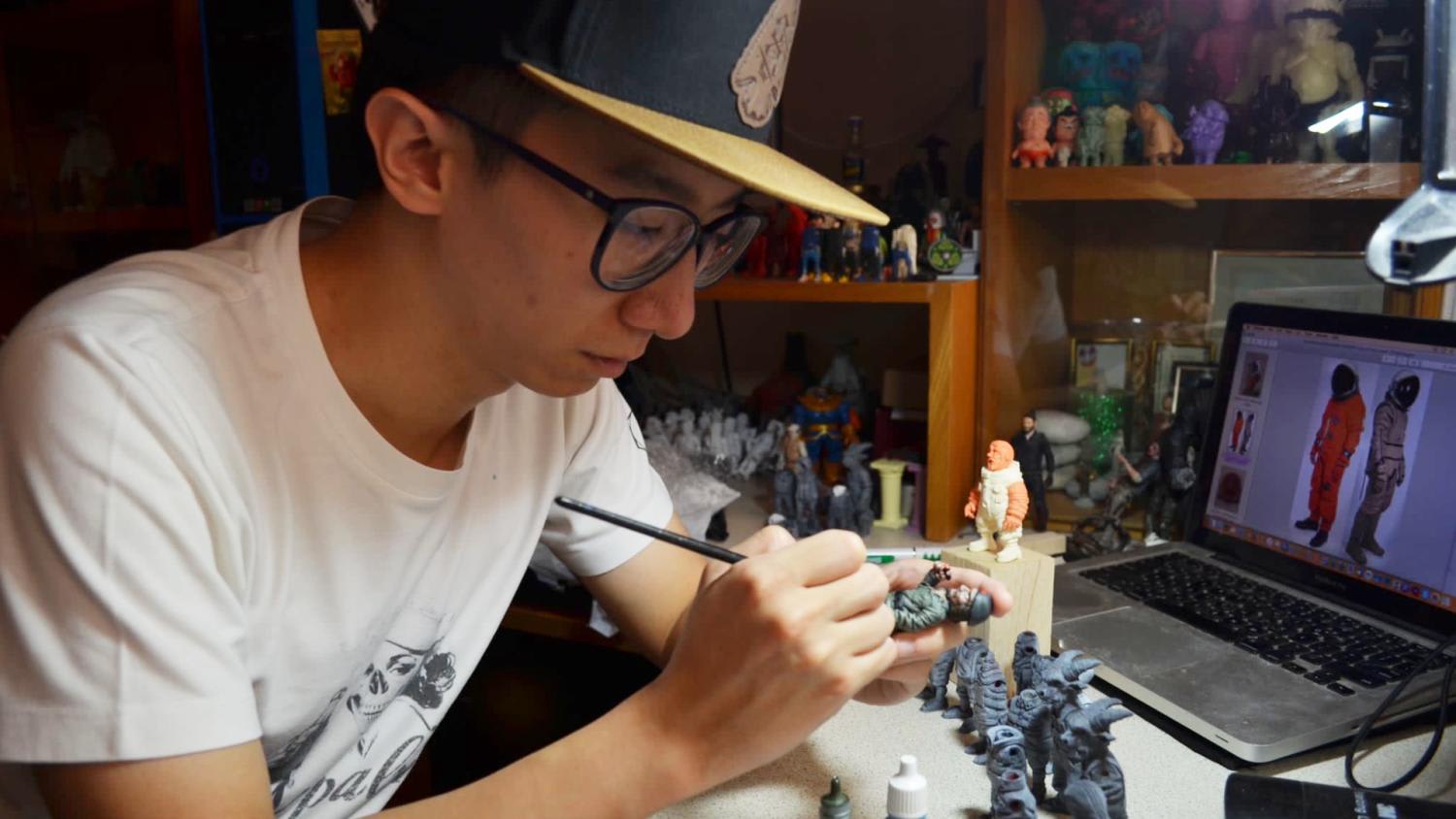 Visitors can also take part in a guided tour of We Are Connected, which uses prompts and questions to inspire children and adults. What would living in the future among new species be like? What stirs our compassion? What conversations can be found with those living a different reality? Tickets cost S$5 each and can be bought separately.
Through hands-on crafting and evocative insights, these supplementary activities are wonderful ways to enrich the encounter with Piccinini's incredible life forms. Dive into the many facets of this bizarre, beautiful exhibition, and walk away with new ways of perceiving our future and a renewed sense of wonderment.
Patricia Piccinini: We Are Connected is showing until Jan 29, 2023, at ArtScience Museum. Get your tickets now, from S$18 to S$21 for an adult ticket and S$14 to S$16 for a concession ticket.