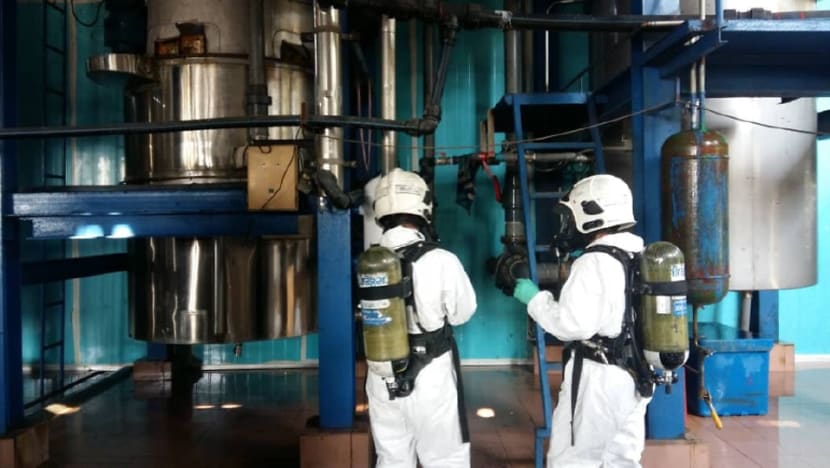 SHAH ALAM: Two workers died and 19 others were injured after an ammonia leak at an ice factory in Shah Alam, Selangor on Monday (Aug 13) morning. 
Selangor Health Director Dr Khalid Ibrahim confirmed that 27 factory workers, including the two deceased, were exposed to ammonia gas at about at 5.30am.
The 19 injured workers are in hospital. The remaining six workers have been allowed to return home, and will observe themselves for signs of ammonia gas poisoning.
Shah Alam Fire and Rescue station chief Azmel Kamarudin said the two workers who died are believed to be Indian nationals. 
"The two workers who died were believed to have inhaled the ammonia gas which leaked from a tank that was stored while doing routine work," Mr Azmel said. 
"Those injured had breathing difficulties, vomiting and eye irritation due to the high ammonia content which is of 500 ppm (parts per million) compared to the normal reading of 50 ppm and below."
Azmel added that residents within a 3km radius of the ice factory were evacuated by officers and members from the fire and rescue team, as well as the Hazardous Materials Managment Team (Hazmat). 
A school located in front of the factory was also advised to close for safety reasons, he said, adding that the ammonia gas leak was the second incident reported at the factory.
An inspection by the Shah Alam City Council (MBSA) after the incident on Monday found that the ice factory was not permitted to store hazardous materials, and only had a license to carry out ice processing activities. 
MBSA said in a statement that it had ordered the factory to stop operations temporarily to facilitate personnel from the fire and rescue department to neutralise the ammonial levels in the area. 
"Fire and rescue personnel are onsite to carry out rescue work and are working to ensure that the plant and its surrounding areas are not contaminated with the gas.
"At the same time, the MBSA's quick response team is also onsite to assist firemen and the police to monitor the situation in the area," the statement said.
Residents who live just 250m from the ice factory called on the government to relocate the plant to another area.
The apartment's resident committee chairman, R Ramasami, said a similar incident had also occurred at the plant two years ago.
"The factory is very close to a residential and school area, and I am afraid that there will be more leakages (in the future) the lives of residents and school students will be at stake, so I hope the authorities will transfer the plant to a safer place," he said.