Malaysia, US discuss steps to pressure Myanmar junta and restore democracy: Blinken during Putrajaya visit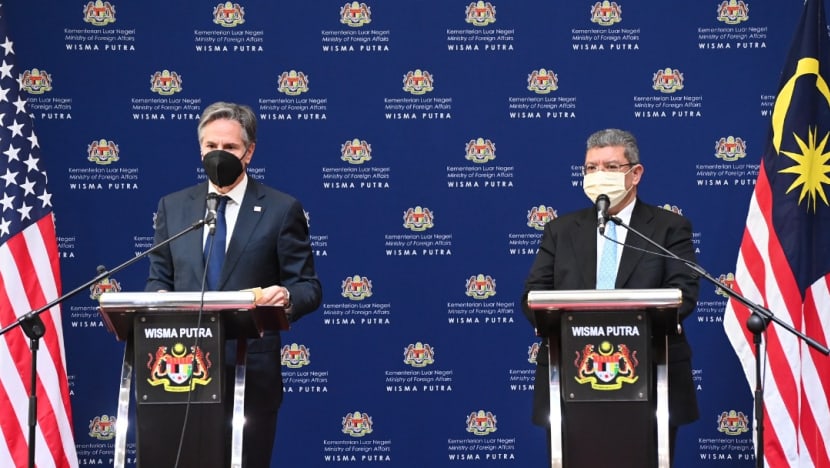 KUALA LUMPUR: Secretary of State Antony Blinken said that the United States and Malaysia discussed steps to pressure Myanmar's junta to return to a democratic trajectory.
In a joint press conference with his Malaysian counterpart Mr Saifuddin Abdullah after talks were held on Wednesday (Dec 15), Mr Blinken noted that the crisis in Myanmar has continued to worsen 10 months since the military coup. 
"Those are facts," he said.
Outlining the various actions taken to exert pressure on Myanmar's junta to change course, he said it would be very important to look at additional steps and measures that could be taken individually and collectively to pressure Myanmar back onto a democratic trajectory. 
"ASEAN (the Association of Southeast Asian Nations, of which Myanmar is a member) has a Five-Point Consensus plan, that the junta agreed and signed on to, and that plan needs to be implemented."
"And we are looking to see whether the junta makes good on the commitments made on the Five-Point Consensus," Mr Blinken added. 
He was responding to a question on sanctions against Myanmar and whether the persecution against the country's Rohingya community constituted a genocide.
In late October, ASEAN held a summit without Myanmar, after its junta leader refused to send a representative. Mr Min Aung Hlaing was excluded for failing to make inroads in implementing a five-point road map agreed back in April this year. 
Last month, an ASEAN-China summit was also held without a representative from Myanmar.
On his part, Mr Saifuddin said that the ASEAN Foreign Ministers' Retreat to be held next month would be very important, as the ministers should identify "real" milestones to measure progress. 
"We have the Five-Point Consensus, but we do not identify when certain things need to be achieved and how. So outlining the actual steps and actual milestones as to the dates and outcomes, will I believe, be an important decision that we will try and arrive at during our meeting," the minister said. 
He added that the regional grouping would have to do some soul-searching on how it arrives at a consensus, given that there are 10 member states.
"For the last one year, there has been no consensus on many things, including how to invite to this summit (in October). The decision was made that we do not invite the military junta, but we cannot go on like this," Mr Saifuddin said.
"We celebrate the principle of non-interference, but if I can reiterate what I said earlier, we should also look at the principle of non-indifference. Because what is happening in Myanmar is already getting out of Myanmar to Bangladesh and Malaysia is now hosting close to 200,000 refugees who are Rohingyas."
Rohingyas, a stateless Muslim minority in the majority Buddhist Myanmar, have been undergoing persecution by the Myanmar military for decades.
In recent years, Myanmar's security services began a major crackdown on the Rohingya, who mainly live in Rakhine state, forcing over a million displaced refugees to flee to nearby Bangladesh and to other parts of Southeast Asia. 
Mr Saifuddin also said that ASEAN has to be flexible in finding solutions instead of just using one plan, and sticking with it even though it was not working.
MALAYSIA RESPONDS TO LABOUR ALLEGATIONS
Responding to a question on Malaysia's labour practices, Mr Saifuddin said he shared with the secretary of state regarding the steps taken by the Malaysian government to improve both labour legislation and administration. 
"We have amended our labour law, in particular, to ensure employers will take better care of their employees, for example, their living conditions," he said.
He said checks carried out during the pandemic showed that some employers had not provided proper accommodation for their employees.
"The Human Resources Ministry is vigilantly making their rounds to ensure employers provide proper accommodation," Mr Saifuddin said.
He added that an online e-wages system has also been rolled out, for employees to submit complaints to the ministry.
"We are committed to ensure that the employees are given what is due, both in their salary, in their welfare, in their accommodation, and that they have sufficient channels that they can freely use to complain," he added. 
Malaysian companies have previously come under scrutiny over allegations of forced labour and human trafficking. Last month, Department of Homeland Security investigators questioned workers at the Malaysian factory of  Goodyear Tire and Rubber Company about their working conditions. 
Earlier last month, the US Customs and Border Protection (CBP) issued a "Withhold Release Order" prohibiting imports from Malaysian rubber glove-maker Smart Glove over alleged forced labour practices.
The CBP has banned six Malaysian firms in the last two years from selling their products to the US after finding evidence of forced labour.