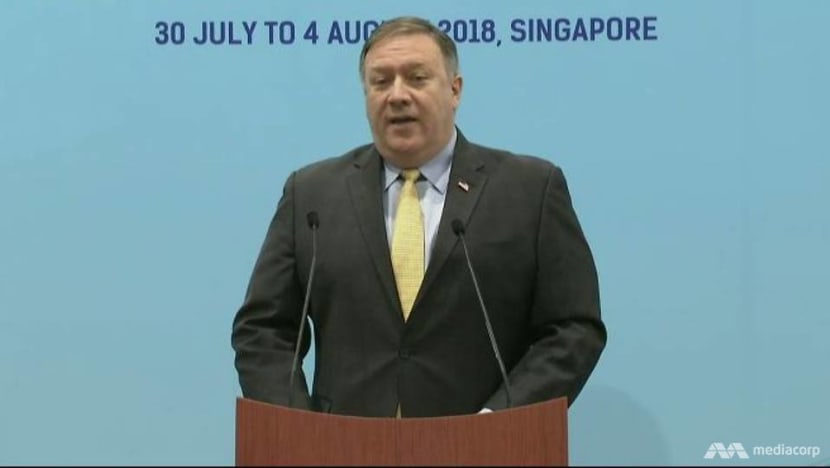 SINGAPORE: US Secretary of State Mike Pompeo pledged on Saturday (Aug 4) to provide nearly US$300 million in new security funding for Southeast Asia.
Pompeo unveiled the figure to reporters on the sidelines of a meeting of foreign ministers from the 10-member Association of Southeast Asian Nations (ASEAN) and other officials from around the world in Singapore.
"As part of our commitment to advancing regional security in the Indo-Pacific, the United States is excited to announce nearly US$300 million dollars of new funding to reinforce security cooperation throughout the entire region," he said. 
"This new security assistance will advance our shared priorities, especially to strengthen maritime security, develop humanitarian assistance and peacekeeping capabilities and enhance programmes that counter transnational threats."

The United States said earlier this week it will invest US$113 million in technology, energy and infrastructure initiatives in emerging Asia which he called "a downpayment on a new era of US economic commitment to the region". 

The United States' developing vision for a "free and open Indo-Pacific" comes at the same time as China ramps up its influence as part of is Belt and Road plan to bolster trade ties with nations in Southeast Asia and beyond.
Analysts have said that a spiralling trade dispute between Beijing and Washington could also ratchet up tensions over other regional hotspot issues, such as the South China Sea, claimed in whole by China and in part by some Southeast Asian nations.
China and ASEAN on Thursday hailed a "milestone" agreement on a single working text to kick off what will likely be protracted negotiations toward a code of conduct for behaviour the disputed waters.
But critics have said that this enthusiasm for talks is a means for China to buy time and solidify its position during a period of relative dominance in the region.
Pompeo told reporters that he had raised concerns at the meeting about Chinese militarisation of the South China Sea and the importance of maintaining a rules-based order in the region.
The Chinese government's top diplomat, State Councillor Wang Yi, told reporters at the same forum that China welcomed, and was willing to work with, the United States to help with faster development and better security in the region.
He added, however, that the United States had been sending "massive strategic weaponry" into the South China Sea and the region as a show of military might that puts pressure on China and other regional countries.
"That is the biggest force behind militarisation in this region," he said.
Progress toward containing the humanitarian in crisis in Myanmar's troubled Rakhine state and other security issues were also essential to a free and open Indo-Pacific, he said.
The use of "Indo-Pacific" has grown among diplomats from Japan, Australia, India and the United States in recent years, a shorthand for a democratic-led region, as opposed to an "Asia-Pacific" with China at its centre.

MAINTAIN PRESSURE ON NORTH KOREA
Pompeo also called for pressure to be maintained on North Korea as concerns mount that Pyongyang is making slow progress towards denuclearisation.
In Singapore ahead of a major security forum, Pompeo called for "maintaining diplomatic and economic pressure" against Pyongyang.
"I call on (every nation) to strictly enforce all sanctions, including the complete shutdown of all illegal ship-to-ship transfers of petroleum destined for North Korea," he said.

"Any violation that detracts from the world's goal of finally fully denuclearising North Korea would be something that America would take very seriously."
His North Korean counterpart, Ri Yong Ho, is also in the city-state for the ASEAN Regional Forum, which takes place later in the day. But Pompeo said he was yet to meet with him on the sidelines of the gathering.
At a landmark summit with President Donald Trump in June, the North's leader Kim Jong Un signed up to a vague commitment to "denuclearisation of the Korean Peninsula".
While there have been small signs of progress since the summit, news reports indicate Pyongyang is continuing to build rockets and there have been concerns that some member states are relaxing the enforcement of United Nations sanctions on the North.

He also criticised Cambodia's polls last Sunday which saw the Prime Minister Hun Sen's ruling National Election Committee sweep every seat contested.
"A free Indo-Pacific is one in which every citizen can exercise his or her fundamental rights without any constraint. Regarding the issue of governance, we regret the elections in Cambodia were neither free nor fair. The Cambodian people deserve better," Pompeo said.
Additional reporting by Lianne Chia.