US, India upgrade ties with ASEAN to top-level Comprehensive Strategic Partnerships
"Today, ASEAN-US relations have achieved a new milestone," says Singapore Prime Minister Lee Hsien Loong.
PHNOM PENH: India and the United States on Saturday (Nov 12) upgraded their diplomatic relationships with ASEAN to Comprehensive Strategic Partnerships (CSP).
This brings to four the number of countries that ASEAN has CSPs with. It is the highest-tier partnership the bloc has with external partners.
US President Joe Biden, who has made Cambodia the first stop on his Asia tour, formalised the agreement at an ASEAN-US Summit on Saturday afternoon.
The enhanced partnership puts Washington on the same level as Beijing, which was granted the distinction last year. Australia has also established a CSP with ASEAN.
Singapore Prime Minister Lee Hsien Loong said the partnership was the basis for both sides to "deepen our cooperation further". 
"We greatly appreciate your personal efforts to be here with us, and to give the relationship with ASEAN a push," said Mr Lee.
"Today, ASEAN-US relations have achieved a new milestone."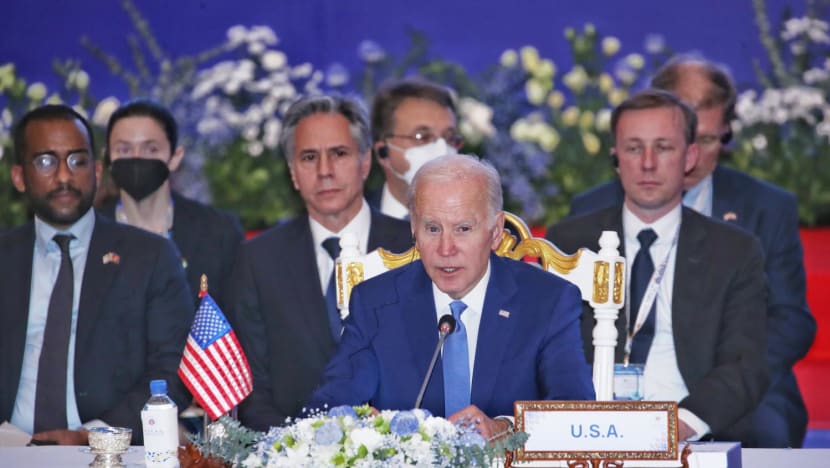 US President Joe Biden said the CSP will help to tackle "the biggest issues of our time", Reuters reported.
He said in remarks at the summit that the agreement would help build "an Indo-Pacific that's free and open, stable and prosperous, and resilient and secure".
US-CHINA RELATIONS
Mr Lee said at the summit that the US-China relationship is the most consequential relationship in the world, and affects the peace and stability in the region.
"Of late, tensions have grown between the two countries in a number of areas, including on Taiwan," he said.
ASEAN countries all want to maintain good relations with both Washington and Beijing, said Mr Lee.
"We hope the US can work with China to manage the tensions, build mutual trust at the highest level and work towards a modus vivendi," he added.
Mr Biden will also be at the East Asia Summit on Sunday, which will be attended by ASEAN leaders and representatives from its partners including Russia, China, India, Japan and South Korea.
Then the US President heads to the G20 Summit in Bali where he and Chinese President Xi Jinping are slated to meet on Monday. This will be their first face-to-face meeting since Mr Biden was elected.
UPGRADE IN TIES WITH INDIA
India's elevated partnership was signed during an ASEAN-India Summit on Saturday morning, which marked the 30th anniversary of its dialogue relations with ASEAN.
The South Asian nation was represented by Vice-President Jagdeep Dhankar, who was at the summit in Phnom Penh in place of Prime Minister Narendra Modi.
Mr Lee said that the upgrade in relations with India is "appropriate and timely".
"Singapore strongly welcomes the CSP upgrade. It's an important milestone to take relations to the next level. There is significant scope to increase cooperation in emerging sectors," he said.
"Global challenges have underscored the importance of being nimble, flexible and future-ready to capture opportunities for growth, we should invest in healthcare, robotics and the green economy."
Mr Dhankar said that India and ASEAN share the "common vision" of ensuring peace, prosperity and stability in the region.
"As we look ahead, we see an uncertain geopolitical landscape which cannot be whisked away. To navigate it, we must expand our cooperation and deepen our strategic trust. Our comprehensive, strategic partnership should provide a path for this," he is quoted as saying by the Times of India.
Mr Lee called for ASEAN and India to facilitate stronger trade and investment flows, and welcomed India's contributions to regional connectivity. ASEAN and India should also collaborate in new areas, said Mr Lee.
"We should use the ASEAN Smart Cities Network to build resilient, innovative and well-connected communities," he said, adding that India and ASEAN should deepen cybersecurity cooperation.
The Smart Cities Network, established in 2018, is a platform where for cities in ASEAN states to promote sustainable urban development with the aid of technology.
Mr Lee added that he hopes India will collaborate with ASEAN to tap into the growing demand for digital solutions.
This includes finding ways to encourage safe and secure data flows, ensure AI applications are ethical, and strengthen cybersecurity and digital inclusion, he said.