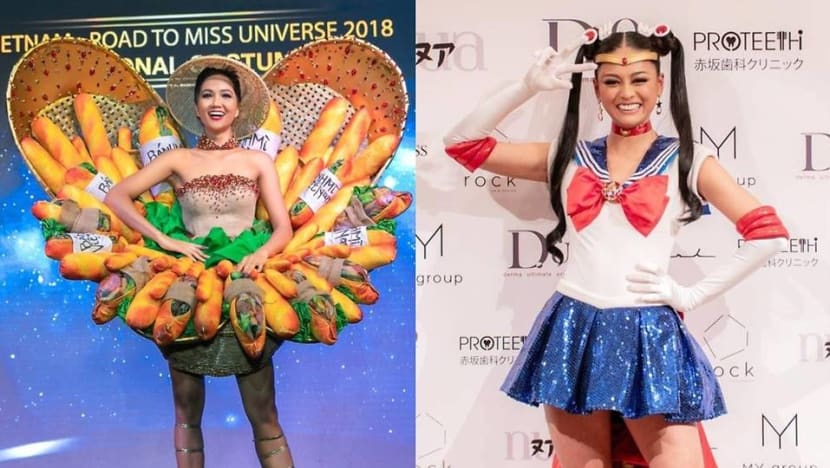 SINGAPORE: The Internet was abuzz when Miss Universe Singapore Zahra Khanum unveiled on Thursday (Nov 29) her national costume, which she said embodied world peace.

However, peace was the last thing Miss Khanum enjoyed as her Trump-Kim summit costume ignited debate over its style, colour choice and depiction of the North Korean and United States flags.

Ahead of the Miss Universe pageant that will be held in Bangkok next month, we take a look at five other unique national costumes from Asia that have also become the talk of the town:

JAPAN
Japan's Yuumi Kato will be bringing something old and something new to the competition, in the form of her double-duty costume that will see her transform from a female ninja into anime icon Sailor Moon.

In an Instagram video on Wednesday, Miss Universe Japan showed Miss Kato parading a traditional red kunoichi outfit, before turning around and morphing into the anime schoolgirl's alter ego.
Commenting on her cosplay choice, Miss Kato said this year's costume represents the "new Japanese culture" of "woman warrior Sailor Moon".

National Director of Miss Universe Japan said that she wanted to have a costume that could "express Japan to the world".
Although it was not to everyone's taste, Miss Universe Vietnam's bold fashion statement embodies one of the most iconic foods from the Southeast Asian nation.

H'Hen Nie's elaborate outfit features a skirt of banh mi, a ubiquitous Vietnamese baguette sandwich, flanked by two basket "wings".

While the design went against the grain for many, Miss Nie was quoted by Viet Nam News as saying: "Whether you go to the poorest areas of the North and Central Highlands, or the most exquisite places of HCM (Ho Chi Minh) City and Hanoi, you will find the presence of bread. For foreigners, seeing banh mi and pho (noodles) they will think of Vietnam."

The controversial pick was voted the most popular outfit from six potential choices. Several of the other options were more formal.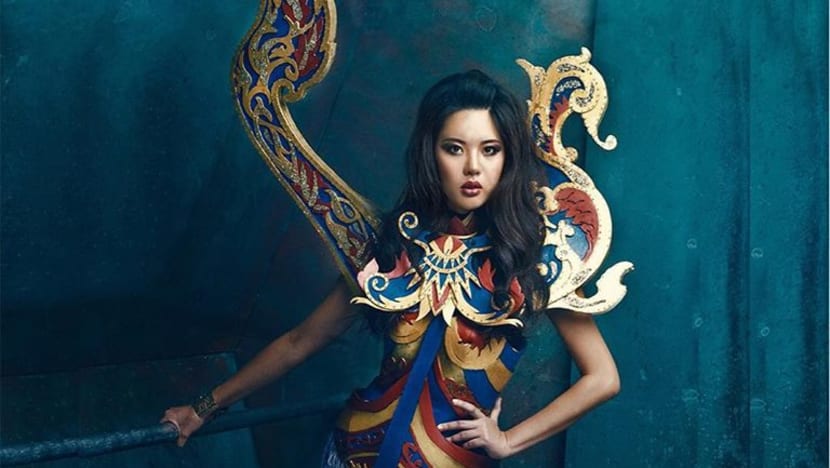 Having drawn flak for its nasi lemak and Petronas Twin Towers costumes in the past, Malaysia hopes to sail through the competition this year with a creation inspired by a traditional Malay fishing boat.

The ensemble made a splash on Instagram earlier this month, with Miss Universe Malaysia Jane Teoh explaining that her national costume was based on the bangau perahu from the state of Terengganu.

"It's iconic and rich in Malay culture, making it uniquely Malaysian. Definitely feeling strong, bold and confident donning it," she wrote.

THAILAND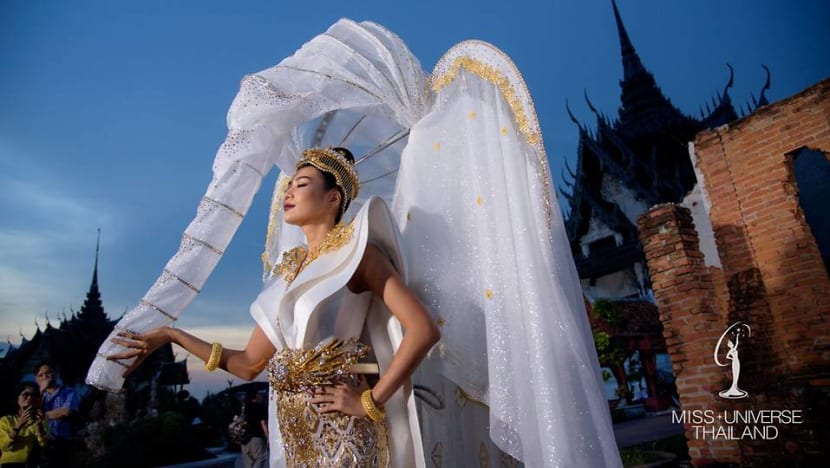 This year's pageant host will grace the stage as "Chang, the Icon of Siam".

A video of Thai beauty queen Ning Sophiba introducing the outfit on Nov 19 shows the dress' white train unfurling into a hood in the shape of an elephant's head, complete with a collapsible trunk.

Miss Universe Thailand decided on the outfit after a competition, which included other creative submissions such as pieces inspired by Ratchaburi's floating market as well as Thailand's Songkran festival.

According to Khaosod news agency, winning designer Theer Phasuk said: "Elephants are a symbol of our nation and have been with us for a long time. Elephants are what foreigners recognise about Thailand."

In 2015, Thailand drew derision for its tuk-tuk costume, complete with working headlights. The outfit raced ahead of other competitors to be named Best National Costume at the pageant in Las Vegas.
CAMBODIA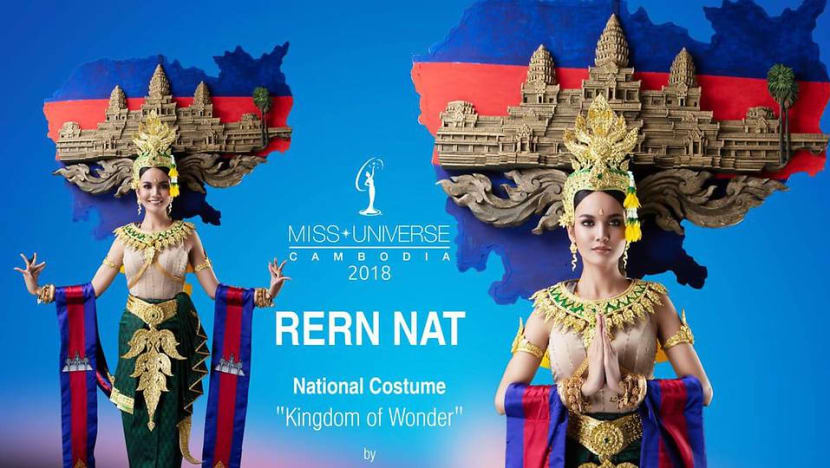 Miss Universe Cambodia Rern Sinat will have the weight of the kingdom on her shoulders.

Dubbed "The Kingdom of Wonder", the costume has rich cultural and historical elements, including a headdress in the form of UNESCO World Heritage Site Angkor Wat, set against the colour of the Cambodian flag.

The Cambodian flag is echoed on the arm hangings, while the dress is also adorned with designs based on the mysterious smiling faces of the Bayon temple and the Romduol, Cambodia's national flower.

"For me, this National Costume is more than just an attire. It's a visual and emotional representation of what makes me very proud to be Cambodian," Miss Rern Sinat said.