Britain hopes to build stronger ties with ASEAN; plans to scale up developments and security links in region
The UK wants to be involved in the economic growth happening in and around the region, said its Minister of State for Trade Policy Greg Hands.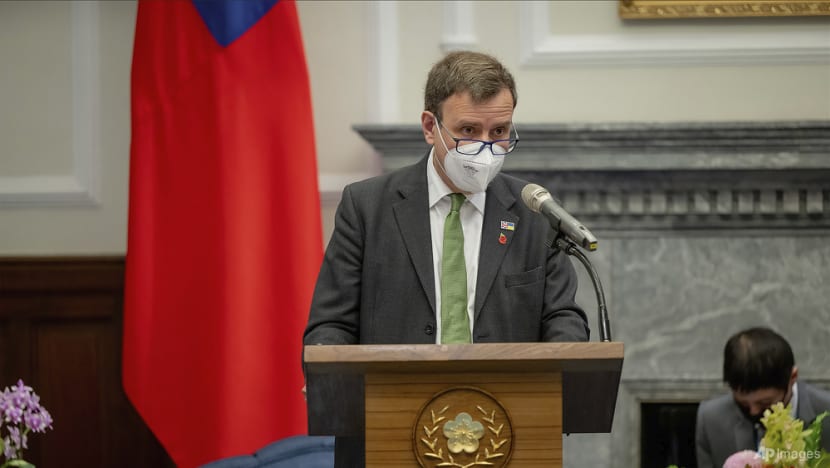 SINGAPORE: Britain is hoping to build stronger ties with Southeast Asian countries, and has plans to scale up developments and security links in the region. 
ASEAN (Association of Southeast Asian Nations) is an important trading partner for the United Kingdom, said Minister of State for Trade Policy Greg Hands on Thursday (Nov 10). "We're hoping for a very deep relationship."
With much of the global economic growth happening in and around the region in the next decade, the UK is looking to get a piece of that action. 
"There's a lot of things the UK can offer the region, for example on digital transformation, infrastructure, renewable energy, education…" Mr Hands told CNA's Asia Now. 
"So it's more than just trade. Trade is a big part of that, but it's also a wider offer to the whole region."
Noting that the UK has many partnerships throughout the region, he said it is "a natural place" for the country to want to increase its presence in.
He was speaking from Phnom Penh, Cambodia, where he is attending the ASEAN summits. 
The UK is a dialogue partner of the regional bloc, having been accorded the status in August last year. It is the first dialogue partner ASEAN has included in 25 years.
As the country pivots its strategic focus towards Asia, there will be an "increasing frequency of UK ministers coming through" the region, said Mr Hands. 
"That's going to be something important for us to show on a number of fronts, that the UK … is really keen to be engaging with ASEAN and the other big economies of the Asia-Pacific region," he added. 
BRITAIN'S AMBITION TO JOIN CPTPP
In the 10-minute interview, Mr Hands also touched on the UK's interest in joining the Comprehensive and Progressive Agreement for Trans-Pacific Partnership (CPTPP), a comprehensive free trade agreement signed by 11 countries after US President Donald Trump pulled out of the Trans-Pacific Partnership. 
The UK had applied to join last year, but its entry into the trade pact is still under discussion.
"I think the CPTPP partners wanted to make sure the process is thorough. We totally respect that. We've had a number of meetings. We're moving forward at a brisk pace," he said. 
"The CPTPP 11 wants to make it happen, the UK wants to make it happen. We're moving forward in a really good, constructive and strong way."
The 11 original member countries – Australia, Brunei, Canada, Chile, Japan, Malaysia, Mexico, New Zealand, Peru, Singapore and Vietnam – currently account for 13 per cent of the global GDP. 
The UK's accession into the CPTPP would increase the share of global GDP to 16 per cent. 
"It is very much on track," said Mr Hands. "We are looking to join that really as soon as possible. 
"I think it'd be a big move for the UK and a big move for CPTPP. It greatly increases the global reach of CPTPP."
RELATIONS WITH CHINA, TAIWAN 
Earlier this week, Mr Hands visited Taiwan for trade talks and met President Tsai Ing-wen, which drew a strong reaction from Beijing to the high-level engagement between a Western government and the island.
However, Mr Hands said his government's policy on China remains unchanged. 
"We have a constructive relationship," he added. "We are right on the front foot in criticising China, for example in its practices in Hong Kong (and) on Xinjiang. 
"Those are some things that the UK does not shy away from, whilst recognising that we can have a relationship with China. We can have a trade relationship with China as well."
Mr Hands shared that his visit was focused on moving economic ties with Taiwan forward, and that the UK is well placed to help it in many areas from renewable energy to bilingual education. 
"We share many similar outlooks on the world of free trade, free markets and democracy. But there's a lot that we can be doing together bilaterally," he added. "We're also keen to get more Taiwanese investment to come into the UK. 
"So it was a very successful visit, and we've got good relations there."