China doubles down on national security in face of new challenges
President Xi Jinping mentioned the terms "security" or "safety" more than 70 times in his report to delegates at the opening of the 20th Communist Party Congress.
BEIJING: China is set to adopt new strategies to boost its national security, a key issue stressed by President Xi Jinping and party officials, though analysts note that the perimeters are vague.  
Mr Xi had mentioned the terms "security" or "safety" more than 70 times in his report to delegates at the opening of the 20th Communist Party Congress on Sunday (Oct 16). 
In it, he called national security the "bedrock of national rejuvenation", and social stability a "prerequisite for building a strong and prosperous China". 
"We will both uphold national security and create the conditions for ensuring it," said Mr Xi.  
On the sidelines of the week-long meeting, officials said much progress has been made in the past decade since Mr Xi came to power. But they reiterated the call for the country to further improve its capacity to safeguard itself.
BROADER NEW POLICY  
Analysts have pointed out that China's definition of national security covers a wide range of issues, from securing its supply chains and food supplies, to its maritime claims in areas such as the South China Sea.  
It also includes other aspects that China considers its core interests, such as Hong Kong and Taiwan.  
In his opening speech, Mr Xi had lauded Hong Kong's transition from "chaos to governance" following the quelling of a wave of democracy protests, and also vowed to "never commit to abandoning the use of force" on the self-ruled island of Taiwan.  
Chinese vice-minister for public security Xu Ganlu said the Chinese people's sense of security has significantly improved over the last decade.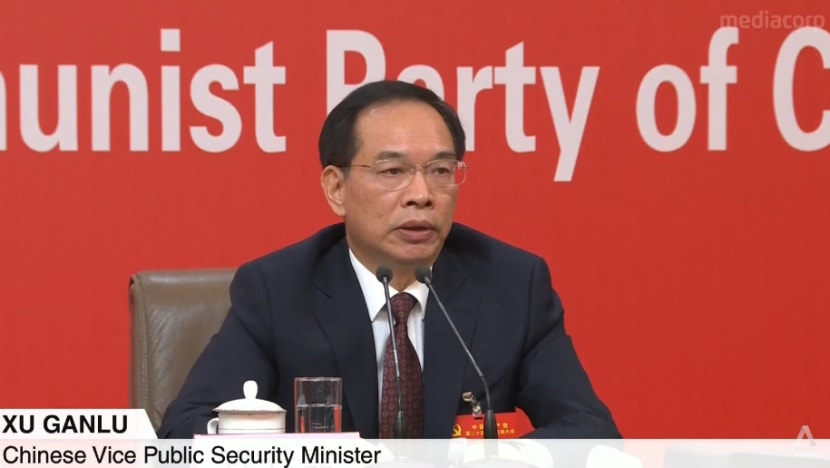 "We have firmly implemented general secretary Xi Jinping's important requirements on public security, taken solid steps to promote a peaceful China, advance rule of law in China, guard against and crack down on the various kinds of penetration, subversion and sabotage conducted by hostile forces at home and abroad," he said.  
This follows Mr Xi's call for the party to be ready to withstand "high winds, choppy waters, and even dangerous storms", without elaborating on them. 
He neither specifically mentioned any countries, nor China's tensions with the West.  
"At least from the official perspective, it is not driven by external forces, but it is driven by what the party considers as its domestic priorities for its people and to shore up the legitimacy of the party," said Dr Lim Tai Wei, adjunct senior research fellow at the National University of Singapore's East Asian Institute. 
Dr Lim added that in reality however, the foreign, domestic and especially security policies of countries are affected by outside pressures as well. 
"This is inevitable for a great power. So, all eyes are actually watching how China will exercise that power, and the intention behind the building of such a great power. Also, whether they will build an alternative world order, or shore up the current de facto global order," added Dr Lim. 
Echoing Mr Xi's remarks, vice-minister Xu said that moving forward, China will implement a broader national security strategy, although he was short on policy specifics  
"The new era public security system will unswervingly implement a holistic national security concept, push forward the modernisation of the national security system and capacity, in line with new plans and requirements, (and) guard against and dissolve all risks and potential problems that would endanger security," he said.  
BEYOND ITS CONTROL  
While Mr Xu said the new strategy would involve moves like regular campaigns against gang crimes and reforming the police system, he stopped short of going into details.  
"The wording is such that it is kept ambiguous enough and vague enough as a report card, but also to reserve certain spaces in order to maneuver in the international environment that China is finding itself in, particularly the dynamics of the environments," said Dr Lim.  
There are also external forces which even China as a superpower cannot control, said Dr Lim, including the COVID-19 pandemic, potential global recession, and the upcoming US mid-term election as China continues facing tensions with the West.  
The Biden administration had released a National Security Strategy last week that focused on outcompeting China and restraining Russia.  
It highlighted China as "the only competitor with both the intent to reshape the international order and, increasingly, the economic, diplomatic, military and technological power to do it".