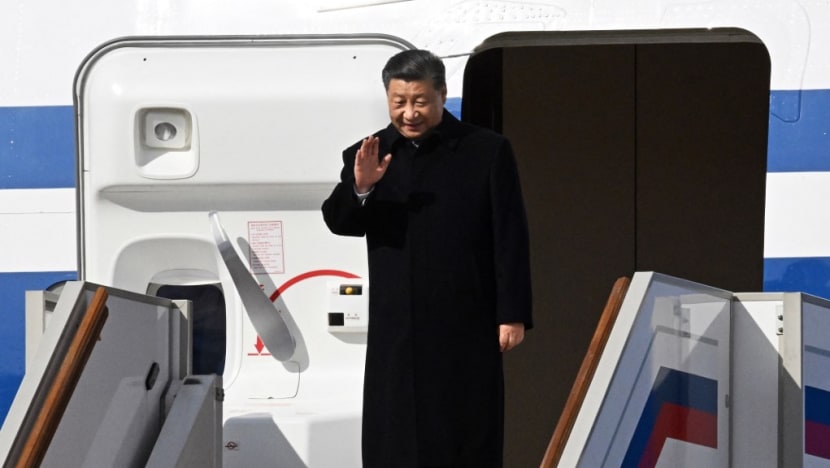 MOSCOW: Chinese President Xi Jinping arrived in Moscow on Monday (Mar 20) where he was expected to press Beijing's role as a potential peacemaker in the Ukraine conflict while Russian President Vladimir Putin hoped for support against Western pressure.
Xi's three-day trip to Russia - his first in nearly four years - has been touted by Beijing as a "visit for peace" as China seeks to play neutral mediator in Putin's invasion of Ukraine. 
He said his first state visit to Russia since the Ukraine conflict broke out would give "new momentum" to bilateral ties.
Landing at Moscow's Vnukovo Airport, Xi was greeted by Deputy Prime Minister Dmitry Chernyshenko on a red carpet as a military brass band played the countries' anthems, Russian state media showed.
"I am confident the visit will be fruitful and give new momentum to the healthy and stable development of Chinese-Russian relations," Xi told journalists, including from Russian state media, on the runway of a Moscow airport, describing Russia and China as "good neighbours" and "reliable partners".
"In a world of volatility and transformation, China will continue to work with Russia to safeguard the international system with the UN at its core," he said.
Xi will be the first national leader to shake Putin's hand since the International Criminal Court (ICC) issued an arrest warrant for him on Friday over the deportation of Ukrainian children to Russia since its invasion.
Moscow said the charge was among a number of "clearly hostile displays" and Beijing said it reflects double standards.
Russia is presenting Xi's trip as evidence that it has a powerful friend prepared to stand with it against a hostile West that it accuses of trying to isolate and defeat Moscow.
"We can feel the geopolitical landscape in the outside world undergoing drastic changes," Putin said in an article in China's People's Daily published on the Kremlin website, adding that he had high hopes for the visit from his "good old friend".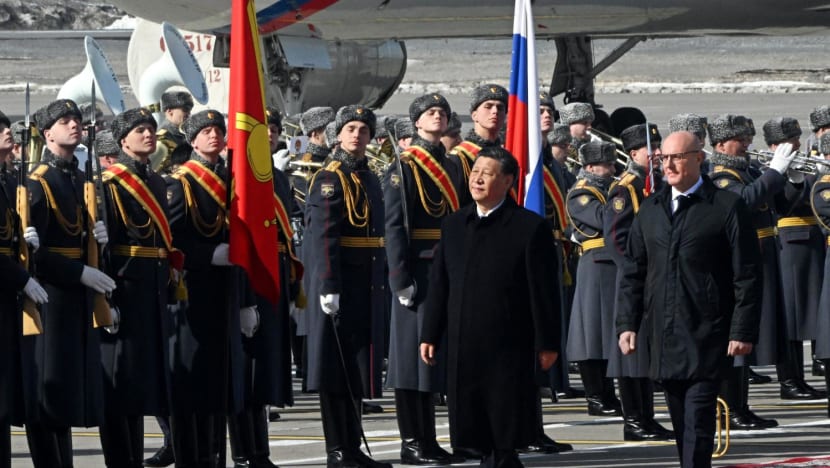 For Xi, the visit is a diplomatic tightrope.
China has released a 12-point proposal to solve the Ukraine crisis, but at the same time strengthened ties with Moscow.
"One way or another, issues raised in (Beijing's) plan for Ukraine will be touched upon during the negotiations. Comprehensive explanations will be given by President Putin" of the Russian position, Kremlin spokesman Dmitry Peskov told reporters.
China has repeatedly dismissed Western accusations that it is planning to arm Russia but says it wants a closer energy partnership after boosting imports of Russian coal, gas and oil following Putin's all-out invasion of Ukraine. Western sanctions on Russian energy mean Beijing has saved billions of dollars.
Xi and Putin will have an "informal" one-on-one meeting and dinner on Monday before negotiations on Tuesday, Putin's top foreign policy adviser Yuri Ushakov told Russian news agencies.
They will sign an accord "on strengthening (the two countries') comprehensive partnership and strategic relations entering a new era", the Kremlin has said, as well as a joint declaration on Russian-Chinese economic cooperation until 2030.
Xi wrote in an article published in Russia that the two countries adhered to the concept of "eternal friendship and mutually beneficial cooperation" and that China's Ukraine peace proposal, released last month, reflects global views.
"Complex problems do not have simple solutions," Xi wrote in Rossiiskaya Gazeta, a daily published by the Russian government, according to a Reuters translation from Russian.
"CLARIFICATIONS"
Ukraine and its Western backers say any ceasefire would merely buy Putin time to reinforce ahead of a planned Ukrainian counter-offensive.
Ukrainian President Volodymyr Zelenskyy has said he will only consider peace settlements after Russian troops leave Ukrainian territory.
China's proposal contains no concrete proposal on how to end the year-long war which has killed tens of thousands of people, destroyed cities and forced millions to flee.
Putin welcomed China's offer to mediate and the Kremlin said he would provide Xi with detailed "clarifications" of Russia's position, without elaborating.
Putin signed a "no limits" partnership with Xi last year shortly before he sent tens of thousands of troops into Ukraine to end what he said was a threat to Russia from its moves towards the West.
The US notes that China has declined to condemn Russia and given it an economic lifeline.
Alongside growing oil and coal deliveries to China, Putin said Russia was helping to build nuclear power reactors there and the two countries were deepening cooperation in space exploration and new technologies.