Saudi Arabia's lavish welcome of China's President Xi a warning to US and Biden, says analyst
Saudi Arabia's warm welcome of Chinese President Xi Jinping was in stark contrast to the muted reception for US President Joe Biden in July.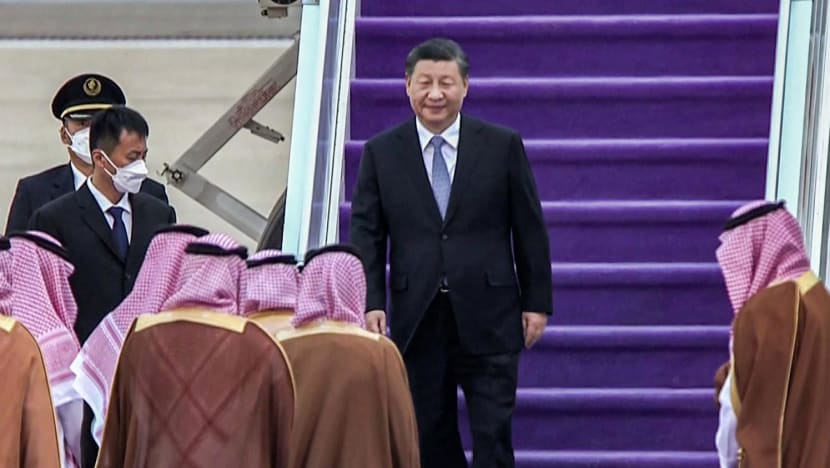 Chinese President Xi Jinping arrived in Saudi Arabia on Wednesday (Dec 7) to a lavish welcome, a move seen as a not-so-subtle reminder to the United States that the Saudis can forge other alliances, said an analyst.
Mr Xi is in the Gulf state to hold bilateral talks with top Saudi leaders, including King Salman bin Abdulaziz and Crown Prince Mohammed bin Salman, as part of a three-day visit focusing on energy ties.
Four royal air force fighter jets escorted Mr Xi's plane as it entered Saudi airspace, while six aerobatic jets dragged smoke trails in the colours of the Chinese national flag.
Mr Xi was received by Riyadh Governor Prince Faisal bin Bandar and Foreign Minister Prince Faisal bin Farhan Al Saud, and greeted with a 21-gun salute.
The extravagant spectacle was in stark contrast to the muted reception for US President Joe Biden in July, Associate Professor Nader Hashemi told CNA's Asia Now on Thursday.
This was the Saudis' message to the US that they have other friends, as well as the option to shift their alliances if the Americans continue to go against Riyadh's interests, said Prof Hashemi, who is the director of the University of Denver's Center for Middle East Studies.
"This expanding relationship with China, this very sort of flowery and ostentatious reception given to the Chinese president, is really trying to send a message to the United States that you better give us what we want, you better tone down your human rights criticisms," Prof Hashemi said.
SAUDI-US RELATIONSHIP
The US and Saudi Arabia maintain a security-for-oil partnership, where the US provides security guarantees in exchange for a reliable supply of oil.
However, that arrangement has become increasingly strained over a long list of issues.
These include the Sep 11, 2001 terror attacks in which 15 of the 19 hijackers were Saudi nationals, and the US push for democratic reforms during the Arab Spring, something the Saudi monarchy viewed as a threat to authoritarians.
The brutal murder of Saudi journalist Jamal Khashoggi in 2018 also strained US-Saudi ties, with US intelligence saying he was killed on the orders of the Saudi crown prince – an accusation the latter denies.
The two countries enjoyed a period of relatively cosy relations under former president Donald Trump, who had embraced Saudi Arabia and chose the kingdom for his first foreign official visit. Like President Xi, Mr Trump was also given a grand welcome.
Relations soured again under President Biden, who has been vocal in his criticisms of the Gulf state's oil production cuts and human rights record.
Riyadh's snub was hence directed more specifically at President Biden and the Democratic Party, and less so the Republicans and the US as a whole, Prof Hashemi said.
Despite the complicated relationship, the two countries are still dependent on each other. Suggestions of Saudi Arabia reorienting its strategic and security alliances away from the US and towards China, are unlikely to be the case at this point, said Prof Hashemi.
"The fundamental security relationship – the arms and weapons sales relationship … and the larger political relationship that exists between the United States and Saudi Arabia goes back to World War Two, that hasn't really changed," he said.
SAUDI-CHINA RELATIONSHIP
The warm welcome was not just a show for the US, added Prof Hashemi. 
As Riyadh expands its global alliances beyond longstanding ties with the West, China has much in common with the Saudis in the form of an "authoritarian alliance and a shared worldview", he said.
"Fundamentally, Saudi Arabia and China have shared values … rooted in authoritarianism, disdain for democracy…" he said.
China is also the kingdom's top oil customer, biggest trading partner, and a source of increasing investments.
The Saudi state news agency said last week that about US$30 billion worth of agreements will be signed during Mr Xi's visit, including investments in information technology, cloud services, green energy, construction and other sectors.
Prof Hashemi said a number of economic infrastructure deals can be expected, especially given the crown prince's aspirations to develop the kingdom into a major tourist destination.
The US is keeping a close watch on the outcome of the visit, with the White House calling this an example of Chinese attempts to exert influence.
Prof Hashemi said that the visit and agreements signed are unlikely to alarm Washington, unless Saudi Arabia starts to indicate closer ties with China on security deals and arms sales.
"If Saudi Arabia decides to start purchasing high-tech Chinese planes or weapons technology, anti-aircraft tanks, then that will deeply concern and set off alarm bells at the White House … (as this) will suggest there's a fundamental crisis in the US-Saudi relations," he said.