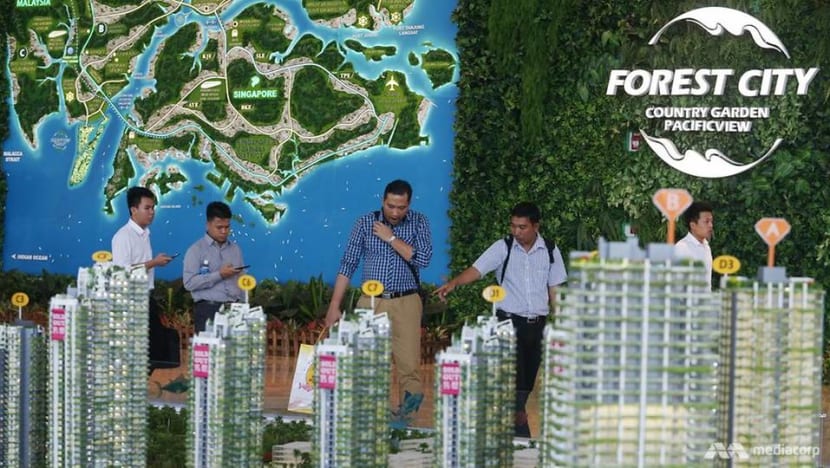 JOHOR BAHRU: Prime Minister Mahathir Mohamad's comments on foreign ownership in the mammoth Forest City project in Johor came as a surprise to the state government, a report said.

"We are still trying to make sense of this new move as we have yet to be informed," Johor Housing and Rural Development Committee chairman Dzulkefly Ahmad was quoted by the Star on Tuesday (Aug 28) as saying.
"We already have in place a requirement that foreigners can only purchase properties worth RM1 million (US$244,000) and above."
On Monday, the 93-year-old prime minister declared that foreigners will not be granted visas to live in the S$100 billion Forest City development, which is a partnership between Chinese developer Country Garden and the Sultan of Johor.

"One thing is certain, that city that is going to be built cannot be sold to foreigners," Dr Mahathir said at a news conference in Kuala Lumpur in response to a question from Reuters. 

The federal government's move would have "huge implications" on the real estate sector in Johor, the Star quoted Dr Dzul­kefly as saying.
Matters related to land, water and forest are within the purview of the state government, and there had been no discussion between the federal and state governments on the issue, he said.
"The previous government also introduced policies to include international zones within the project and other parts of Johor," Dr Dzulkefly added.

Country Garden on Monday responded to Dr Mahathir's statement by saying his comments may have been taken out of context in certain media reports.

The developer added that the prime minister's remarks contradict what he had said in a meeting earlier this month with Country Garden chairman and founder Yeung Kwok Keung.

"During the meeting, Tun Mahathir reiterated that he welcomes foreign investments which could create employment opportunities, promote technology transfer and innovations that could benefit Malaysia's economic growth and job creation," Country Garden said in a statement.

Both the Johor Housing and Rural Development Committee and Country Garden said they will seek clarification from the Prime Minister's Office on Dr Mahathir's comments.