'De-risk' instead of 'decouple' from China: What changed at the G7 summit?
Analysts said the softened strategy highlights the complexities in drastically disengaging in trade with the world's second largest economy.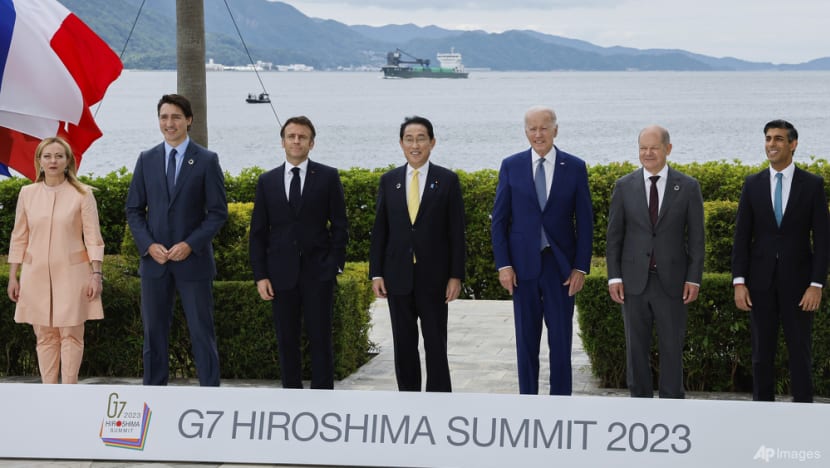 The Group of Seven (G7) wealthy economies pledged over the weekend to work together to counter Beijing, but shelved their "decoupling" stance for a more practical "de-risking" approach.
Analysts said the softened strategy highlights the complexities in drastically disengaging in trade with the world's second largest economy, and the challenges faced in striking a balance between national security and financial interests.
"Decoupling is, from anybody's perspective, not realistic and is drastic. De-risking seems to be a more politically palatable term than decoupling," said Professor Gordon Flake, founding chief executive officer of the Perth USAsia Centre at The University of Western Australia.
"Because when you start thinking through the implications of trying to decouple our deeply intertwined economies, it becomes quite scary on economic terms," he told CNA938's Asia First on Monday (May 22).
Decoupling could be "catastrophic" for G7 member states, as their economies are "too integrated with China's", added Professor of International Security and Intelligence Studies John Blaxland of The Australian National University College of Asia and the Pacific.
"De-risking kind of recalibrates the aspirations in terms of trying to diversify options for sourcing materials and industrial production, to basically reduce the prospect of being coerced, manipulated and challenged by China," he said.
WHY DOES G7 WANT LESS RELIANCE ON CHINA?
Prof Blaxland said the G7 member nations' united approach to be economically less dependent on China stemmed from instances of harsh setbacks after diplomatic ties with Beijing soured.
He cited the examples of South Korean conglomerate Lotte's exit from China after suffering massive losses following a 2017 diplomatic spat, as well as Beijing's trade sanctions on Australian exports amounting to A$20 billion (US$13.4 billion) a year since 2020.
"China has been playing cleverly. It's only now that the G7 countries are fully waking up to the scale of the competitive challenge that China presents," Prof Blaxland told CNA's Asia First.
"(G7 states) are looking to protect their interests, without unduly complicating life for themselves. So de-risking, not decoupling, is definitely the best way of describing what they're looking to do."
At their three-day summit in the Japanese city of Hiroshima, the grouping outlined "a disturbing rise in incidents of economic coercion that seek to exploit economic vulnerabilities" in a statement.
While the wordings did not mention China by name, Western leaders have been increasingly vocal about attempts by China to use its economic power in political disputes.
However, the communique also said that policy approaches "do not seek to thwart China's economic progress and development", but instead calls on Beijing to play by international rules.
AUSTRALIA'S SUPPORT
Australia on Sunday said it backed the bloc's approach, with Prime Minister Anthony Albanese saying on the sidelines of the G7 summit following a Quad leaders' meeting that Canberra is concerned about China's activities.
Beijing's sanctions on Australian exports have prompted calls for the latter's exporters to diversify markets and become less reliant on the country's top trading partner.
Observers said this will allow businesses room to better manoeuvre situations such as diplomatic fallouts or supply chain disruptions.
"Diversifying implies that obviously in key sectors, there's going to be a tremendous amount of continued economic activity with China," said Prof Flake.
"At the same time, given lived experience with economic coercion, we are going to make sure that we deny (China) monopoly opportunities and monopoly behaviour."
Beijing has reacted with anger over comments made at the summit, which also include rising tensions in the South China Sea and human rights issues in China, and has lodged a complaint with host nation Japan.